With the year coming to a close, now is the perfect time to take a look back at those 2016 bathroom trends that have proven popular with designers and homeowners
According to Robyn Spataro of Cleveland's Faralli Kitchen & Bath, many of these trends are expected to continue well into the future, to the degree that they may eventually become time-honored classics.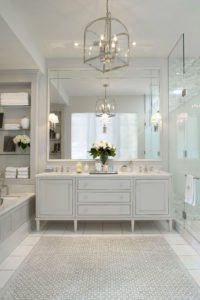 White-on-White Color Scheme
This is by far the biggest trend that Faralli has seen come and stay.  "No matter what style you're drawn to, a space created with all whites can work," Spataro revealed. "Different textures and slight changes in hue can make for an interesting backdrop to brightly colored towels, rugs, flowers, or artwork." In addition, staying all white creates a classic look that will stand the test of time.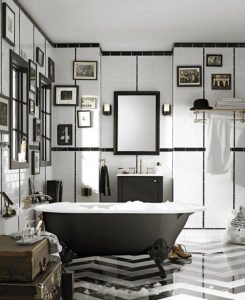 Black Accents
As a counter-punch to white color schemes, Spataro reports that more and more homeowners are complementing that look by using black accents.  "Whether on part of a wall or on the ceiling, in a tile pattern, or in the hardware and fixtures themselves – black accents add a striking contrast to any space."  Whether your style is contemporary or classic, this trend also has lasting power.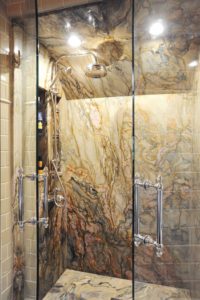 Natural Stone Patterns
Nothing beats nature when it comes to creating durable materials of incredible visual depth and grandeur. It's therefore not surprising that designers like Spataro are choosing to apply full slabs of stone to bathroom walls in order to make a bold, yet simply natural decorative statement. And it's not all marble and granite, either. Modern quartz and porcelain products are gaining popularity due to their ability to replicate the look, feel and wear of the real thing.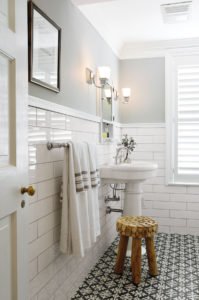 Cement Encaustic Tiles
It may seem a tad after-the-fact to place the "hot" label on something that has been around since the Middle Ages. However, Spataro says "you just can't get away from this trend at the moment." Produced from pigmented clays, cement tiles create visual impact with their endless array of patterns and colors. Many designers are using the extremely durable tiles on a floor or a single wall to add a bold graphic element to the space.
Tech in the Bath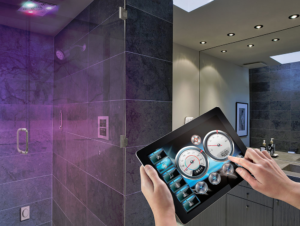 Earlier trends in bathroom technology, including programmable showers and heated flooring, are now a staple in many bath projects. Today's latest technology is turning more to the personalization of our most private spaces.  There are now tubs with sound systems and faucets with customizable colored lights…and combinations of both!  And of course, you can coordinate it all with ease from your phone or tablet.
Save
Save
Save
Save
Save
Save
Save
Save
Save
Save
Save
Save
Save
Save
Save
Save
Save