By: Guest Blogger Sheri Scott
So, you're finally in a position to do something you've always dreamed of: Building your custom home. You've heard horror stories and just want to get it right. Well, here's the million dollar secret:
Start Strong, Finish Strong: Hire an Architect
1. Your architect is your advocate.
This is a big undertaking with many decisions to make. How do you know who is telling you the truth? Sometimes it feels like everyone has something different to gain depending on what decision you make. When you establish a one-to-one relationship with your architect, you get a professional on your side who answers to no one but you.
You can't possibly learn everything you need to know to carry out a successful project. Yes, there are books and friends and blog posts, but your project has never been done before. Hire an architect with 20 years of experience and you get the benefit of every one of those projects.
 "Knowledge is power, knowledge is safety, and knowledge is happiness"
~ Thomas Jefferson
 3. Your family is unique.
On my drawing board right now I have projects for:
A single guy that never intends to marry or have a family
A family of four that will soon be a family of 5
A family of 4 headed into the teenage years
A couple with 3 children headed toward an empty nest and parents moving in
We need to talk about how you live, who are we designing for, and what the coming years will bring. You deserve a home just right for you.
Going from a pile of hopes and ideas to living in a finished home that embodies all of those dreams is an amazing process. The structure, the details, the code issues, the selections, the (literal) blood, sweat & tears that go into the project are overwhelming. A good residential architect will guide you through the entire process and save you money, time, and quite possibly your sanity.
 5. Architect as interpreter.
My dad taught me that your first job has nothing to do with learning your job. Your first job is to learn the language and vocabulary of your profession. Well, the construction industry has a language all its own. A good architect will educate you in the areas you want to learn about and handle all the stuff you don't with your best interest – and nothing else – in mind.
 6. Once in a lifetime – get it right.
Get the right team from the very beginning. This obviously includes an excellent architect, but also includes a kick ass builder. He is the third piece of our team triangle and one of the most important choices you will make. Your architect will help you in the selection process but it is your decision to make. Don't let anyone convince you that you are not the leader of your project from beginning to end.
 7. Architects are cool.
How can you not love telling someone, "I have to take this call, it's my architect?" We are fun, creative people who are passionate about what we do. When you hire an architect for your custom home project, you are embarking on a journey with a personal guide. In the end, you will have a home that is just right for you.
I love my job. I get to work with smart, accomplished people who are fulfilling a dream they have worked hard for. It can be an exciting time, just be sure to start right and hire a residential architect first. There really is no better way.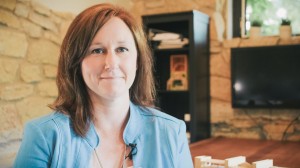 Sheri Scott, R.A., NCARB, is a residential architect with 20 years experience.  Her passion for serving and guiding her clients from the first sketch to the house warming party has resulted in many successful custom home projects ranging from $200,000 to $5 million.  One of Sheri's most treasured projects was to transform a 1920s spring house into her home office.  If you don't find her there she's probably trying to keep up with her husband and three teenage sons.  She also loves cookies and marching band. Find more from Sheri at her website here.