Content provided by H&M Landscaping
H&M is just finishing up the final touches of this large project. We removed an old deck from the house and then started with a clean slate. The first step was to install the new Composite decking. We used TimberTech brand decking – the color chosen by our customer was Silver Maple. We finished off the deck with custom Sandstone-topped seating benches trimmed in Composite to match the deck. The next thing we worked on was the grill and kitchen area. We used Cultured stone to match the house and installed a new 36" AOG grill with rotisserie. We completed the kitchen area by installing a custom Sandstone countertop.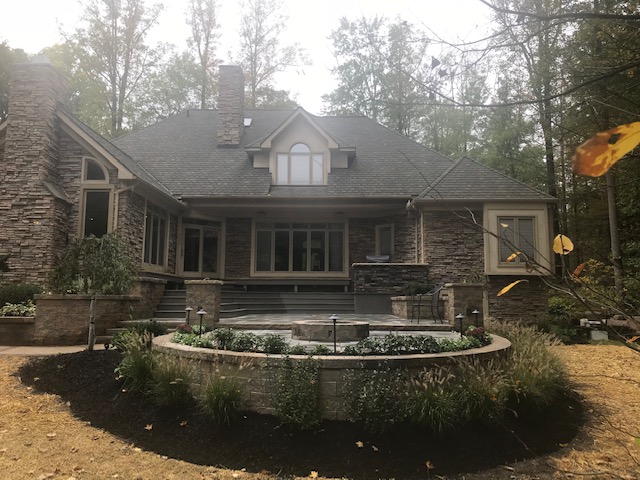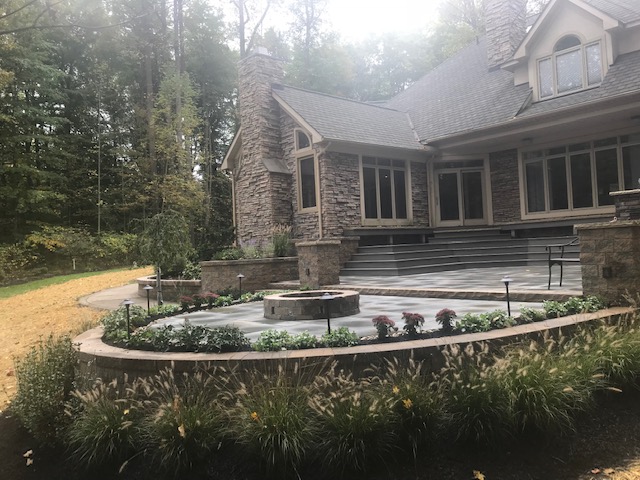 We moved on from there and started with the hardscape retaining walls. The customer chose Belgard brand Versa-Lok wall stone and picked Sheffield blend as the color choice. The fire pit was Belgard Brussels Block with a gas log lighter installed to make lighting the fire problem free. The patio surface itself is 1" Thermal Bluestone in the Full Range color. We re-purposed old Sandstone curbs as steps by cutting and rock facing the fronts. This always adds a great conversation starter with guests, as these old curbs are reclaimed from vintage Northeast Ohio roads. The plant selections were specific for this backyard as well because of the unique area with less sunlight and deer-resistant needs.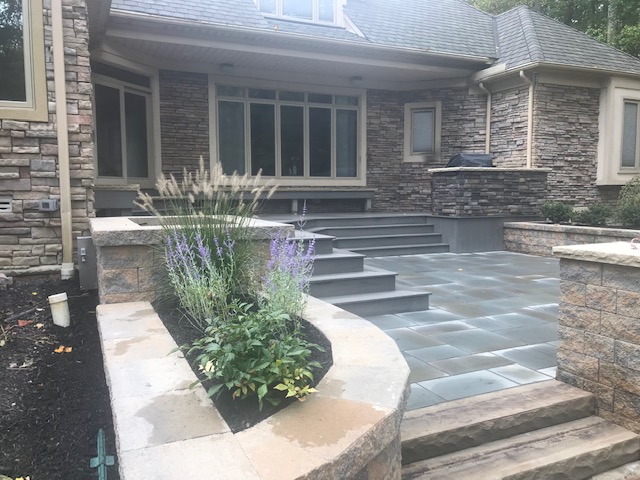 [box] BONUS See a 3D walk-through of this project: Video[/box]
Projects like these are great to do all at once, but don't feel like you need to undertake an entire job all in one year. H&M Landscaping can implement your design in phases, done over several years, to realize your ultimate dreamscape! We also offer financing options if it suits your needs better. Please reach out anytime for a no-charge estimate with zero hassle.