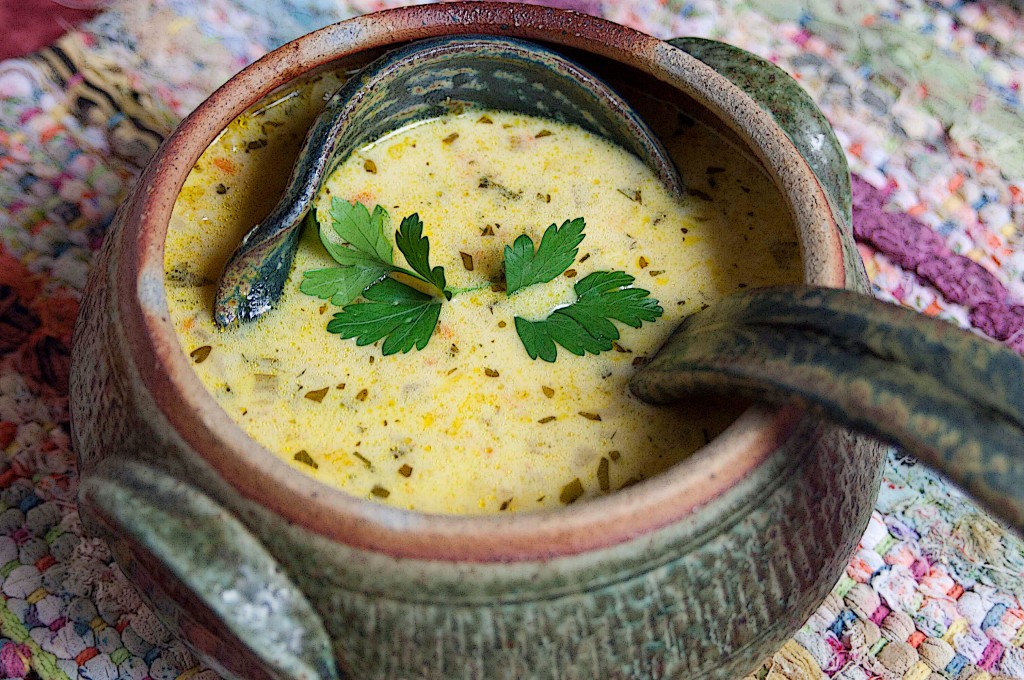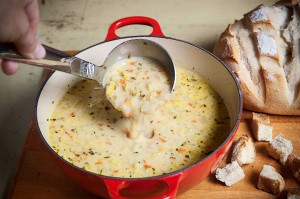 As the weather is turning cold, our stomachs almost instinctively start to crave hearty soups.
Today's recipe is a favorite of Housetrends Senior Graphic Designer Tara, who adapted it from Pioneer Woman.  She has made the soup several times, and can count on someone who "doesn't like cauliflower" falling in love with it every time.
This was the perfect soup to cook up in this beautiful red LeCreuset dutch oven, which Tara loves because it manages to look good and work well from prep, through cooking and presentation.
She paired the soup with some  breads from Jungle Jim's International Market, including traditional challah, sourdough and sourdough multigrain.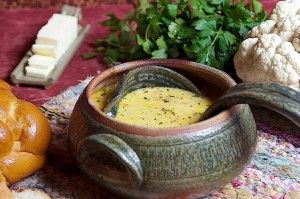 Tara adapts the Pioneer Woman recipe in a few ways and has had it turn out successfully. To start with, the original recipe calls for two heads of cauliflower. Tara uses one large head instead. She also omits the bay leaves and sour cream originally called for and adds in her own addition of fresh chopped thyme.
Photographer Connie Kimsey photographed the recipe.
Tara's No. 1 Tip: Season this soup well at several stages throughout preparation with salt and pepper. Otherwise, the soup tastes a little too sweet.
Cauliflower Soup
Author:
Ingredients
1 stick Butter, Divided
1/2 whole Onion, Finely Diced
1 whole Carrot Finely Diced
1 stalk Celery, Finely Diced
1 large Cauliflower Heads (roughly Chopped)
2 Tablespoons Fresh Parsley, Chopped (Tara used fresh, Italian flat leaf parsley)
3 Tablespoons Fresh Thyme
2 quarts Low-sodium Chicken Broth Or Stock
6 Tablespoons All-purpose Flour
2 cups Whole Milk
1 cup Half-and-half
2 teaspoons To 4 Teaspoons Salt, To Taste
Instructions
In a large soup pot or dutch oven, melt 4 tablespoons butter. Add the onion and cook for a few minutes until it caramelizes.
Add the carrots and celery and cook an additional couple of minutes. Add cauliflower, thyme and parsley and stir to combine.
Cover and cook over very low heat for 15 minutes. After 15 minutes, pour in chicken stock or broth. Bring to a boil, then reduce heat and allow to simmer.
In a medium saucepan, melt 4 tablespoons butter. Mix the flour with the milk and whisk to combine. Add flour-milk mixture slowly to the butter, whisking constantly.
Remove from heat and stir in 1 cup half-and-half. Add mixture to the simmering soup. Allow to simmer for 15 to 20 minutes. Check seasoning and add more salt or pepper if necessary.
Just before serving, place the sour cream in a serving bowl or soup tureen. Add two to three ladles of hot soup into the tureen and stir to combine with the sour cream. Pour in remaining soup and stir.
Serve immediately.