The interior designers at Hoffman and Albers Interiors had a friendly in-house competition to determine who could create the most beautiful holiday tablescape for their showroom.
Oh, and then there was the catch: they could only use "found" materials that Hoffman & Albers already had in their shop and storeroom, and if needed, a $15 cash budget per table.
What resulted were some elegantly simple tablescape ideas that relied on equal doses of creativity and resourcefulness.
"This actually is a useful exercise for anyone looking to refresh their home," suggested the company's owner and designer Ann Hoffman. "In this case, it was to make a bold statement at this holiday's table, using approaches that didn't require spending a lot of money."
Let's look at a couple of them.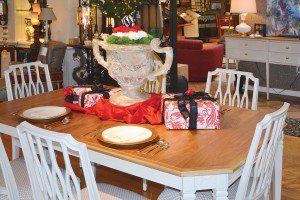 Use Repurposed Items
Common, non-traditional items found around the home can offer new ways to surprise and delight when used outside of their normal context. One of the most visually powerful tables in the Hoffman & Albers showroom centers around a medium sized garden urn, its rustic texture contrasting with the swath of soft red fabric at its base.
Enjoy Old Holiday Pieces in New Ways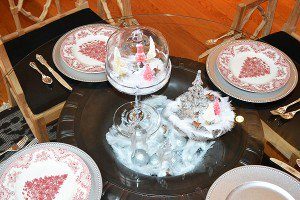 It's easy to fall into the habit of displaying long-held family decorations in the same manner, in the same room, year after year. Allow those pieces to be seen through fresh eyes by incorporating them into new groupings, possibly in other areas of the home.
It's Not All About Red & Green
Hoffman pointed out that the color palette found in many homes does not mix well with those that are commonly associated with the holidays. For others, those traditional colors have become so expected that they carry no "Wow" factor. By injecting bold colors, possibly in new combinations, the non-traditional palette can better become your new tradition.
Go Natural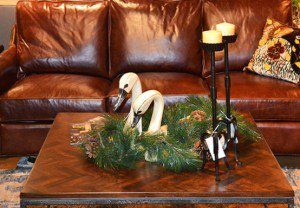 Holiday decorating doesn't have to be all about twinkling lights and glass bulbs. Create a natural setting by mixing cuttings from plants and trees found on your property (holly branches and pinecones), to those items found in your refrigerator, such as oranges and cranberries.
Create Interest with Height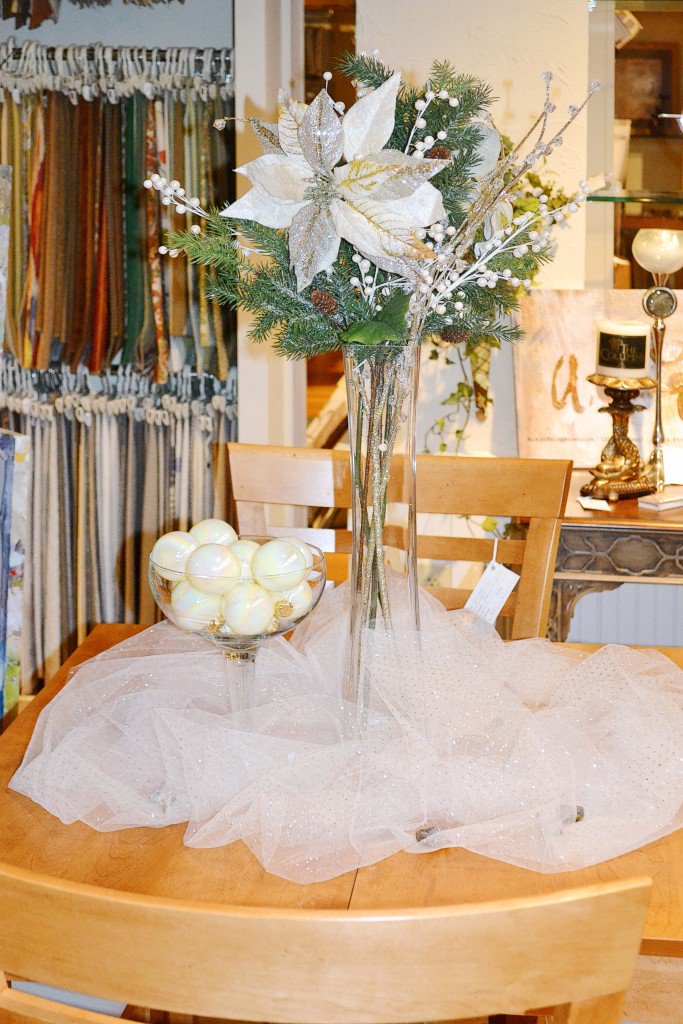 There is nothing like a little height to add attention-grabbing drama to a tablescape. The challenge is to avoid allowing the height and positioning of these items to obscure the seated guests from one-another. After all, shouldn't all the attention really be on them?
Move Packages Out From Beneath the Tree
Regardless of the tree's size, there is only so much room under it for displaying wrapped gifts. Until it's time for them to be opened, why not use them as a décor element throughout the home? Adorn a table with a collection of small boxes wrapped in festive papers and soon the dinner conversation will turn to speculation of what lies inside.