Tisdel Distributing, located in the Cincinnati suburb of Mason, is a supplier of the finest appliances available. Carrying the Wolf, Sub-Zero, Asko, Faber and Scotsman brands, Tisdel is a link between these manufacturers and dealers and trade professionals.
To provide the best experience possible to designers and architects and their clients, Tisdel's showroom includes a series of lifestyle kitchen areas. These working kitchens were the product of renowned kitchen designer Kimball Derrick when Tisdel opened its facility in 2000.
Fast-forward 17-plus years, and these areas were looking a little dated. Again, Tisdel selected Derrick to breath some new life into the showroom.
"It's really an honor, especially now that the Sub-Zero/Wolf brands have grown to have an even bigger and better reputation than they did back then," Derrick says.
While he was thrilled with the opportunity, the designer knew it wouldn't be an easy task.
"When working in a showroom, I find it to be one of the most challenging design projects possible," he says. "And I've designed several showrooms, for cabinet manufacturers and appliance manufacturers. The challenge is that the individual client is not there."
So how does a designer go about creating a kitchen for no certain person in particular?
"The whole idea of the lifestyle kitchen area is that clients will be able to see a style that they can see themselves living in, whether it is classic or transitional or contemporary," says Derrick. "Here it's about how the appliances help designers achieve a style and to support the end user's lifestyle."
Each lifestyle kitchen has its own look and provides ideas and inspiration for different clients.

The Classic Kitchen
Derrick says his team imagined customers who would appreciate the Sub Zero/Wolf and Asko engineering and product quality and would like a classic look.
The existing cabinetry was still viable, so Derrick had his cabinet shop resize them for new appliances and then had the cabinets brush painted. They also kept the countertops and put up simpler crown molding. Derrick replaced the island with a furniture-like piece and changed the countertop to a Brazilian soapstone.
"It looks like a brand new kitchen. It has new appliances," Derrick says. "But it wasn't totally demoed. So we can talk to clients about how that's possible. That worked out really well."

The Transitional Kitchen
An ever-growing clientele base still wants a traditional look, but they want it to be a bridge between traditional and contemporary.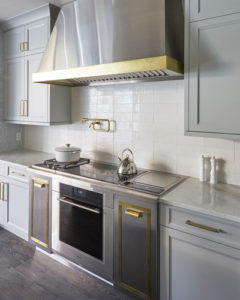 "They're not ready to be contemporary, but they like the clean lines of contemporary and the simple, calm look of transitional," says Derrick. "And this kitchen has proven to be one of the most popular because it does bridge them."
Derrick's team added color to the cabinets and combined metals in this kitchen.
"Brass is coming back, and we see it moving on in the future," he says. "The mixture of metals, in this case stainless steel and brass, is really coming on strong. It used to be that you could only have one type of metal, one color of metal – and we're showing how mixing that is actually quite interesting."
He also had the perfect opportunity to bring to life an idea he had been thinking about. A custom range made up of Wolf parts not only looks amazing, but it shows how a client could choose their components and end up with a fabulous product.
"We have a teppanyaki grill module and a high-powered two-burner gas module on either side of a induction cooktop," says Derrick. "And that's over a Wolf single electric oven with storage on either side."

The Contemporary Kitchen
Leaning more contemporary and looking to have a modern look? Derrick designed one of those kitchens for Tisdel, too.
"When I do a contemporary design, I include the interior architecture in that design whenever I can," he says. "The detailing that goes into having all those clean lines line up and the veneers all line up and getting all of that detail to work out is often more complicated from an installation and construction basis than the traditional ones. Wolf and Sub-Zero allow for building in and doing flush applications that are fully integrated."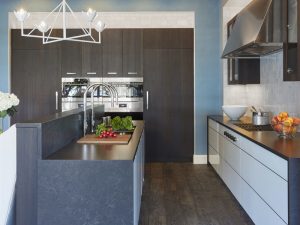 The large back wall of this kitchen has two traditional ovens, a steam oven, a microwave, a refrigerator and a freezer that all fit together beautifully – and seamlessly.
Instead of the normal island with an overhanging top and stools, Derrick placed a wall with a banquette and a table behind it. The table, which he had fabricated just for this project, is wood with a live edge, bringing an organic material into the contemporary setting.

The Urban (or Small) Kitchen
Whether it's the new millennial market, couples downsizing or living in a condominium, the small kitchen is in demand. So Derrick's next effort is a small kitchen that is loaded with top-notch appliances and efficient to work in.
"We have Sub-Zero's 24-inch refrigerator-freezer, a 24-inch oven and a 24-inch microwave, so the footprint of this is less than 75 square feet and has everything one would need, including storage," he says.
Derrick's team removed the wall cabinets and put up nice open shelving.
"We're seeing this a lot, and I think we're going to be seeing more of it," Derrick adds. "And I think we're going to be seeing more condo living."

The Vision

Derrick helps explain his vision when updating the Tisdel lifestyle kitchens.
"Part of our responsibility to them was to kind of push the envelope to show the product being used in ways that a designer might hesitate to do because they're not quite sure how it works or they're not quite sure how it would look or that it's even possible," says Derrick. "So with the custom range and the wall of appliances and even upgrading a kitchen, our goal was to have this be a beautiful lifestyle demonstration place that supports what they've spent a lot of effort in engineering and providing to designers."
And the versatility of the products carried by Tisdel Distributing makes it all possible.
"Sub-Zero and Wolf offer products in sizes and in forms that give a designer an unlimited creativity potential," adds Derrick. "I've pushed that envelope with clients many times. It's a joy to do it because these appliances are so well engineered that I can really count on getting the end look that I'm trying to achieve."