According to HGTV.com, "Designer David Scott says an area rug should be the 'soul of your room,' and the 'color scheme, furniture placement and accessories should all connect back to it.'"
So what if you know the look of the rug that would be perfect to be the "soul of your room," but you just can't find it?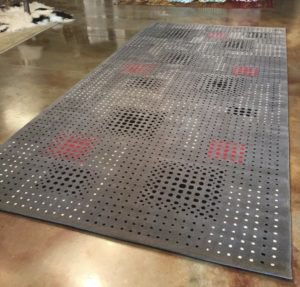 With Azia Rug Gallery in Columbus, that simply is not an issue. That's because you can design a rug to the exact specifications that will fit your space – including size, colors, design style and more.
"We offer a custom rug program where a customer can actually completely design their own rug," said Sonia Saberi, co-owner of Azia Rug Gallery.
So feel free to let your creativity flow. As long as you are not using any trademarked art or logos, you are good to go.
"A customer can create any pattern or artwork they want in any custom size," Saberi added. "There's also a color bank of over 100 different colors that a customer can choose from."
Unsure if your amazing design actually will look great once it is transformed into a rug? Don't worry.
"For a small charge, the customer can order a swatch or sampling of their creation to see what it looks like in person, if needed," Saberi said.
With this custom program, high-quality New Zealand wool is used for the rugs and the process takes approximately 12-15 weeks from start to finish.
Azia Rug Gallery has other custom offerings, including options in which the customer doesn't have to start completely from scratch.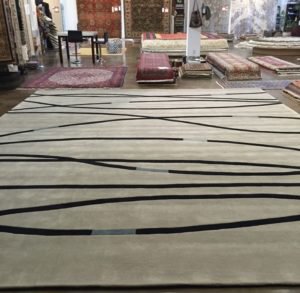 Some include "a palette of patterns already drawn up and customers can fill in the colors on their own," Saberi said. "These patterns typically consist of transitional and contemporary designs with a wonderful assortment of textures and fibers, ranging from Nylon to wool – made in the USA."
These rugs take approximately 6-8 weeks to be completed.
The customization options from Azia Rug Gallery don't end there.
They can customize the size of manufactured rugs that vary in use. Some examples include an indoor-outdoor line of rugs that can be custom made to any size, as well as a few different wool and synthetic lines that are great for high traffic in residential or commercial spaces.
And with any of these great options you choose, the Azia Rug Gallery staff will be with you every step of the way.
"We are available to help the customer in any way when they're looking at custom rugs," Saberi said. "With our combined experience in designing with rugs, we feel we cannot only help our customers make the best decisions as far as sizes appropriate for the rooms they are creating a rug for, but also colors (which is the most important factor). The process is always fun and exciting."
For more information about rug customization with Azia Rug Galley, visit their website or call (614) 847-9300.