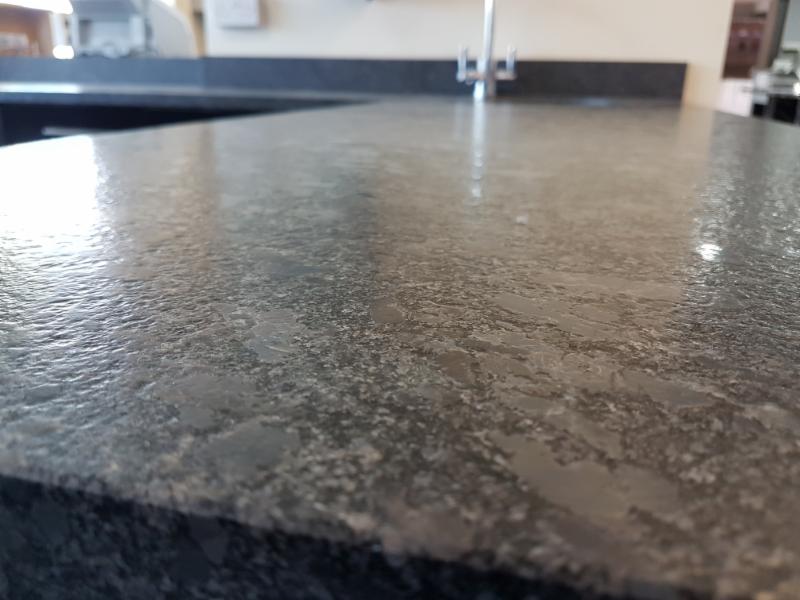 Content provided by GK's Custom Polishing

When someone is selecting a natural stone for a new surface in their home or business, they usually go to a fabricator or natural stone distributor to select a slab for their project. Most of these slabs come from quarries with a polished or honed (satin or matte) finish. These are both smooth finish option.
Another finishing option for most natural stone surfaces is called an antique finish. These are most commonly referred to as a leathered or river-washed finishes. If you find a slab you like, but want to explore an antique finish, the fabricator or natural stone distributor can usually order a natural stone variety with that finish or hire a company like GK's to come and produce that finish on a slab that you pick out.
Alternatively, if you already have a natural stone surface at your home or business, an antique finish can be produced on something that is already installed. Surrounding surfaces can be protected and the process is completed with water, so there is little to no dust in the work area.
The list below includes the different finishes available for natural stone.
POLISHED FINISH
A polished finish for natural stone is the most common type of finish. It is also the least porous of all finishes, meaning it is less susceptible to staining. This finish is produced by using super-fine abrasive powders or diamond discs.  The appropriate amount of heat is created to melt the surface of the stone, producing a Beilby Layer or polished layer on the surface.
HONED FINISH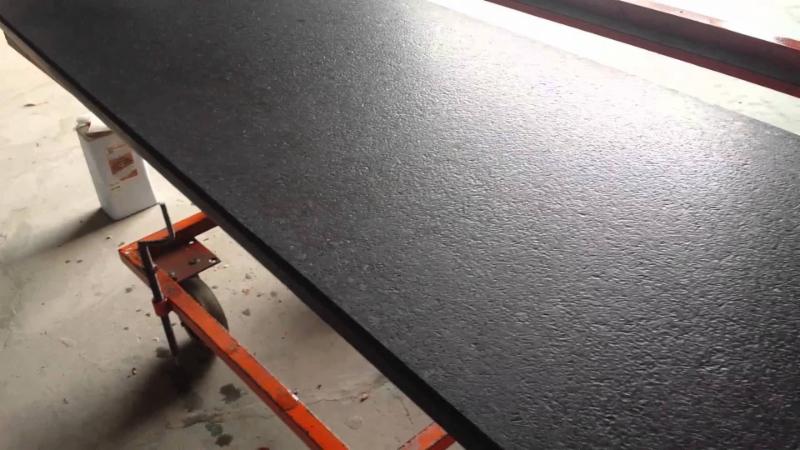 A honed surface is a smooth finish (like polished), but a matte or satin finish is produced. This type of finish is porous and will stain much easier than other finishes. Impregnating sealers can help prevent staining. Color-enhancing sealers can be used to bring back the darker stones when they are honed. Lower-grit diamond abrasives or honing powders are used to produce this finish.
FLAMED FINISH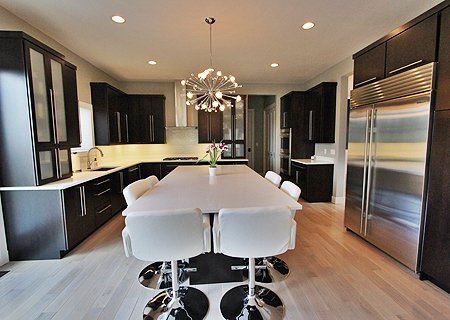 This finish is a very rough, textured finish applied to granite. The finish is produced using an extremely hot flame (hence the name). The heat from the flame causes the mineral crystals to pop out, which results in the textured finish. Flamed finishes are best used for exterior purposes, like walkways.
ANTIQUE FINISHES
Antique finishes, most commonly referred to as leathered or river-washed finishes, are textured finishes like a flamed finish. A leathered finish is produced by using a diamond-grit brush system. A river-washed finish is produced by blasting the surface with an abrasive like sand or some other type of medium. A leathered finish can be produced on an already installed stone, but the river-washed finish cannot due to blasting process.
If you are interested in having a new finish produced on a natural stone at your home or business (or are interested to know if one of these finishes can be produced on a new material), please call GK's Custom Polishing, Inc. at (440) 937-4457, send them an email at sales@gkspolishing.com or visit their website.