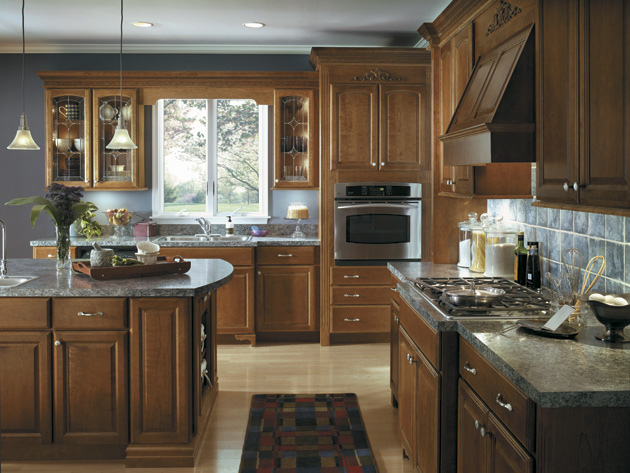 Kitchens by Design was started by Miles and Cathy Johnson over 25 years ago.
Miles has been serving the Miami Valley in the remodeling industry for over 25 years. The team at KBD is a hard working, customer service minded group, with years of experience in kitchen and bath remodeling.
With our team of designers and installation specialists, KBD is a one-stop shop for your kitchen and bathroom remodeling needs. We will take you from concept to reality and help you every step of the way. We have a nice showroom to help our clients through the selection process for their new renovation.
Our Mission
To continue to be Southwest Ohio's premier kitchen and bath design and installation provider. We'll do this by pleasing our customers with the highest quality products at the best prices while continuing our 25 year tradition of excellent customer service.
Southwest Ohio's Premier Design & Installation provider for Kitchens, Baths & Cabinets for over 25 years!
See more images at Instagram link
Testimonials
Miles/Cathy/Jarrod/Brad….
"I wanted to drop you both a line to give my sincere appreciation and express my satisfaction for the job that was done with our kitchen. The work was amazing and it was a real pleasure having Brad do the job, he is both professional as well as very pleasant. I knew I would be hesitant to turn my house over to someone I didn't know to be alone during the process and that feeling left me about five minutes after I met Brad. He is outstanding. Again, thank you and please pass my sincere thanks to Jarrod for all the attention and his professional planning. As I said, the kitchen looks better and is more functional than I ever imagined."
Miles,
"You designed an amazing kitchen. Thank you so much for all you have done for us. It was a pleasure working with you. Thank you to your wife as well. She was a great help in designing our kitchen."
Sincerely, Kelly and Miriam Kilroy
"We love our new kitchen! You guys are all wonderful! Jarrod, Brad, Mike, Miles…..great job! We would recommend you anytime!"
Ken and Linda Kreitzer
"It has been a few months since we had our new kitchen installed and I couldn't be happier with it. The cherry cabinets are beautiful and the molding that Mike so expertly cut gives them a wonderful finishing touch. The work was done expertly and carefully and everyone at KBD was friendly and easy to work with. Bruce helped us a great deal with the design; we thought that we knew what we wanted when we came in, but he made some suggestions that improved our plan. The work was done in a timely manner with less mess than I envisioned. I would definitely recommend KBD to anyone seeking kitchen remodeling."
Rose Schultz
"The kitchen is finished and it is beautiful! What could have been a very messy ordeal turned out to be much less disruptive than I thought. Miles, Cathy it was a pleasure working with you. Mike and Bill were great! I love my new kitchen want to thank you for all your work-I will certainly recommend you to anyone interested in remodeling their homes."
Sharon Lokai
"We just want to let you all know how pleased we are with the work you did in our house. But it was not only the quality of the actual work. Excellent customer service started with the two meetings we had with Bruce Wise and his patience in answering our questions then, and in answering our phone calls prior to the work start. On work days Mike, who did the bulk of the work, was very thorough, his work high quality, and his attention-to-detail second to none. We will definitely recommend your company to our friends. Thanks again."
Felxi and Lori Castro
Mike,
"Thank you for the excellent work on our new kitchen and bathrooms.  Your craftsmanship and attention-to-detail are to be commended.  The results are beautiful and we will enjoy our remodeled rooms for years to come. Thanks again, Mike!  We really appreciate all your efforts."
Mark & Linda Bayer
Dear Miles and Cathy Johnson,
"We wanted to personally thank you for the beautiful job recently completed on our kitchen remodeling.  We were most pleased with the excellent services we received from Bruce when first planning out our kitchen cabinets and accessories.  It is because of Bruce's professional bedside manner and color recommendations as to why we chose Kitchens by Design. When it came time to install our cabinets we were overwhelmed with the skills and craftsmanship of Ben.  He was honest, reliable and did an awesome job installing our cabinets, drawers and lighting.  He is truly an expert in his field.  In today's world of scam and cheating the customer, we were blessed with finding two of the best men in the business. We hope you realize how valuable they are to your company. We have and will continue to recommend Kitchens by Design to our friends and neighbors.  Again thank you for your services."
Sincerely, Bob and Judy Gobble
Dear Mr. & Mrs. Johnson,
"I am pleased to write you this letter. My husband and I had our kitchen remodeled by Bruce Wise in March. Bruce did a fabulous job and we are really pleased with the results. We have had several dinner parties and a graduation party since the job was completed on April 1, and we have been bombarded with compliments on how beautiful the kitchen looks. We appreciate all the planning and work and attention to detail that Bruce gave us. The suggestions he made were excellent and the kitchen is truly a work of art. Many thanks to Bruce and to your company."
Regards, Myra Minch
Dear Miles & Cathy,
"Candace and I want to thank you so much for all your help in transforming our kitchen – it turned out great.  All your assistance in helping to select the details and make the project come out so well was much appreciated.  Even the food tastes better."
Thanks again, Scott & Candace
Credentials