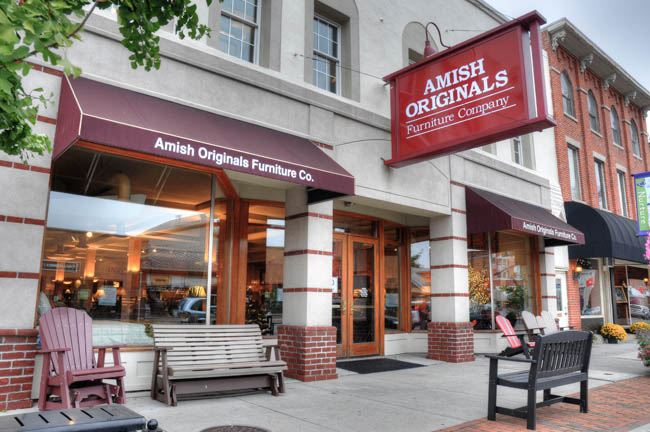 One of Ohio's leading suppliers of handcrafted Amish furniture, Amish Originals was established in 1992 in historic Uptown Westerville.  Amish Originals works closely with more than 70 families throughout Ohio's Amish heartland who provide quality furniture for every room of the home.
All of our furniture is made from responsibly harvested, kiln-dried American hardwood.  The quality materials are matched with outstanding craftsmanship—fine, classic detailing that produces heirloom-quality furniture that cannot be matched or replicated.  Each piece of furniture is custom made, allowing you to select the style, size, wood species and finish that will complement your décor.
Our Commitment to Environmental Responsibility
The Amish believe strongly in sustainability and as their partners, Amish Originals shares a mutual respect for our environment. Just as a well-tended garden will flourish and produce an abundance of vegetables, properly managed forests are healthier, full of wildlife, and provide a never-ending source of beautiful, American hardwood.
We only support timber companies that follow "Best Management Practices" as established by the Ohio Dept. of Natural Resources
Furniture is trucked less than 100 miles to our Westerville store
Furniture is blanket-wrapped—reducing the need for packaging
Furniture is designed and built to last for generations
No waste remains from furniture construction—wood scraps are used for fuel and sawdust for livestock bedding or garden compost
Solid hardwoods do not emit formaldehyde; all finishing processes meet EPA requirements
Testimonials
"We bought our dining room table and chairs from Amish Originals about 2 years ago, and absolutely love it! The selection is endless, but they were great with helping us pick all the details that were right for us. We have received so many compliments on it as well. It was also ready and delivered within the timeframe promised, and honestly not as expensive as we were expecting. Thank you for a great product!"
~Alyse E.
---
"We love our dining table, chairs, and buffet table from Amish Originals. Sales associates were knowledgeable and helpful. High quality furniture at very reasonable prices. Would recommend to anyone looking for custom furniture!"
~Sara K.
---
"Love this store! Great service! We've purchased our bedroom furniture and dining room furniture from them. Wonderful quality! Beautiful wood. We've received great compliments from friends and family! Will continue to be a frequent shopper!"
~Debbie J.
---
"We looked everywhere for a solid wood dining table big enough to seat 12 people. We finally found a number of options at Amish Originals. We picked the table style, wood, and finish and our table is a beautiful, big, sturdy table that seats the extended family. We also had a good selection of sturdy, good-looking chairs to match the table. We have since gone back for other items and have always been pleased. Everything is so well made and nice-looking, the kind of furniture that will be passed down to other family members in the future."
~Lindalee B.