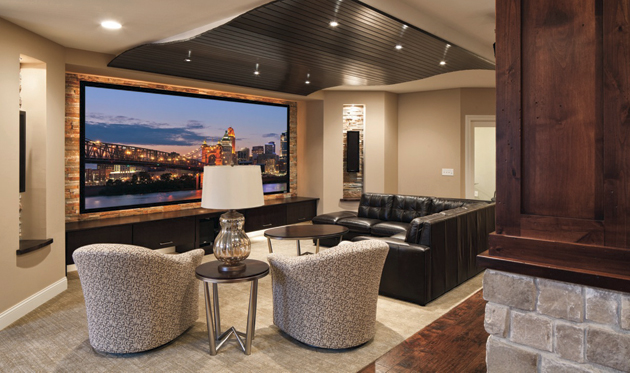 Hanson AV has been in business since 1999. The business was founded with a passion for excellence in Two Channel Hi-Fi Audio, Home Theater and Home Automation products along with the quality services to achieve superior solutions for your home and business.
Our staff researches and tests products from the finest manufacturers in the world and carefully select only those that meet our high standards of quality and performance. We enjoy working with companies that are as passionate about their products as we are and form close direct working relationships with them.
We also believe in helping customers purchase rather than sell products and services. This consultative approach is why we have established a world class, nationally recognized showroom that allows our customers to audition and try products, comparing alternatives in a variety of listening/viewing rooms to help ensure the right selection is made.
Once a customer has made their selection, our design and installation teams work to implement it to not only meet, but many times exceed their expectations.
Our focus market area is an 8 hour drive of Dayton but we do business across the US and have clients in many countries around the world. We are proud members of CEDIA, Chamber of Commerce, Home Builders Association and the Better Business Bureau where we have an A+ rating.
Service Overview
Hi-Fi Audio
Home Theater
Home automation
Financing
Products
Whole House Music
Turntables
Electronics
Headphones
Cables, Power Conditioning and Accessories
Digital Music Players
Televisions
Theater Seating
Surveillance and Lighting Control
Speakers
Screens
Projectors
Hanson doesn't just carry brands – we carefully select them. Our manufacturers and distribution partners represent some of the highest rated and finest products the world has to offer. Important also is that they can be delivered in a wide variety of price points. We take pride in working with our customers to provide the highest quality products available within your target budget giving you the biggest value for your dollars spent.
Hours
Regular Hours  
Mon-Fri 9:30 am – 6:00 pm
Sat  9:30 am – 2:00 pm
Testimonials
Adam Proud
"We bought a home theater from Hanson in October 2014. We live in Liberty Township, OH. We were extremely impressed with their customer service, selection, professionalism and knowledge. At every turn they did a great job. I would truly recommend to anyone looking for a true home theater experience."
---
Blake Arbogast
"Hanson Audio is the most professional stereo shop I've ever been to. The employees are knowledgeable and extremely friendly. I've been to stereo shops all over the country and can honestly say we are lucky to have Hanson in Dayton. Their selection is unbeatable. They installed a basic whole house system in my living areas and did a two channel stereo in my basement. I was impressed they had nearly every price point to fit my needs. I would highly recommend you visit Hanson for your home stereo. I'm a customer for life."
---
B Maxey
"Very helpful staff. I was made to feel welcome and it was a pleasure to talk to them. They went out of their way to demo several speakers, and never once felt like I was being judged because I wasn't dropping a load of money. Recommended."
---
"My wife and I were looking for a turn key home theater solution. We found that and more at Hanson. They visited our home, helped select equipment, even hooked us up with an expert design consultant to integrate the system into our great room. After the installation, they trained us on the operation and even made a follow-up visit to "tune up" the system settings. We shopped at other potential suppliers but no one worked nearly as hard to earn our business as Hanson. These guys are the best in this area."
---
Unknown
"I have been a small time audiophile for sometime, and being in my mid-20's have been snuffed at a few other Hi-Fi stores, but these guys were simply wonderful to deal with! Their staff is both knowledgeable and very courteous."
Credentials