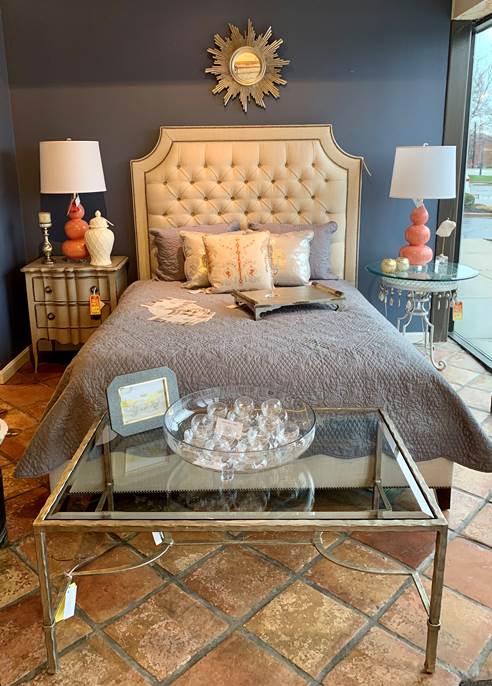 The Magic of Hoffman and Albers Interiors.  Imagine a magnificent showroom filled with the most incredible furniture and accessories and amazingly talented interior designers eager to transform your home into a dream come true…. And Yes, it's affordable.
Hoffman & Albers Interiors was established in 1993 based on the philosophy of providing superb customer service, fair and competitive pricing, and a knowledgeable, talented design staff. Owned by Ann and Jack Hoffman, the showroom is open to the public and staffed by award-winning designers ready to inspire you.
Testimonials
Ann Hoffman………..
I work for a company that prides itself on making it EASY for our customers.  Ann Hoffman's design process "Defines" easy in my book.  From Ann's visiting a model of our home to laying out a customized design plan that consolidated elements of what we already had to making sure it was all delivered and in place before the movers even got there along with a few "perfect" ideas for accessories…What a great experience.  I will never forget Laurie calling me before I even arrived with the movers saying, "Honey, the Hoffman and Albers stuff is all here and in place and it looks gorgeous.  We are Hoffman and Albers customers for the duration! — client
We would never go anywhere else! —L.
Heidi Thorn…….
Heidi is a genius. She is a powerhouse of design & artistic talent. Heidi is a consummate professional, artist, smart, funny, efficient, supremely patient, unpretentious. She has always guided us in the right direction—furniture, rugs, window treatments, paint colors, wallpaper, French doors, fabric& trim, crown molding, lighting, recommendations for other contractors/specialists, she even designed our Rookwood fireplace. Brilliant! Heidi is always mindful of budget constraints & has been a good marriage counselor when my husband's tastes take a different turn. We wish we had a million $ to spend with Heidi. She makes home so livable, well loved & fabulous for years to come. — Maria Shroyer
Heidi's design challenge was to update a 13 year-old rather formal decor in the main level of our home. We changed some upholstery fabrics and replaced a small couch, a dining room mirror, dining chairs, a chandelier, and carpeting…in the direction of cleaner, sometimes bolder, designs. Heidi has unerring design vision and knowledge, even as she encouraged the value of patience and collaboration in the process of making selections. Best, I love the results! Heidi understood our needs/budget and communicated regularly. A bonus: She is an absolutely delightful person! I'm sure that I will contact her again. — Cathy Klaus
I agree with other comments calling Heidi a genius and a pleasure to work with. We recently moved into a Hyde Park home to start our empty nester phase. Heidi's professional, creative eye has been a life saver in developing plans to renovate the outdated areas of this home. To date, she has helped us with storage options for a mudroom in our basement, a kitchen backsplash, paint colors, and floor / wall tile for two different bath renovations. Now we are moving on to lighting, furniture and creating a new 3rd bathroom. Heidi is prompt, follows through on her commitments and communicates clearly. What I have really appreciated about Heidi is how she listens very closely and then brings you ideas that reflect elements of your personal style, but push you out of your comfort zone. We are thrilled with how our kitchen and bath look now. There is no way we would have come up with these ideas on our own. I have tried working with designers in past homes, but often felt pressure to conform to some standard that didn't feel like me. Not with Heidi. She listens carefully and provides options that factor in your needs and your budget. I am very much looking forward to her help on the rest of our projects as we bring this old Hyde Park beauty back to life. — Laura Fernandez
My husband and I hired Heidi to assist with sprucing up the "empty nest" – choosing new paint colors, rugs, drapes and upholstery. We have had a wonderful experience working with Heidi, and are enjoying our updated home. Heidi is the quintessential professional. She has a wonderful sense of color. She listened to our ideas and preferences – patiently -, and assisted us in making decisions using her experience and artistic style, and we love the results. Working with Heidi is a pleasure, she is always prompt, and quick to reply to requests; moving our project along with efficiency. Our meetings, whether in our home or her office, felt like collaborations with a great guide, and were always punctuated with some laughter! We would highly recommend working with Heidi, and we look forward to working with Heidi again we proceed with future projects. — Alex Fibbe
Heidi is an exemplary designer! Her creativity and meticulous attention to detail sets her apart from other designers we have used in the past. From start to finish, Heidi guided us through the remodel of our Master Bedroom and Bath. Not only is Heidi a gifted designer, but she is a gifted communicator, as well! Heidi listens and hears what her client's want. She engages all aspects of her client's lifestyle into the project at hand so as to ensure the "new investment" will become a "solid investment" for many years to come. Quite a remarkable skill indeed! Heidi became a part of our family! Her warmth, grace, charm and sense of calm brought us great ease with every decision we made! Accountable, reliable, responsive and attentive…these are just a few of the many words we can find to describe Heidi Thorn. Thank you, Heidi, for a fabulous journey! The completed project is simply STUNNING! We will never use anyone else! Bobbie and Perry Leitner Leitner Electric Co. — Bobbie Leitner
I needed help updating my kitchen that had last been remodeled about 15 years ago. I was overwhelmed with choices of materials, colors, and what would still go with what I wanted to retain from what I had previously. Heidi Thorn really came to my rescue. She was able to guide me on best choices for countertop materials and colors to go with my existing cabinets. She was able rein in some of my wilder impulses and point me in directions that really worked well and delighted me. I will definitely use her help again in my future projects. — client
Heidi's design ability is excellent! Heidi sees a space and knows what to do. Our home had vaulted ceilings and many angles….not a problem for Heidi. When I would get nervous, Heidi was calm and confident! That meant everything to me. Thank you, Heidi! Unfortunately some of the vendors didn't make things as simple. Heidi rolled with challenges and pressed on. I am very happy! Thank you again, Heidi! — client
Diane Pelzer….
Working with Diane has made furniture selection as easy as possible. She helped narrow down our choices so that we could make no wrong decisions. Without her our house would not receive the compliments it receives. So grateful for her help and vision. — Sarah Habib Founder of Mission2Move
My relationship with Diane Pelzer spans over a decade or more. Diane has an uncanny knack for understanding my sense of style and most importantly my budget. She often comes in under budget without compromising the result I was hoping to achieve. Her knowledge of color space and style are superb.
No matter your taste or style I have no doubt Diane can help you achieve your vision. I have no doubt you will be happy you chose Diane as your designer. She is my go to person even if I choose a vase full of flowers or a room full of furniture…
With much appreciation,
Barbara Schwartz