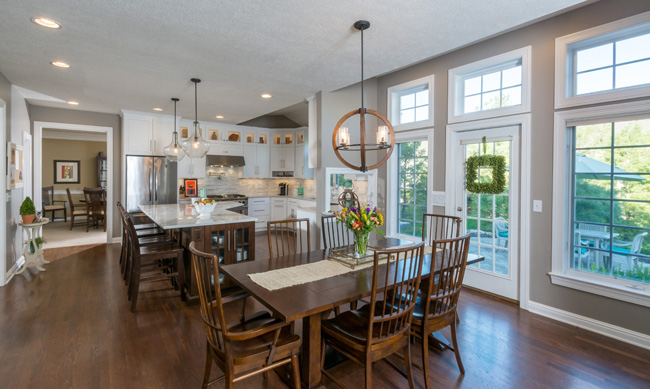 Podcasts
J.S. Brown & Co. Podcast (click for link)
Above Grade Podcast with J.S. Brown's Bryce Jacob – The home remodeling process can be just as rewarding as it is terrifying. Why not find out all there is to know from a local expert? Each week Bryce teams up with other industry experts to discuss all things construction in Central Ohio. From kitchens, bathrooms,…
We are proud to be one of Central Ohio's premier remodelers.
As a full service custom residential remodeling company and a licensed, bonded and insured general contractor, J.S. Brown & Co. has built a solid reputation for quality workmanship, professionalism, integrity and customer service in the remodeling industry. Our mission is to satisfy our customers' needs by offering a better experience and end result at a value that can't be matched anywhere else. Every project we manage is guided by a proven, step-by-step process that has been perfected for over 38 years in the industry. Our approach to remodeling projects, big and small, incorporates checks and balances at every phase to ensure our client's needs are always being met.
Discover how J.S. Brown & Co. blends quality craftsmanship with a stress-free process to be the #1 remodeler Central Ohio homeowners turn to when they want only the best in workmanship and service.
Services
• Kitchen Designs    • Bathroom Designs    • Remodeling    • Design Build
• Basement Finishes    • Home Bars    • Master Suites    • Porches
• Sunrooms    • Home Additions    • Whole House Renovations
• Home Exterior Remodeling    • Laundry Rooms    • Mud Rooms    • Home Offices
Associations and Honors
We're proud to be involved in our industry.
We're honored to be recognized as one of the best.
Associations
J.S. Brown & Co. is committed to being a leader in the industry and to staying at the forefront of trends and techniques. We are members in good standing of leading organizations, including:
Better Business Bureau (BBB)
National Association of the Remodeling Industry (NARI)
National Kitchen and Bath Association (NKBA)
Building Industry Association (BIA)
Ohio Home Builders Association (OHBA)
National Association of Home Builders (NAHB)
We are also proud to be active members in the Chambers of Commerce of the communities we serve, including Clintonville, Grandview, Marble Cliff and Upper Arlington.
Honors
J.S. Brown & Co. has been repeatedly recognized by many of these professional organizations as a leader in our craft, receiving numerous local, regional and national awards for excellence in craftsmanship as well as business practices.
Some of our most prestigious honors include:
The BBB Integrity Award for Business Ethics.
Multiple BIA Showcase of Remodeled Homes awards, including Best of Show.
Multiple NARI Home Improvement Showcase awards, including Best Interior Renovation.
The Local, Regional and National 2015 NARI Contractor of the Year (CotY) award, the industry's most prestigious award, which recognizes remodelers from across the nation for excellent workmanship, problem solving ability, innovation, and professional achievement.
Multiple Local and Regional NARI Contractor of the Year (CotY) awards from 2001-2015.
Remodeling Magazine's Big 50 award (1999), which recognizes 50 companies each year for policies, performance, and best practices that set the standards in the industry.
Testimonials
"I have worked with JS Brown on multiple projects since 2005. They have gutted and rebuilt our kitchen, family room, laundry room, and two baths; added on a two car garage and reworked a basement. Their work is outstanding, from the planning stages to the finished project. We request the same project manager each time. He takes the time to listen to what I am expecting in the little details (color of outlets, placement of vents, etc.), and makes sure that the big details (moving walls, replacing ceiling, placement of windows) are executed with precision. They stand by their work and do not hesitate to come back if needed. More importantly, they have a positive attitude about the project from the beginning and keep us in the loop with progress and delays. Information flow and attitude are extremely important details of remodeling that are often overlooked, but not by J.S. Brown & Co."
Beth & Mark – Dublin
---
"We have had J.S. Brown & Co. do 3 home remodeling projects for us – from a total kitchen remodel to a smaller master bath remodel – and have found J.S. Brown & Co. to be extremely professional, yet provide a family-like relationship with their clients. They're conscientious, thorough and very organized in the planning as well as the execution of plans. We wouldn't think of calling anyone else for our home projects."
Dana & Hugh – Dublin
---
"We are absolutely delighted with the transformation of our house. The resulting space makes us feel like we can live in it without looking at the structure and experience the freedom and joy of interacting with the outside. The walls seem to disappear and merely direct our gaze rather than obstruct it. Thanks to our designer and project manager and their team's meticulous execution in realizing our vision of a modern space that we absolutely love to live in and enjoy."
Suneetha & Shankar – Bexley
---
"We hired J.S. Brown & Co. after a very enthusiastic referral from a friend. We found out why pretty quickly. Our designer's professionalism, knowledge and flexibility in scheduling won us over. We did a whole house renovation, with most of the work and planning done on the kitchen. No detail was overlooked, and we were given an exhaustive list options with pros and cons for each. Of course, if you wanted the short version or reached decision fatigue, our designer was happy to let you know what she would do if it were her house – an option we utilized a few times! In the end, we couldn't be happier, both with the manner in which the project proceeded and the final result. We are currently doing an exterior project and hopefully other projects with J.S. Brown & Co. in the years to come."
Jeeseon & Matthew – Clintonville
---
"J.S. Brown & Co. designed and implemented a basement renovation project for my 1920s house. My goal was to add a bathroom with a shower, a home-office work area, and lots of storage space. The small area, uneven floor, low ceiling height and many other issues presented a number of challenges. My designer did a great job designing through the issues. Her overall management of the construction project as it progressed was perfect, and her attention to detail (down to the finest of details) throughout the project was remarkable. The crew at J.S. Brown & Co. and the subcontractors approached the project as if it was their own house. The production manager, who managed the day-to-day work, was a steady and comfortable hand. The process and final result exceeded my expectations."
Satisfied Client – Grandview
---
"J.S. Brown & Co.'s design was wonderful and beautifully and professionally executed. Never having undergone a remodel, everyone I worked with was clear in defining expectations. There were really no surprises, and in a house built in 1870, that is a real bonus! I recommend them highly and would definitely work with them again."
Lisa & Bill – German Village
---
"We really enjoyed working with our kitchen designer from J.S. Brown & Co. She was sympathetic to how the renovated kitchen would mesh with the style of our older home. We wanted to update the kitchen and respect the integrity of the home. With our designer's help, we were able to reuse some of the elements of the old kitchen in the new design. We love the results!"
Satisfied Clients – Clintonville
---
"After obtaining estimates from three different companies, our decision to choose J.S. Brown & Co. was quick and simple. By the end of the initial consult, our designer's vision for the space was perfectly aligned with our needs, desires and ideas. Our beautiful new kitchen has changed our family dynamic. We find ourselves gathered in the kitchen the majority of the time now and have made a new tradition to cook Sunday dinner together as a family. We would not hesitate to recommend J.S. Brown & Co. to anyone."
Kathy & James – Powell