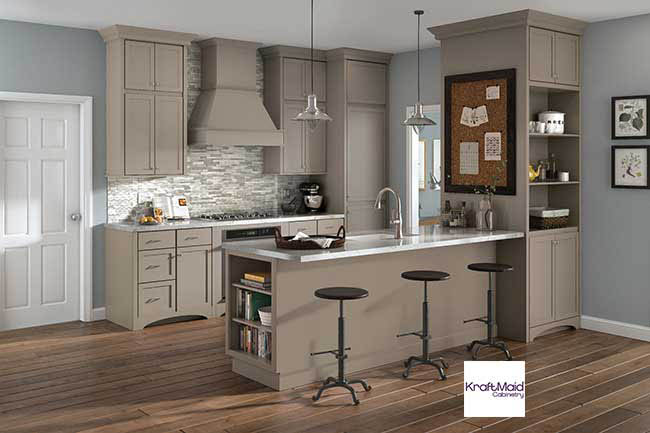 Our Process
Your household revolves around your kitchen. It's where you prepare your meals; it's where you rush through late mornings; and it's where you indulge in simple joys like a glass of wine or cup of tea.
If your kitchen no longer accommodates the exact rhythm of your life, it's time to change. You can trust Lifestyle Kitchen Designs for beautiful and functional kitchen remodeling services.
Few other furnishings do more for your home than your cabinets. They serve the practical purpose of keeping your belongings organized and stored safely, while also setting the tone of the entire room. Since they take up so much surface area, your cabinets are likely the first thing people see when they walk into the room. When it comes to redesigning your cabinets or installing new ones, you should trust a qualified cabinet company to take your ideas and make them a reality. Lifestyle Kitchen Designs works closely with you from the concept stage to when the cabinets are successfully installed in the room.
Kitchen Remodeling and Design in Dayton
We know just how intimidating a renovation can feel. That's why we work hard to make each step of the remodeling process simple. To that end, we offer the following:
Design coaching
In-store consultations
Onsite evaluations
Personalized design profiles
Once you have a vision for your kitchen, we take precise measurements and fabricate any custom items in our state-of-the-art manufacturing facility. Our team ensures that you feel confident throughout the renovation process, and that you love your finished kitchen when we complete our work. If you're ready to get the cabinets you've always wanted in your Dayton, OH home, contact us today.
Our promise
At Lifestyle Kitchen Designs, we empower and support our clients to achieve their dream homes, one room at a time. We provide you with a wide range of prefabricated and custom solutions, as well as a design coach to help you make the most of them.
Our two locations in Dayton and Cincinnati, OH provide knowledgeable and personal help for each of our clients. Contact the location nearest you today to get started.
For service in the Dayton area, call (937) 866-3611.
For service in the Cincinnati area, call (513) 671-1440.
Credentials