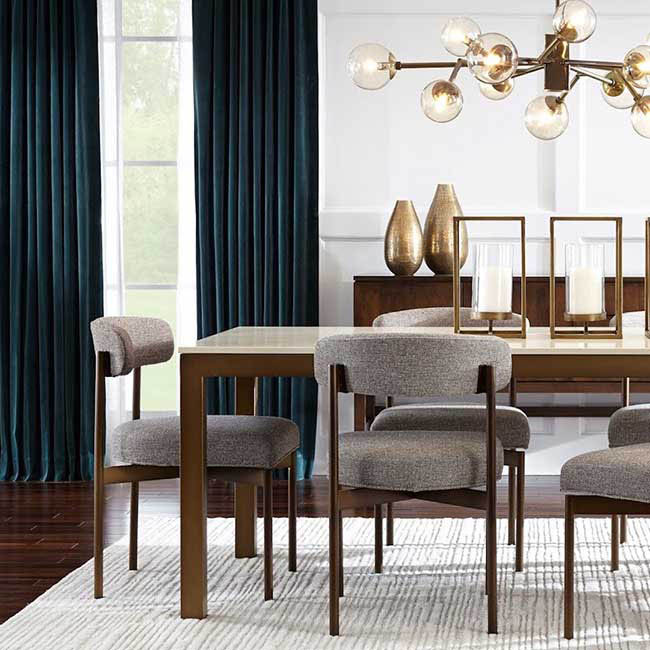 We're on a mission to make the world a more comfortable place–for everyone. Please join us.
Our loyalty program offers you 20% savings every day, with exclusive access to special events and services.
As a member, you will receive the following benefits:
Complimentary membership
20% SAVINGS*
Complimentary in-home design services
Early access to sales & promotions
Invitations to exclusive in-store events
Concierge service to assist with your orders
After-hours appointments for your convenience
LET US BRING OUR EXPERTISE TO YOU
Our in-home design services are ideal for busy schedules, and let us bring our expertise to you.
Our talented designers are masters at helping you navigate our collection to create the perfect mix of style and comfort, in a range of styles, fabrics, and finishes. From finding colors that make a space serene, to choosing finishing touches like rugs, lighting, and draperies, we will collaborate with you to create a personalized plan for a room, or your entire house.
Our designers will accommodate your schedule, and be available for questions via phone or email, as well as in person.
Benefits of In-Home Design Services:
Personalized service
Expert design advice
Space planning
Flexible appointments
Complimentary for Comfort Club members
Our brand began in 1989 with the seed of an idea: comfort for all. That idea quickly grew, guiding us and uniting us in everything we stand (and sit) for. With those roots in mind, we invite you to join our spirited quest to make the world a more comfortable place: for all.
Often referred to as the masters of modern home furnishings, co-founders Mitchell Gold and Bob Williams bring the perfect blend of business and creative energy to our brand. Together, they strategize with our in-house design team to create products with the guiding principle of producing only furnishings they would want in their own homes. With that shared vision, Bob directs the design execution and Mitchell oversees marketing, sales and production.
We want to make life easier for families. From offering forgiving fabrics and washable slipcovers to kid-friendly furnishings, we design with families in mind. In 1999, we started a not-for-profit, onsite daycare that provides healthy meals, active play, and education-based learning for our employees' children. We also offer an annual college scholarship program, wellness clinic, physical fitness center, and a health-conscious gourmet café at our factory and company headquarters.

We've been making environmentally intelligent decisions since our inception, from how we design and craft our eco-friendly upholstery to how we pack and ship our products. As active members of the Sustainable Furnishing Council, we work with the furniture industry to develop best practices to ensure a sustainable planet for generations to come.
To us, Made in America is more than just a catch phrase – it's the heart and soul of our ethos. Our earth-friendly upholstery is handcrafted in our 600,000-sq-ft modern factory, based in Taylorsville, North Carolina. Each piece is carefully bench-made by skilled artisans to create a work of art that will stand the test of time.

Comfort: It's at the center of who we are and our values. Simply put, we believe in comfort for all – comfort for our employees, comfort for their families and comfort for our customers. We strive to cultivate and maintain an environment of mutual respect and inclusion, all the while innovating, designing and crafting furnishings to make your home – and life – more comfortable.
From the moment we met her, our late English bulldog Lulu captivated our hearts. Over the years, she made appearances in our ads, and in many ways, became the "face" of our brand. Lulu has been our muse ever since, inspiring us to be a pet-friendly brand, from welcoming pets in our signature stores to designing products with your four-legged friends (and ours) in mind.
Who We Are:
We provide comfort. For everyone.
We were once a jewel of a company, 23 persons strong and growing.
We are now a jewel of a company, 700 persons strong and growing.
We are forward in thinking and design.
We look backward to learn.
We are unpredictable.
We love to laugh.
We are in the homes of many famous people.
We are in the homes of many more not so famous people.
We believe in we. Not I.
We believe children enrich our lives.
We believe in enriching the lives of children.
We don't like mean people.
We obsess over minutia.
We believe in giving great service.
We are active in the pursuit of equality.
We provide consistently good quality.
We deliver consistently on time.
We are timeless.
We love pets.
We give to our communities.
We work with the best merchants and tastemakers.
We sell our collection in the most spectacular of retail environments.
We love to entertain.
We love to be entertained.
We are traditional.
We are non-traditional.
We love what we do.
We never miss a meal. Ever.
We create an environment of mutual respect.
We respect our environment.
We believe in providing customers with a value.
We value our customers.
We are curious about everything.
We are stopped by nothing.
We are on a mission to make the world a more comfortable place.
We invite you to join us.