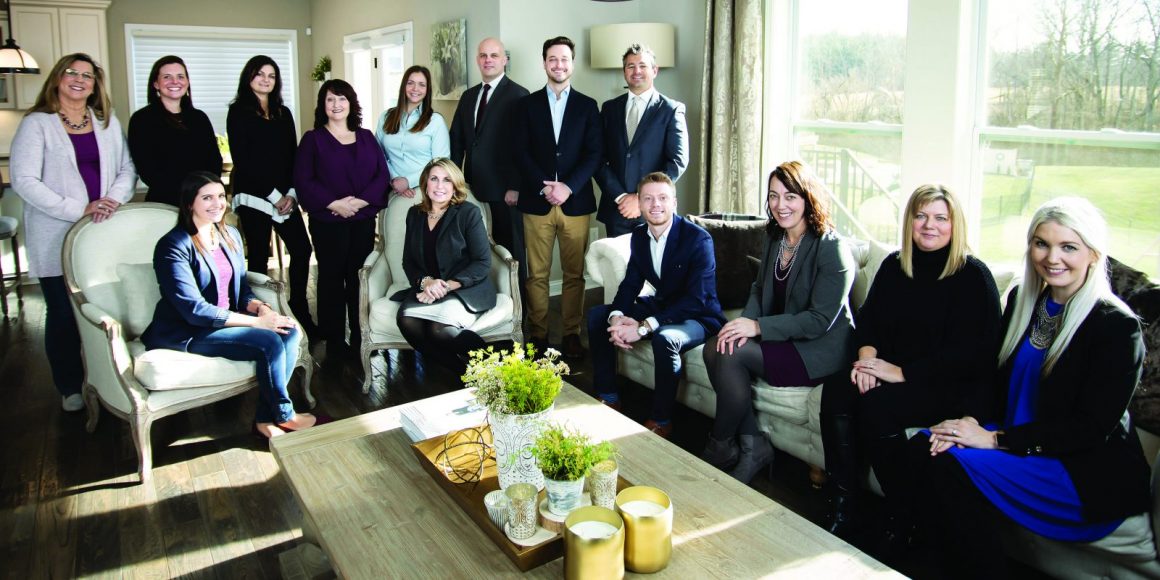 Led by Ellie Kowalchik, the Move2Team has years of full-time experience that have given them a clear understanding of the mindset of home buyers and sellers and a thorough understanding of the regional marketplace. Ellie was just once again recognized as one of America's Best Real Estate Agents by RealTrends, and for the fourth year as a Five-Star Real Estate Real Estate Professional.
Move2Team is an internet marketing specialist, offering property exposure on websites with the most buyer traffic. Ellie's multifaceted approach ensures her clients receive unparalleled service. She and her team use their knowledge, energy, and the latest technology to guide clients through every step of even the most complex real estate transactions.
Serving the entire Greater Cincinnati area, including (but not limited to):
Loveland
Mason
West Chester
Maineville
Montgomery
Blue Ash
Batavia
Anderson
Cincinnati
Sharonville
Evendale
Goshen
Milford
Deerfield Township
Miami Township
Indian Hill
Hyde Park
Mariemont
Oakley
Madisonville
Terrace Park
Kenwood
Norwood




Ask The Expert
Testimonials
"I just wanted to take a few minutes to tell all of you what a great job you did. As a team you made moving and selling a house enjoyable. I didn't think that was possible. From day one you help me get the house ready for the market, you worked with me through the delays but it was all worth it. I think one day on the market was proof that I picked the right team. I am not sure how Sarah was able to work with so little and still make the house look great. Thank you very much for that.
Once the offer was accepted the great support didn't stop. It actually kicked into high gear. Any time there was a question, any time something needed to be done, any time I needed an update you were there to help. You have no idea how much Dianne and I appreciated that. Once again you pulled off the impossible. You made it enjoyable.
Ellie, when I called to get this whole thing started it was because of your reputation in the Loveland area. All I asked was for you to live up to that reputation. You and your team gave me way more than I asked for. As I told you at the closing, I am your number one sales person from here on out. Thanks again for the great job and all of the hard work."
— Brad S. | Seller
"Ellie and her team made the entire process seamless. They were so knowledgeable, friendly, and proactive. I was dreading everything that goes into selling a home, and they turned it into a pleasant, positive experience. Thank you, Ellie! You and your team are the best!"
— Gina D. | Seller
"We have used Ellie multiple times for our home purchases and have always been extremely pleased. She puts in extra time and effort to make sure we get the right deal. Her entire team exceeded our expectations every time."
— Dustin M. | Buyer + Seller
"You need to contact Ellie. We worked with/interviewed multiple realtors in the area, we thought very carefully about who to go with. We knew when we decided to go with Ellie, the job was going to get done and done well. AND WE COULD NOT BE HAPPIER. Ellie and her team are outstanding to work with. From the sell side result, we decided to stick with Ellie on the buy side as well. And once again Ellie and her team impressed us with their expertise, professionalism, and drive. They really showed they care, not just about the getting the transaction done, but for us as people and a family. They do things the right way. We will not use or suggest any other realtor as this experience has really been top notch."
— Sean F. | Buyer + Seller
"We would recommend Ellie and her team without reservation. Great advise with local knowledge. Very happy with the sale and time frame, always available to answer questions."
— Meriel H. | Seller
"We highly recommend Ellie. She is extremely professional in every aspect. Ellie really knows Loveland inside and out, and priced our home appropriately. Our home sold in ONE day, for over the list price! We appreciated that during our initial interview, she did not make us feel pressured to use her services. She calmly explained the listing process and the services she would offer. Ellie has an outstanding team and their communication with us was outstanding. If you plan to buy or sell in Loveland, she is the best! "
— Elizabeth M. | Buyer + Seller
"We were very happy with Ellie and her team when buying (and selling) our home. She and her team were easy to work with, communicated very well, knew the market, knowledgeable about the area and crushed it with the selling process. We had 45-50 showings on Day 1 and about 14 offers at the end of Day 1. Definitely recommend using Ellie Kowalchik and her team."
— Nick D. | Buyer + Seller
"Ellie was patient, understood and worked with our preferences and made very timely and impactful recommendations about what to look for in every area of the home. Highly recommend, the whole team supporting Ellie is extremely friendly and on top of their game as well!"
— Nate D. | Buyer + Seller
"We lived in Loveland Ohio for nearly 23 years having built our home. With our kids grown, we decided to downsize. Our research found that real estate agent Ellie Kowalchik was the most proven and trusted real estate agent in our area. From our first meeting with her, we knew we made the right choice. She's caring, creative, direct and straightforward with her recommendations. She has assembled a team of true experts that handle all aspects of the home sale from start to finish. Any time we needed to speak to Ellie, she was always available day or night to include the weekends. If you want the absolute best, hire real estate agent Ellie Kowalchik and leave the logistics and stress of the sale to be handled by Ellie and her awesome team! She is, as Tina Turner sings, "Simply the best"!"
— Jim K. | Seller
"The Move2Cincinnati team sold our home in 11 days for 97% of asking price – not an easy task when ours was a 12-year old custom-built home in a 30+ year old neighborhood of somewhat smaller homes. We did our homework when we chose Ellie and we certainly weren't disappointed."
— Michael R. | Seller
"Ellie was such a pleasure to work with! She is prompt in her response and has her client's best interest at heart. She and her team went above and beyond to ensure a smooth sale of our house. After listing with a different agent with no luck, we contacted Ellie. Within 24 hours of listing our house, we had 7 offers on the table! We HIGHLY recommend her and her team to those looking to sell their home and for the process to be as seamless as possible!"
— Melissa F. | Buyer + Seller
"Ellie and her team are extremely knowledgeable of market, use excellent photography, and are very professional. She is a great negotiator, and the staff is on top of their game – never missed a beat. Listened to our questions and concerns and were fair and honest."
— Christina H. | Buyer + Seller
"I had a fantastic experience with Ellie… from across the country! I was the Trustee on the estate and first met Ellie when my family was in town for the funeral and the house was filled with furniture and everything else you would expect. Not being local, Ellie helped point us in the direction of various services such as landscapers, general contractors, consigners, cleaners, etc., and even scheduled work for us and met with the service providers at the house in order to get things done and check the quality of work. We made several short trips back to Loveland, Ohio to clear out the house, but were able to facilitate the house listing and closing from Seattle with Ellie being our eyes and ears on the house. Her concierge service was also super helpful and removed a lot of challenges for us not being present locally. Everyone was great to work with and was willing to go the extra step.
Additionally, this was a fairly complicated Trust/Estate situation that required legal involvement. Ellie was willing to share contacts, utilize her network of real estate lawyers and estate lawyers, and help us sort through some challenges that could have blocked the house closing. While the Trust documents provided for some real challenges, Ellie remained engaged, supportive, and was super responsive every time I reached out, which is always great in a partnership.
I had no prior experience or knowledge of Ellie, but my late mother-in-law was impressed with how much Ellie was able to get on another house in the neighborhood, so she made it clear that Ellie was her top choice. I can say, beyond a shadow of a doubt, that we made the right decision to team up with Ellie and her office. Besides getting top dollar for the house in an extremely short window of time, Ellie provided all the help, support, knowledge, wisdom, and experience that we needed for this complex estate closing and she quickly earned our full trust and confidence through the process."
— Jason H. | Seller
"Ellie and her staff do an excellent job of keeping you informed of what is going on with respect to the sale of your house. We always got prompt responses to our questions/concerns and follow up was excellent. Ellie knows the Loveland market quite well and has lots of contacts within the real estate community in the area. The ability to communicate with Ellie and her staff by telephone, computer, web site, text was great."
— Daniel E. | Seller
"Ellie is the best! Highly professional and personal. Ellie and her team supported us and worked through all issues In the selling and closing process. Ellie is dedicated and highly knowledgeable. I highly recommend Ellie and the Move2Cincinnati team."
— Tim W. | Seller
"Ellie sold our house last month. Her expertise showed in everything she did. She not only got us top dollar ($20,000.00 more than we anticipated), but she also helped us thru the process of fixing our house. She gave great advice on how to make our "fix up" dollars get the most return. "
— Doug B. | Buyer + Seller
"Ellie is not just a realtor, she is a PARTNER. She is very knowledge of the market area and has contractors that can do last minute repairs at a very reasonable rate and quickly. She recommended a listing price we were comfortable with and had three offers within 24 hours of our listing going live at our asking price. You can't beat that. She made the entire process painless and worry free and kept in contact the entire time. If you're looking for an agent that wants to partner up with you and get it done, Ellie is your person."
— Dennis D. | Seller
---