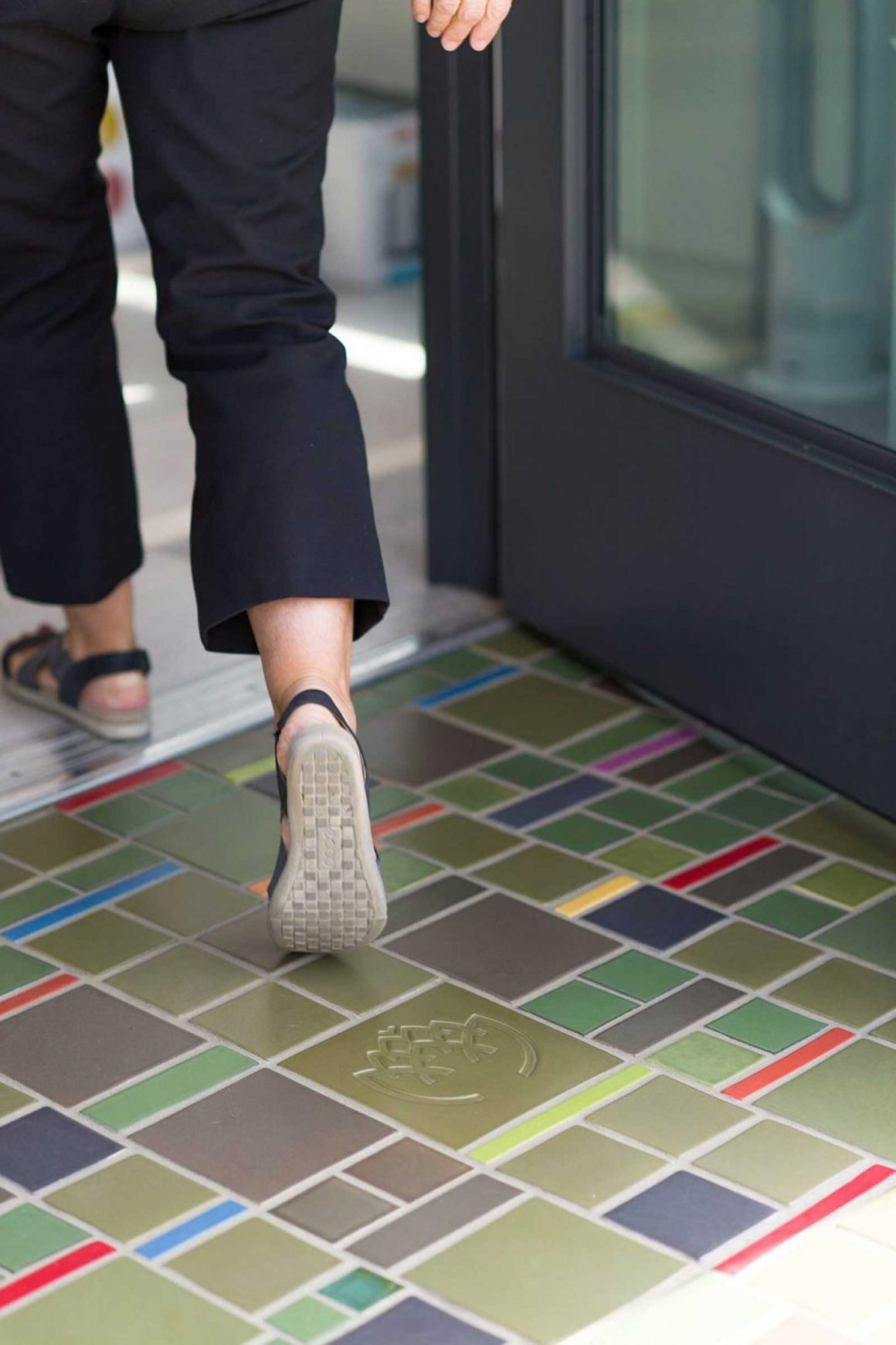 Timeless, Innovative Art – Made in Cincinnati
The Rookwood Pottery Factory & Design Studio is located in an 88,000-square-foot production facility in the bustling Over-the-Rhine neighborhood of Cincinnati. The company was first founded 130 years ago by pioneering artist Maria Longworth- Nichols and continues to be woman-owned and woman-powered today. Our passion then and now is producing the highest-quality functional fine art in the United States, providing our customers with a product that is unique from tile to tile and from space to space.
Products
GLAZE
Rookwood offers three different glaze lines: Signature, Heritage and Studio. Signature Glazes each come in stunning matte and gloss finishes with minimal color variation from tile-to-tile and can be used with all Rookwood Tile lines. With smooth, rich, and velvety textures, Heritage Glazes offer a wide range of earth tones capturing true "historical Rookwood" hues. Entirely unique across every piece, Rookwood's Studio Glazes are fluid and complex combinations that create a wide range of tones and textures in each tile installation, often containing variations of coloring within a single composition.
FIELD TILE
Rookwood Field Tile, available in 36 geometric variations, allows our meticulously formulated glazes to pool perfectly on their smooth surface. From a simple standalone installation to an elegantly curated statement wall, our tile is designed to become a centerpiece in your home.
RELIEF TILE
From modern installations that utilize texture to create movement, to designs that capture a more traditional aesthetic, Rookwood's Relief Tile offers the opportunity to create a unique piece of art in every home. These tiles fit with any aesthetic, whether you prefer bold, graphic lines or a delicate botanical statement. We offer these tiles in both handpainted and single glazes.
STUDIO TILE
Rookwood's Studio Tile collection showcases the handpainted art tiles that Rookwood is known for throughout the world. The polychrome process ensures that every single Studio Tile is unique. Hand-carved and painstakingly hand-glazed, Studio Tile provides a stunning accent piece for every installation. The delicate detail of each of these tiles is beautiful with a single glaze.
ARCHITECTURAL ELEMENTS
Rookwood Architectural Elements include Bullnose Edges, Liners, Moldings, and Fireplace elements. The addition of any of these pieces to your installation add an extra level of detail to create a cohesive, polished design. These unique elements add a clean and elegant finished edge to any Rookwood installation.
Programs and Services
BECOME A TRADE PARTNER
Our trade partner program is complimentary to licensed professionals. To find out how you can be considered for the program, call us at 513-381-2510 or email [email protected].
CAD DESIGN SERVICES
Through one-on-one design consultations, Rookwood Design Consultants can assist you in defining your project needs and exploring Rookwood's exclusive tile lines and glazes. We offer a complimentary one-hour initial conversation. To set up an appointment, visit https://rookwood.com/specs-resources/.
TOURS
Experience Rookwood Pottery in a guided tour and witness the handcrafted quality processes that make our company the premier brand of American-made Architectural tile and pottery. Free tours are offered weekly, or book a private tour. Visit https://rookwood.com/tours-events/ to book a tour or contact us at [email protected] for more information.
Testimonials
"My family and I visited Findlay Market, and were wowed by the front stoop of "Artichoke," a retail store in OTR.  I was sourcing materials for our kitchen renovation, and when I found out that the tiles were Rookwood Pottery, I realized how perfect this artistic nod to our Cincinnati heritage would be in our anticipated "Coffee Corner."  We had an amazing experience from design start to the final product.  The showroom is beautifully curated, and enabled us to visualize how the tile would translate into our home.  Our backsplash is a showstopper and what people most remark on and remember."
– Jo Ann and Mike, Tile Customers
---
"I love it! It's a conversation piece, having Rookwood in our home. I am thrilled to show it to anybody. Rookwood is such a Cincinnati heritage."
– Susan Gates, Interior Designer
---
"Rookwood design professionals worked with our architect's plans designing fireplaces that are fully integrated into the house's structure.  These fireplaces are the highlights of our new home.  The initial success with the fireplaces has us looking forward to installing more Rookwood architectural features in the future."
– Roy, Tile Customer
---
"Our experience with Rookwood was terrific, especially with Rookwood's help with the tile selection and layout design. We were able to hand our installers our layout drawing, and within 3 days, we had a finished backsplash designed and executed with ease.  We had lived in Cincinnati for 12 years and had become familiar with Rookwood.  We were very appreciative to bring a historical piece of the Queen City back to our home in the Steel City!"
– Polly, Tile Customer
---
"We don't feel we paid a premium for it, but we got the premium product, with the ability to customize throughout the process-it's beautiful. It's historic. It's uniquely Cincinnati. And it's a dream come true to have it in our home."
– Karen, Tile Customer
---
"We stopped into Rookwood while browsing for a backsplash in our kitchen. Three visits later that same day we placed our tile order. The tile gives such a uniqueness to our kitchen and we couldn't be happier! First class service and first-class tile!"
– Diane, Tile Customer