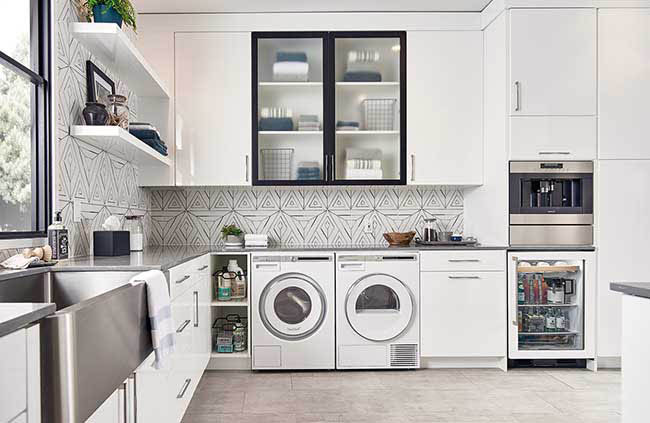 As the official Sub-Zero, Wolf and Cove showroom in Northern Ohio, Trevarrow, Inc. has been a destination for kitchen inspiration – whether for new builds or remodels – for decades. Having recently expanded their space with an additional 1,200 square feet of cutting-edge design, gives a whole new reason to visit their showroom.
The addition emulates a sophisticated urban loft with six distinct vignettes that highlight the ways Sub-Zero and Wolf appliances can assimilate into any design. At the Trevarrow showroom, you can see full-scale rooms which include styles of modern industrial, urban-loft, wine room elevator shaft, media room, modern farmhouse, Tuscan, rooftop outdoor, amongst others.
Beyond kitchen inspiration, the Trevarrow, Inc. Showroom Consultants provide homeowners as well as designers, architects and builders, all the information they need to know to make the right decision for their kitchen appliance needs. Because they do not sell direct – they use a network of dealers in the area – there is no sales pressure, just information. Because new technology like the Wolf Convection Steam Oven can be a lot to take in, the consultants provide one-on-one training as needed for new owners or those who are still in the consideration stage. They host product demonstrations with a corporate chef who provides training on live product complete with a sampling of the delectable dishes that were created during the presentation. Trevarrow, Inc. is located at 12610 Corporate Dr. in Cleveland. Please call 800-362-2807 to schedule an appointment. Showroom hours are 8-5 Monday-Friday and 10-2 Saturday.
Our showrooms are the best places to freely explore ideas for your new kitchen. We represent only the finest kitchen appliance brands in Michigan and Ohio. Here, it's all about hands-on planning and learning without pressure, only inspiration!
Company Branding

http://www.askona.com/


http://www.bestrangehoods.com/home.aspx


http://www.subzero-wolf.com/


https://www.scotsmanhomeice.com/


http://www.subzero-wolf.com/


http://www.subzero-wolf.com/
Credentials