Attending a variety of home and garden shows each year, the Housetrends staff has seen an increasing presence of home swim spas.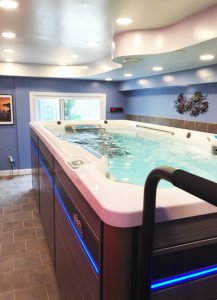 They look inviting, but we wanted to learn more. To do just that, we turned to the staff at Ohio Pools & Spas.
Ohio Pools & Spas, which has three locations around the Cleveland area, carries two types, Endless Pools® Fitness Systems and Swim Cross™ Exercise Systems. Both come in a variety of sizes and have multiple options, including a swim machine and/or an underwater treadmill.
There are many advantages to using a swim spa.
"Our swim machine current or pulsating twin jets create the perfect environment for a wide variety of water-based exercises including swimming, aerobics, rowing and water walking with accessory options and standard anchors for an enhanced experience," Endless Pools states.
Therapeutic benefits provide more great reasons to use a swim spa.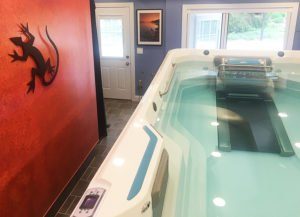 According to Endless Pools: "Experience therapeutic relief for everyday or chronic aches and pains through low-impact activities in a warm aquatic environment. Complete body workouts simultaneously tone and strengthen all major muscle groups through natural resistance to deliver better results in less time and with less impact on muscles and joints than walking or cycling."
What if your intrigued, but not sure it would be the right size or feel for you? Well, you can try out an Endless Pool before you buy one.
"We encourage customers to schedule their test swim at one of our showrooms," says Olga Rusal, Marketing Manager for Ohio Pools & Spas. "All three of our showrooms have working models of both Endless Pools® Fitness Systems E500 and Swim Cross™ Exercise Systems X200."
You can schedule a test swim by visiting the Ohio Pools & Spas website (https://www.ohiopools.com/swim-spas), calling (877) OHIO-SPA or stopping in to one of the stores.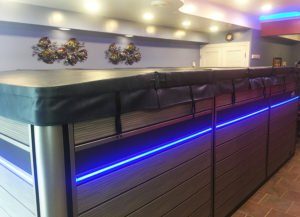 And you don't have to worry about the installation and setup. Ohio Pools & Spas has you covered. In fact, they have been awarded for their installation, earning second place in the first-ever Endless Pools® Fitness Systems national installation photo contest.
Working with homeowners who are fitness enthusiasts, the team from Ohio Pools & Spas installed an Endless Pool Fitness System in the third stall of a garage in a home in Hinckley, Ohio.
Despite the weather during a Northeast Ohio winter, the homeowners enjoy using their E500 every day!