Fire pits and fireplaces are truly becoming the "hot" trend in landscaping, as homeowners look to extend the use of their outdoor spaces beyond the warm weather months.
But which option is best for you?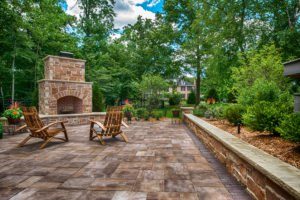 According to Kathleen Dangelo at The Ohio Valley Group, her company has busily been installing equal numbers of fire pits and fireplaces. With the exception of those who decide to go with both options, the choice is typically influenced by these key factors.
Fireplaces
Dangelo says some situations will simply "scream for a fireplace," especially those that involve covered spaces like pergolas or porches. Building codes strictly dictate such matters.
Regardless of how the seating is arranged, a fireplace has limitations in the number of people that can actually get close to the hearth. A guest who is forced to sit in the outer perimeter may feel somewhat left in the cold and dark.

A two-sided fireplace allows the fire to be enjoyed in the open air or under cover.

Due to their height, fireplaces can create some privacy from nearby neighbors. They also serve as a buffer of another sort when colder winds blow.
A double-sided fireplace that serves both a covered and open-aired space can be enjoyed regardless of how inclement the weather might be. It also has the ability to double the amount of people able to sit around the fire, although they'll be sitting on opposite sides from one another.
In that fireplaces generally tend to be more expensive to construct, budget often plays a deciding role.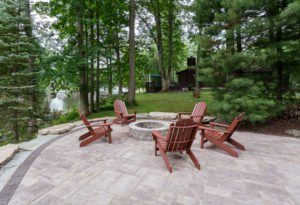 Fire Pits
Fire pits are far more flexible in terms of the amount of horizontal or vertical space that they require. Easily tucked into the corner of a patio, fire pits are also a good choice for situations in which height is restricted.
It's far easier to squeeze a larger group of people around a fire pit than a fireplace. As an added bonus, everyone will be better able to face each other, making for a much more interactive experience.
Fire pits are far more hazardous when it comes to containing the flames during windy conditions. Scattered embers can pose a problem if there is a lot of potential fuel (trees, flower beds) located nearby.

A fire pit tucked into the corner of a patio allows for an unobstructed view of the backyard.

If your outdoor space is surrounded by an exceptional landscape, a fire pit will not obstruct your view of it.
Fire pits can be built for a fraction of the cost of a fireplace, putting this option more in reach for most homeowners.
Save
Save
Save
Save
Save
Save
Save
Save
Save
Save
Save
Save
Save
Save
Save
Save
Save
Save
Save
Save
Save
Save
Save