This time of the year makes it easy to understand the growing popularity of outdoor fireplaces and fire pits, when winter's cold would otherwise make a pretty strong argument for hunkering indoors. But Mark Mazzurco of H & M Landscaping sees this surge of interest as much more than the need to deliver creature comforts.
According to H & M's president, it's all about creating a more inviting outdoor retreat from their harried lives. "People are working harder and longer days, as well as being so engaged with their kids' sports and other activities. With their time no longer a commodity, it is easier to walk into their back yard and spend time together, rather than having to schedule a weekend off to go enjoy it at a resort."
As a result, Mazzurco says homeowners are looking for more fully functioning outdoor living spaces that allow almost year-round use. The fireplace typically serves as the center of attention in these settings, although it is not uncommon for families with teens to also set aside a private gathering spot for them around a nearby fire pit.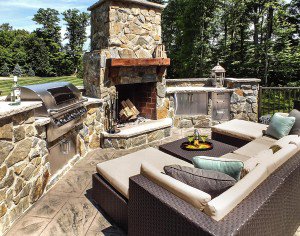 Saying Goodbye to Firewood
In their effort to enjoy more quality time in front of the fire, many homeowners have cooled to the thought of hauling and stacking firewood and disposing of the ashes. Gas-fueled fireplaces not only offer more convenience by eliminating those age-old chores, they also make other time-saving features possible, including battery-powered controls that can ignite a fire from inside the home. Now the fire can be roaring by the time you get there.
Adding Outdoor Entertainment Centers
Given the amount of time most families spend around the television and gaming console, it is no surprise that electronic entertainment is heading outdoors to be equally enjoyed around the fireplace.
Supplementing With Exterior Illumination
Sitting in the dark around an outdoor fireplace is no longer the only option, as exterior illumination now helps enhance the overall nighttime experience. An additional benefit of the exterior lighting is to better integrate the fireplace structure with the home and landscaping all year long.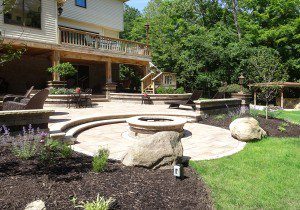 Moving Artwork Outside
Whether located indoors or out, fireplaces and their mantels offer a perfectly natural setting from which to display art. H & M Landscaping offers their customers the ability to add decorative insets that serve as nooks and shelves for stand-alone or built-in art.
Building with Multiple Materials
Not content with a simple brick or stone fireplace, today's homeowners are looking to mix and match the colors and textures of their building materials for a richer look and feel.