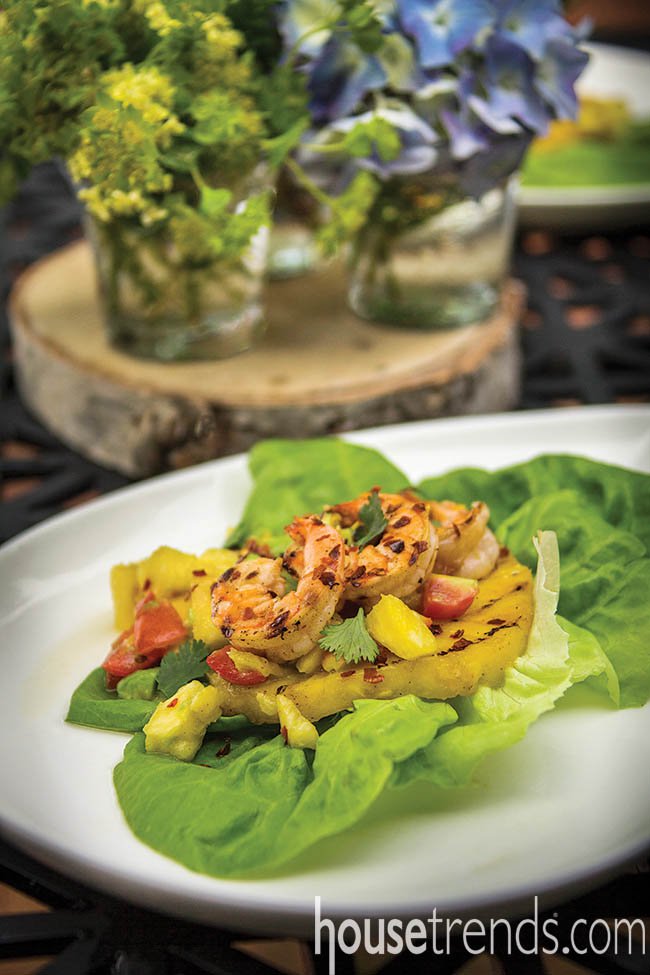 Grilled Shrimp
12 – 21/25 shrimp peeled and deveined
¼ cup good olive oil
1 tsp (or more) red pepper flakes
2 Tbsp. freshly squeezed lime juice
1 tsp salt
Pineapple
1 fresh pineapple
2 Tbsp. Olive oil
1 Tbsp. honey
Salsa
Avocado, peeled and small dice
Cherry or grape tomatoes
Two rings of pineapple, small dice.
3 Tbsp. lime juice
3 Tbsp. orange juice
1 Tbsp. red pepper flakes
¼ cup cilantro, rough chopped
Salt to taste
Instructions
Peel and de-vein the shrimp. Toss with olive oil, lime juice and red pepper flakes. Cover and keep cool until ready to grill. When ready to grill, skewer on well-soaked wooden skewers. Skin and core fresh pineapple and slice into 6 thin rings about ½" thick. Coat 4 of the rings with olive oil and set aside. Dice additional 2 rings into small dice and reserve in a bowl. Peel and dice the avocado and combine with pineapple. Quarter the cherry tomatoes and then cut those quarters in half through the middle. Add fruit juices and red pepper flakes. Combine and chill.
Grill
Grill the pineapple, drizzle with small amount of honey and set aside. Assemble the dish by layering with butter lettuce leaves, a slice of grilled pineapple and a heaping tablespoon of salsa. Set aside. Grill the shrimp for about 2-3 minutes per side. Place 3 grilled shrimp on top of salsa. Drizzle with a little lime juice, a few red pepper flakes and chopped cilantro.
Serves 4
Recipe prepared by Joe Westfall, Culinary School Director at Cooks'Wares.
Take a look at the Housetrends article featuring this recipe.