In all matters of life, first impressions always seem to have the most lasting effect with regards to how something or someone is judged.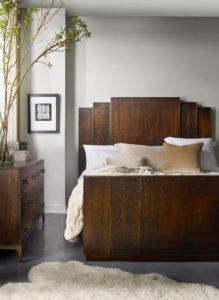 For LaVern Hershberger at Homestead Furniture, this is particularly true when assessing the quality of handcrafted furnishings. "When you glance at a piece of furniture for the first time, the color and finish will immediately tell you whether or not you have something of quality."
At Homestead, it is not a first impression that is left to mere chance. Rather, it is the intended end product of a lengthy process that begins with the initial sanding phase and ends with the application of a final clear coat of finish. In some cases, as with Homestead's line of high-definition color offerings, all of this can encompass 20 different steps involving the application of dyes, toners and special coloring blends. Together they bring to life a piece of furniture of extraordinary depth and beauty.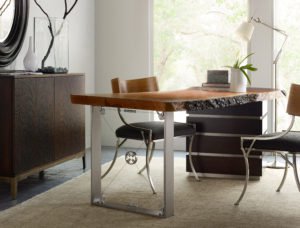 To Hershberger, it is nothing less than transforming a solidly built piece of furniture into a piece of art. It's a form of artistry for which he is well practiced, having first started his craft at the tender age of 14 in the finish facility at this Amish family-owned business.
Now as head of that department, he proudly maintains that his company is on the country's leading edge of furniture finishing. With a palette of 1600 different paint and stain colors currently available, the sheer amount of choices can easily overwhelm a customer. Luckily, Homestead's staff of interior designers and sales people are extremely adept at helping customers navigate the myriad of finishes and colors that are available.
Despite all of this, it is still not unusual for designers or homeowners to request a specific tint or tone that is not currently offered. Hershberger views this as a welcome challenge for Homestead's color specialists, who can create a perfect match based simply on a sample of fabric or floor covering.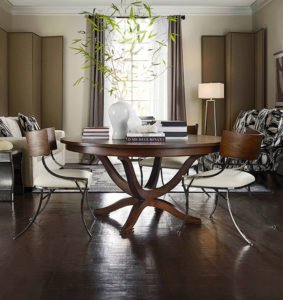 In actuality, it is these types of special requests that have driven Homestead's ever-expanding library of colors. As an added benefit, it has allowed the company to stay abreast of emerging trends, as evidenced by the fabric samples and home magazine articles that countless numbers of customers bring in as their inspiration.
Hershberger is happy to report that today's customers are utilizing color across the spectrum, especially on accent pieces. Meanwhile, transitional styles are really catching on with the millennial generation. Having grown up with country style furniture, younger consumers are expressing their own tastes via more contemporary styles. Not necessarily interested in adopting a completely ultra modern look, they desire furniture with a warmer palette reflected in earthier tones, neutrals and grays.