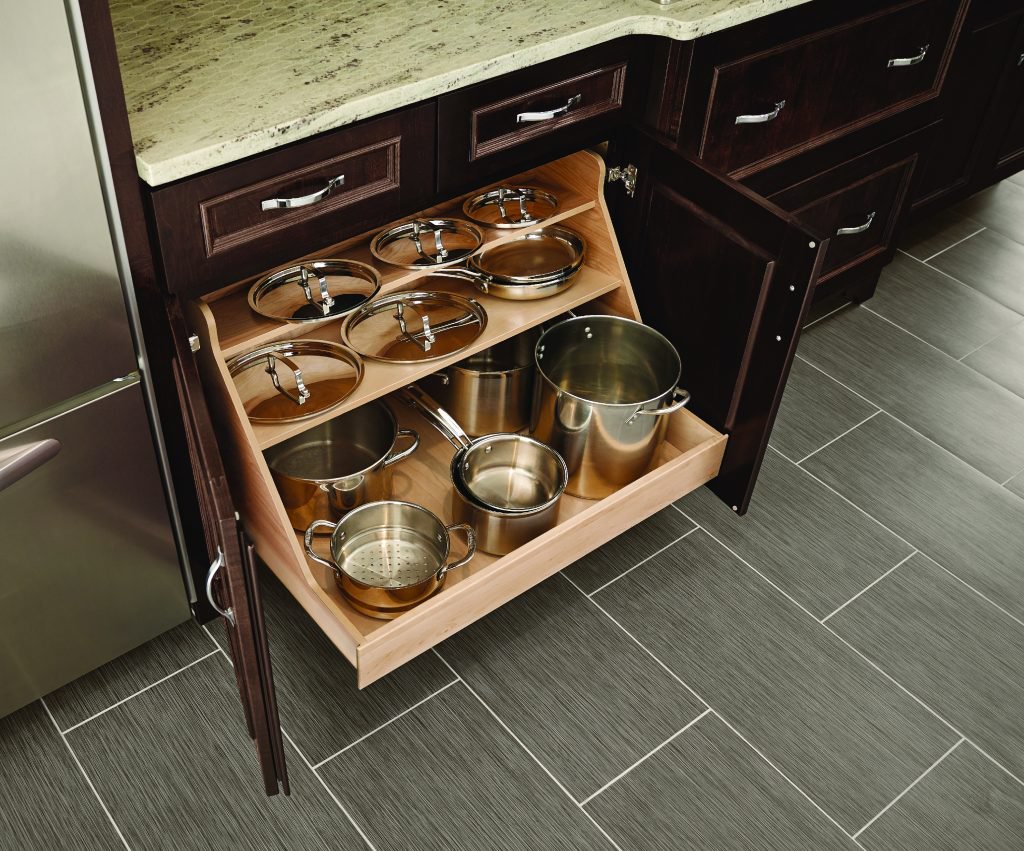 Content provided by Lifestyle Kitchen Designs
The common thought process when thinking about designing your new kitchen is to focus on aesthetics. This obviously is an important part of the process, but don't forget about function. Often overlooked is planning out your storage needs and knowing the different storage solutions offered by today's cabinet manufacturers. It will be helpful to your designer if you make a list of storage problems that you have in your existing kitchen. Maybe you have your favorite slow cooker stored in a closet outside of the kitchen because it just doesn't fit in any of your cabinets. Do you need to get on your hands and knees to get things out of your base cabinet. As we get older, this is just not fun. Are your plastic containers spilling onto the floor when you open your cabinets? There's a better way.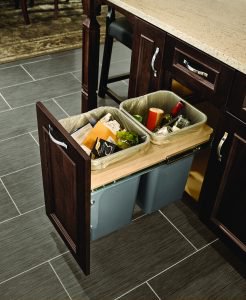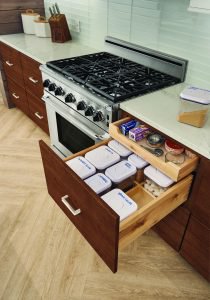 Here is what we see as our top 5 storage solutions used in today's new kitchens.
Pullout trash cans – Our waste needs to be stored — at least for a short time — and having a trash can sitting out in the kitchen area is just not appealing. Having a cabinet next to or close to your sink makes a very convenient solution for dealing with trash. Pair this with a recycling can in the same cabinet, and you have a win-win.
Drawers with full extension glides – Base cabinets with two- and three-drawer configurations have been very popular. Many cabinet lines have various drawer storage solutions, from dealing with pots and pans to handling plastic containers and their lids to bins for food storage.
Cookie sheet dividers – By storing these in a vertical position, you can save room in your kitchen for other things and make accessing your favorite cookie sheet very convenient. Depending on the number of pans you have, this can take as little as a 9-inch cabinet.
Tilt-out trays – This is a popular item for use in those false drawer fronts on your sink base cabinet. This can give you a place to store those sponges, scrapers and brushes you don't want sitting out at your sink. Don't overlook using these in your bathroom vanity as well for your toothbrush or hairbrush.
Message centers – With today's busy families, everyone needs a place to communicate and place reminders. Some cabinet lines are offering very convenient features built into wall cabinets or on the side of pantry cabinets that can be used for this purpose. They can consist of cork boards for posting that A+ test paper or a chalkboard for leaving the kids a message about dinner.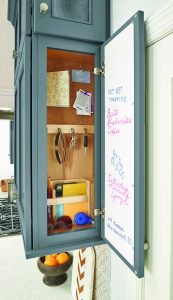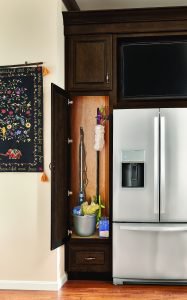 There are as many storage solutions as there are storage problems. A good designer will walk you through finding the best ones for you. One thing to remember is that when you start adding extra features you can add cost. It is best to also discuss with your designer the budget you hope to keep the project within. You also may want to have the problems you want to solve ranked in the order of importance. This way if the project cost needs to be reduced your designer will have a place to start.
To learn more about these fantastic storage solutions and all that Lifestyle Kitchen Designs has to offer, call 937-866-3611, visit their website or stop in to their location at 101 East Alex Bell Road, Ste 114, Dayton, OH, 45459 in the Cross Pointe Shopping Center.