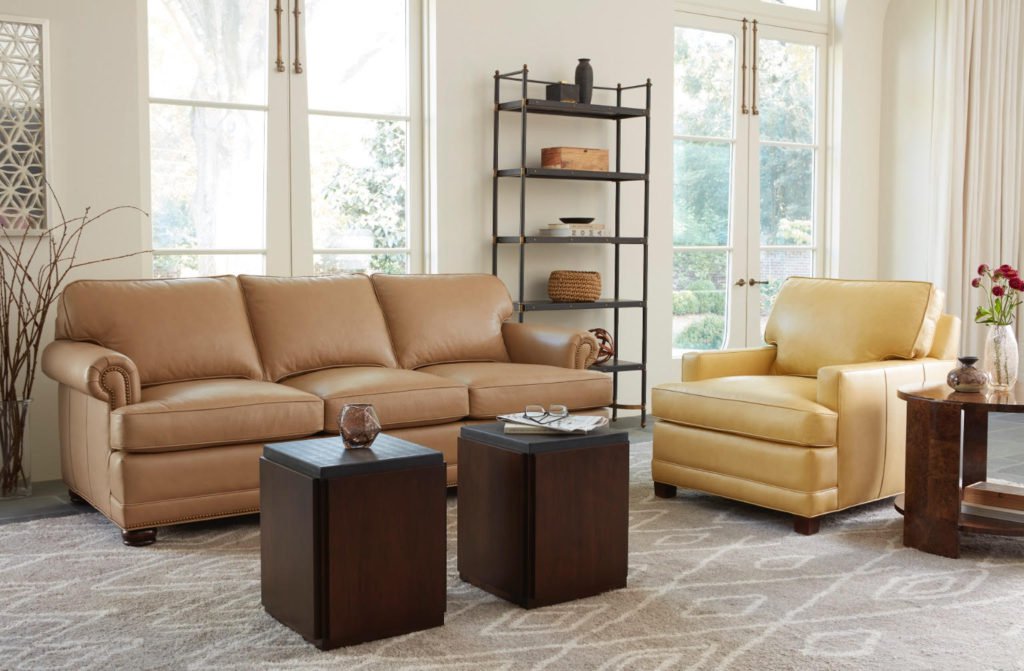 The following information about leather furniture is courtesy of Hoffman & Albers Interiors in Cincinnati.

If you are considering a piece of leather furniture, here's a 101 that might be helpful to you.
1. Is there much variation in leather quality?
There are different types of leather. Pure aniline leather receives all of its color from non-toxic aniline dyes and has no topical applications. Semi-aniline has been slightly pigmented after the dyeing process. Raw hides come from many different sources all over the world. Climate and other conditions affect hide quality and characteristics.
2. Is leather furniture cold?
Real leather adapts to the temperature of its environment, therefore it will feel either warm or cold to your normal body temperature at first. However, the type of leather will affect the amount of time it takes to adapt to your body. The pure aniline dyed leathers will breathe and assume body temperature rapidly.
3. Can I have leather furniture if I have children or pets?
Leather is very durable and should last 15-20 years. It ages well if kept away from direct sunlight and direct heat sources. Unlike fabric, it does not absorb animal odors and hair, but it can be damaged by teeth, claws and other sharp objects.
4. Why does leather cost more than fabric?
Real leather is subject to a multi-step finishing process that involves curing the hides with sodium chloride, liming to remove animal hairs, splitting to cut the hides into varying thicknesses, tanning and finishing. Special surface treatments like waxing, top-coats, machine antiquing and the age of the animal affect the cost.
5. What is bonded leather?
This is a composite of leather and polyurethane that offers the look of leather. It should not be expected to wear like real leather.
6. Is leather still popular?
Demand for real leather furniture has grown, on average, 3% over the past three years.
For more information about leather furniture and all that Hoffman & Albers Interiors has to offer, call (513) 793-9100, take a look at their website (https://www.hoffmanandalbersinteriors.com) or visit their store at 9405 Kenwood Road, Cincinnati, OH 45242.