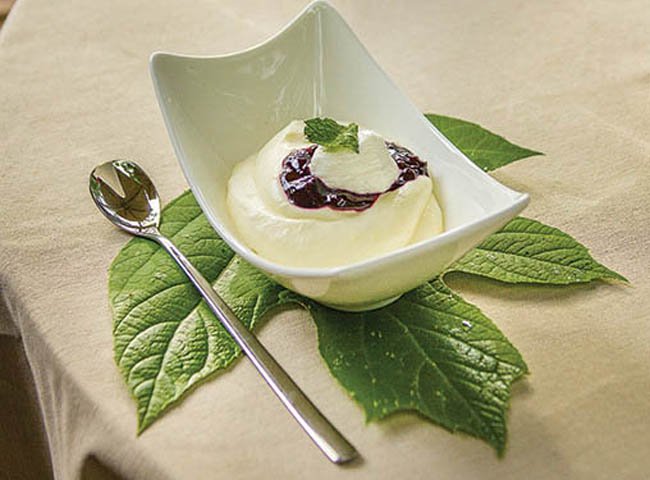 Mousse
5 eggs
1 cup sugar
½ cup unsalted butter, melted and cooled
½ cup fresh lemon juice
½ cup fresh lime juice
2 cups heavy cream
1 teaspoon each lemon and lime zest
Combine eggs and sugar in a large mixing bowl and beat with an electric mixer until thick and lemon colored – 5 to 8 minutes. Beat in the melted butter by pouring gradually in a thin stream and mix in the lemon and lime juices. Pour into top of double boiler and cook, whisking constantly for about 15 minutes or until mixture is hot and thickens. Transfer to a bowl and chill, covered for one hour. Stir a couple of times. In a separate bowl, beat the cream until stiff peaks form. Fold into the chilled mixture with the zests.
Blueberry compote
1 pint blueberries
2/3 cup sugar
½ teaspoon vanilla
2 teaspoon lemon juice
Combine blueberries, sugar and vanilla in a large saucepan. Add ½ cup water and the lemon juice and bring to a boil over medium high heat stirring occasionally. Reduce heat and simmer for 15 minutes or until mixture begins to thicken. Remove from heat and let cool. Set aside.
Whipped cream
1 cup whipping cream
1 teaspoon honey
1 teaspoon lavender buds (or if using lavender sugar – eliminate the honey)
Whip cream until soft peaks form. Add honey and lavender buds and whip to combine. Pipe or spoon mousse into stemmed glasses and top with a dollop of compote, rosettes of whipped cream, and a sprig of mint.
Serves 8
Recipe courtesy of Cooks'Wares
(including mousse recipe from Marilyn Harris)
Take a look at the Housetrends article featuring this recipe.