While some folks want to kick modern style right out the door of their house, many people are embracing modern, and, in fact, moving it outside.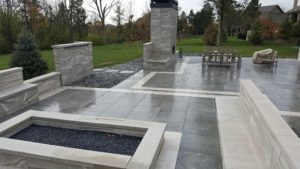 "The trends in the past several years have been transitional to modern in interior design, and the outdoor area is an extension of the interior," said Lisa Herd of Snyder Brick & Block in Dayton, Ohio.
We caught up with Herd to learn how homeowners can achieve a modern look in their outdoor living spaces.
For outdoor walls and fireplaces, "Use less big, bulky stone profiles and look for more linear styles," Herd said. "We are seeing less mortar joints in application and more dry-stack application, which gives a cleaner look."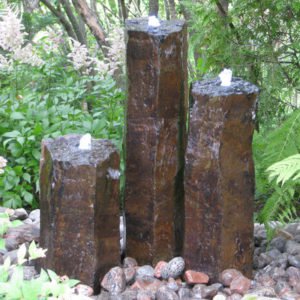 Herd also recommends installing gas fire bowls to get a clean, sleek look. She added that choosing square or rectangular shapes for fire bowls and fire pits works well.
For furniture, Herd recommends selecting rectilinear-shaped seating with solid color fabrics to help bring the modern look together.
Water features also are popular in outdoor spaces, and Herd said, "A group of basalt columns can be used for fountains to add interest to an outdoor space. They can also be showcased at night by using accent lighting."
What flooring in an outdoor living space exudes that modern feel?
Herd has specific advice for this topic.
"Choose large format pavers, which will have less joints – 24×24 porcelain pavers give that look nicely," she said.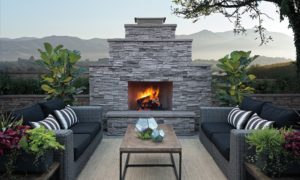 Color is yet another important factor in the modern style for an outdoor space.
"Grays and creams are still very popular for color palettes, and more so when doing a modern style," Herd said.
After achieving a modern look in your outdoor space, Herd said a patio covering can be added so the area can be enjoyed during the day when the sun makes it quite hot.
For more information on modern outdoor living spaces and Snyder Brick & Block, visit their website or call 937-299-7388.