The art of outdoor cooking has been an evolutionary one. For years it involved shuffling food around a flimsy charcoal grill, while busily evading the fiery flare-ups that followed in close pursuit. It was more firefighting mission than actual grillmanship. But while the simple joy of preparing a meal over an open flame has never diminished, the overall practice of grilling has certainly become much more sophisticated.
Coyote Outdoor Living offers a wide array of moderately priced grills and outdoor appliances with features that rival luxury manufacturers. Coyote products are available locally at Custom Distributors.
Today, the gas grill has made possible a trend that has homeowners creating completely functional cooking and entertaining spaces out-of-doors. Whether it's outfitting a full-blown gourmet kitchen or just a small exterior space dedicated entirely to grilling, home cooks also are becoming much more discerning about the equipment being used. They're upping their games by ditching the lower-end grills typically found at big box stores, in favor of appliances with more features, higher performance and greater durability. Leading the charge into the great outdoors are luxury brands such as Viking, Alfresco, Sub Zero-Wolf and GE Monogram.
Three Top Grill Features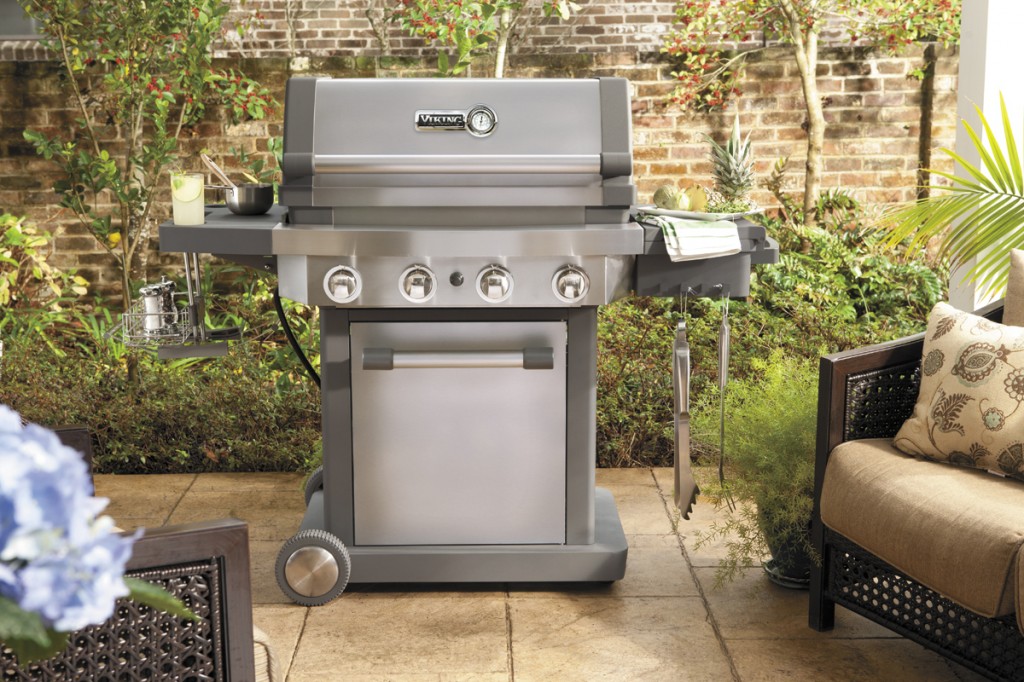 According to Ken Rieman of Custom Distributors, the region's premiere appliance dealer, there are three key features that today's leading grills have for ensuring better performance: a rotisserie burner, a searing station, and interior halogen illumination. A rotisserie allows meat to self-baste, resulting in a juicier and more evenly browned product. Searing, contrary to popular belief, doesn't seal in juices so much as it helps create a complex caramelized flavor that only high heat can provide. And no grill master can be successful when cooking at night if they don't have the ample illumination that's provided by lighting built into the grill's canopy.
The value-priced Outdoor 1 Series Grill from Viking has 4 independent 12,000 BTU stainless steel burners, along with a cutting board, beverage cooler, portable light and condiment caddy.
High Performance Without Luxury Pricing
With added features typically comes a higher price tag. Rieman admits it hasn't always been easy to serve those outdoor cooks whose budgets fall somewhere between the big box stores ($500) and the lower end of the luxury segment. "For a long time there was a gap in the $1,000-$2,000 price range, but we've added the Coyote Outdoor Living suite of products, as well as Viking's 1 Series, both of which provide a lot of high quality grill and outdoor appliance options for people on a budget. They've been really exciting additions for us, because regardless of a customer's price range, we can now fill their needs."
The most important change Rieman sees with today's outdoor cooking habits: people are doing it much more often than they used to. "Most people love to grill, but only could do it on the weekends. With these enhanced outdoor kitchen spaces and better equipment, it's a lot more easy and fun."