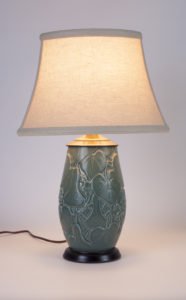 Everyone at one time or another becomes the recipient of a family treasure that's been handed down from one generation to the next. In many cases, this involves simple keepsakes that are rich in sentimental value, if not in actual worth.
But while grandma's tea pot or great uncle's accordion can be comforting things to have around, often there isn't an obvious place for them in your home. So, as with all things deemed too dear to throw away, they eventually end up getting shoved into a closet or hidden away in the attic.
This certainly is the case in our home.
So that's why I was intrigued to hear of a business that's literally shining a light on this situation by repurposing heirlooms into one-of-a-kind lamps.
Tucked into a corner of Cincinnati's East Walnut Hills neighborhood, Palette Studios has been creating and selling distinctive lighting and shades for more than 100 years. Their store's shelves are full of unique fixtures fashioned from new ceramic vases and other pieces of décor, as well as antiques and "found items" sourced by Palette themselves.
It seems only natural that they also would offer to do the same with some piece of family history that has been offered up by one of their customers.
For the folks at Palette, it's a way of preserving the past while striking a small blow against the notion of a disposable society. According to Palette's Sarah Humphrey, their artisans are thrilled to be breathing new life into long-neglected mementos.
"By repurposing these items into lamps, you give them a role in your house … then they become a part of how you live by using them in a functional way." And, of course, she adds, "You still have their history around you."
Lamps from All Manners of Family Objects
It seems Palette has experience working with objects both traditional and odd. With a laugh, Humphrey confesses, "There are some peculiar items that we usually disavow any knowledge of."
In one unusual case, a customer had a lamp fashioned from her husband's prosthetic leg.
Humphrey says: "It gave new meaning to the leg lamp from 'The Christmas Story' … and she gave it to him for Christmas!"
Advice For Do-It-Yourselfers
It's no surprise there are many online resources and materials for the person interested in designing their own lamp. This route might be perfectly fine for someone purposefully interested in creating a homemade look, such as in repurposing a child's art project for their bedroom. However, should you plan to display the lamp in a more prominent place in your home, it's best to consider going the professional route.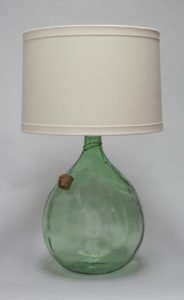 Most of Palette's repurposed lamps involve having the keepsake drilled to accommodate the rod and the wiring. The rod is run through the center of the lamp, affixed at the bottom to a decorative base and at the top to the harp, onto which sits the shade. In those situations where it isn't sensible to drill, such as with important antique pieces or museum-quality objects, Palette uses what they call a "museum" or "figurine" mount. Here the value and integrity of the piece are preserved by directing the wiring and rod up and over the item, not through.
The drilling step is probably the trickiest part of the process. Although Palette drills at the customer's risk, Humphrey reports they typically experience less than one broken piece a year, and those tend to be made of glass. The vibrations of the drill seem to stir something up from within the glass that causes it to crack. To be safe, Palette rests all glass pieces overnight after they've been drilled, just to be certain that it is safe before proceeding with the rest of the work.
In the end, Palette has one measure of success for the repurposed lamps they construct: the finished product should appear as if it had been originally manufactured as a lamp. In other words, it shouldn't simply look like grandma's time-worn tea pot with a bulb and shade affixed.
The Shade Makes a Lamp
Regardless of whether newly manufactured or repurposed, Humphrey likes to remind customers that nothing will transform a lamp as will a properly sized and styled shade.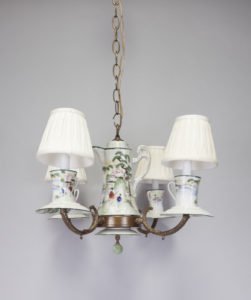 "You can have a lamp worth thousands of dollars, and if you put the wrong shade on it, everyone will think you picked it up at Walmart," she said.
Conversely, she says an inexpensive and relatively common looking lamp that has been paired with a great shade can easily look like the product of a designer.
Selecting the right shade for a lamp can be a challenge for most people. It's somewhat of an art form that requires good sense of proportion, as well as the ability to use those proportions to achieve certain effects.
Most of us can find comfort in Humphrey's assurance that there's never only one shade that is right for any piece.
"That's why we have a large stock of shades … and why we're willing to show a customer everything that will look good on it."