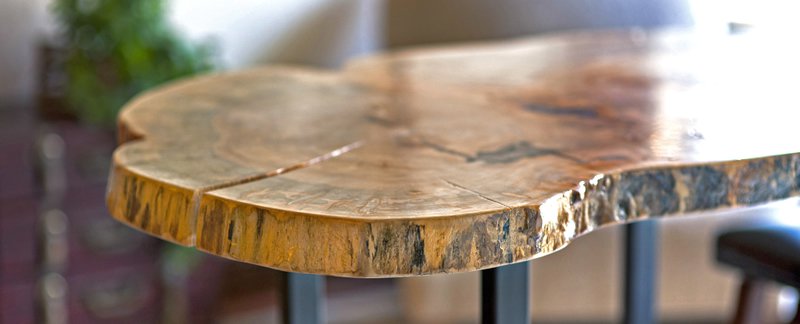 "Live edge is everywhere now. It's very popular. In fact, it will appear in multiple features in our upcoming magazines."
When Christina Kleiner, Senior Editor at Housetrends, told me that, I decided I wanted to learn more about this emerging trend in furniture, countertops and more.
To do just that, I turned to the staff at Amish Originals Furniture Company, a supplier of handcrafted Amish furniture located in Westerville, Ohio, since 1992.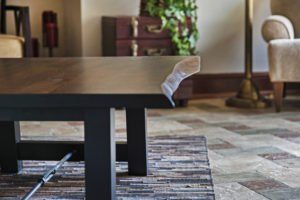 What follows are questions and answers on the topic of live edge tables.
Housetrends: What type of design style do live edge tables fit into?
Amish Originals: The live edge tables fit into any decor. Tables with saw marks or distressing on the surface would certainly be featured differently than the smooth top versions. Another variable is the base of the table. Wood or steel in several designs makes the total package very adaptable.
Because these tops are so beautiful, they demand your eye. This makes decorating around the piece very simple. And the table, because of its simplicity, will accept the personality that surrounds it.
Housetrends: How is the wood selected for one of these tables?
AO: There are two types of live edge slabs. The least expensive is comprised of smaller boards glued to build the wider piece. The outside edges are finished using these smaller boards that retain the live edge.
More expensive, and typically more striking, are the bookmatch slabs. These are built gluing two wider boards cut consecutively from the same tree. These tops are more expensive because the pieces need to be cut from larger trees. The glue-up tops use smaller, more available pieces.
Housetrends: What type of wood is most popular for these tables?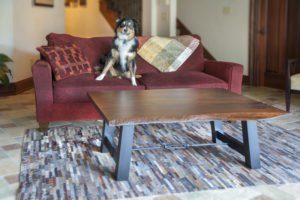 AO: Rustic cherry, wormy maple and rustic walnut because of the beauty and availability.
Housetrends: What have you seen that customers like best about these tables?
AO: Because each top is so unique we find that customers frequently "fall in love" with a piece. Though we do special order many live edge tops, we like to stock several so customers have an opportunity to make that connection in person.
Additionally, these tops really do highlight nature's handiwork and show a true natural look.
For more information on live edge furniture and Amish Originals, visit their website or call 614-891-6257.