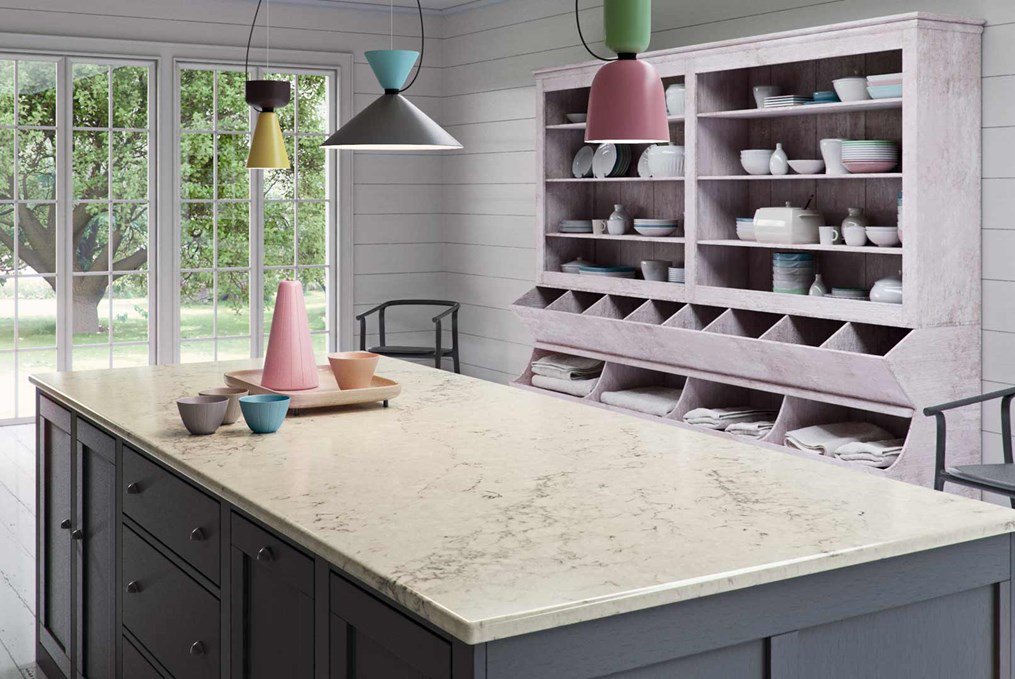 When it comes to options for countertop materials, to put it mildly, there are a lot of options. To learn more about the pros and cons of three popular choices, we checked in with Jarrod Shell, manager at Lifestyle Kitchen Designs in Dayton, Ohio. He shared with us the advantages and disadvantages of granite, quartz and laminate.
Granite
Advantages
It has a unique beauty due to it being a natural product that comes from the earth. Each piece has its own special character.
Granite is a very hard service, which makes it very durable for your home.
The price has come down in recent years, making granite a possibility for more homeowners.
Disadvantages
There is a bit of maintenance with granite, as it needs to be sealed from time to time. There are many sealers on the market, with some offering a 15-year warranty.
Granite should be selected by viewing the actual slab your countertop will come from. Because it comes from the earth, it can vary in color and pattern from samples you may see at a showroom.
Granite takes special skills and equipment to fabricate and install. This makes it not a good option for a do-it-yourself project.

Quartz
Advantages
Quartz is a man-made product, so it has quality control to it as far as color and consistency of pattern. If you look at a quartz sample on the showroom floor, your countertop is going to look like that.
It is non-porous, meaning it does not need to be sealed.
There's relatively no maintenance associated with quartz.
Disadvantages
You have to watch heat with it. Hot pans placed on it can cause the resins in the material to discolor.
Quartz can be a little more expensive than the more popular granites.

Laminate
Advantages
Laminate has the best price point. If you want to keep costs down, laminate is a great option.
Some manufacturers have come out with a laminate product that really looks like granite. These companies have done a great job in recent years of imitating the looks of higher-end products.
Disadvantages
The product isn't going to last as long as granite or quartz.
It can scratch easier than other materials.
If moisture gets into the top, laminate could fail.
No matter which material you choose, Lifestyle Kitchen Designs has a key advantage for you. Lifestyle does its own fabrication, providing a cost savings because they avoid a middle-man in the process.
To learn more about all that Lifestyle Kitchen Designs offers, call 937-866-3611, visit their website or stop in to their location at 101 East Alex Bell Road, Ste 114, Dayton, OH, 45459 in the Cross Pointe Shopping Center.