With the plumbing industry awash in new consumer products, I thought I'd ask Chris Reynolds of Bath Works to identify today's top plumbing fixture trends.
While there are some genuinely new innovations on his list, you'll find an equal number of products that are modern takes on the old and familiar.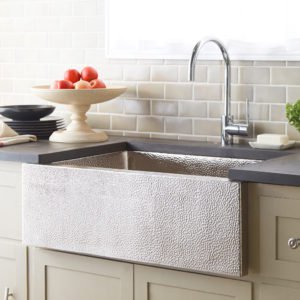 Apron Front Kitchen Sinks
The resurgent popularity in apron front kitchen sinks can be attributed in large part to the farmhouse design trend, although not entirely. There is something about these deep sinks that undoubtedly evoke romantic notions of country living. However, Reynolds feels they are equally capable of adding a unique focal point to almost any other style of kitchen design. Available in a myriad of colors, as well as eye-catching hammered copper or nickel, apron sinks are truly one of those "old is new again" types of trends.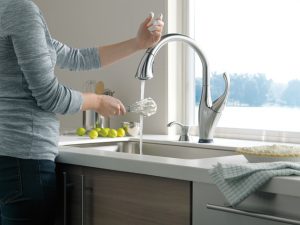 Sensor Faucets
It is somewhat ironic that the kitchen faucet has long been both the cause and solution for the spread of germs within the kitchen. While in the heat of meal preparation, it's almost impossible for the time-pressed cook to avoid contaminating their faucet by direct hand contact. Realizing that a lot of germs can be taken out of circulation by a touchless faucet, manufacturers have developed new sensor driven faucets that can be operated with a simple touch. It is not surprising that the technology has been expanded to include bathroom applications as well.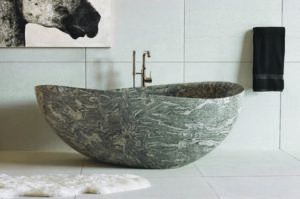 Freestanding Tub
The tub has been "an area of the bathroom that remained the same for too long," according to Reynolds. Today's freestanding tubs are helping accentuate their space by adopting an array of new shapes, styles, and materials. While the cast iron clawfoot design may always remain an iconic favorite, today's lighter, acrylic tubs are able to provide just as good a soak. And when it comes to creating some drama, Reynolds believes nothing is as showstopping as the tubs Stone Forest carves out of actual boulders.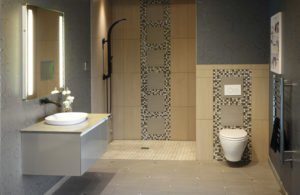 Curbless Showers
The growing number of homeowners choosing to age in place have made the curbless walk-in shower one of the most popular "must haves" in contemporary bathrooms. Originally designed to help seniors avoid serious slipping accidents, this trend has found growing appreciation among the general population. By removing the shower door and threshold, designers can now provide cleaner lines and a more spacious look for even the smallest of bathrooms.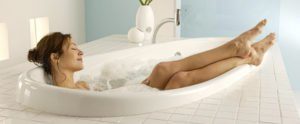 Air Tubs
A whirlpool or air tub is becoming more essential as bathrooms continue their transformation into spa-like retreats. Reynolds has seen a recent shift favoring air tubs, which use effervescent bubbles instead of water jets to massage the body. He also notes that the overall therapeutic experience is becoming more enhanced with the inclusion of aromatherapy products in the bath, coupled with soothing chromotherapy lighting systems.
Save
Save
Save
Save
Save
Save
Save
Save
Save
Save
Save