Over the years, Barb and Ron have lived in three different homes in and around the sprawling community of Treesdale, twice within Allegheny County and more recently with a move to their new home in Butler County. "My husband gets bored and likes to move," says Barb with a laugh. "But I told him he's absolutely not allowed to move from this home!"
Betant coined his design off of the homeowners' ideas to build a soft French provincial style home. However, he really created a one-of-a-kind design.
"Barb and Ron wanted something that featured a much more open floor plan, especially in their great room and kitchen combination," says Betant. "But really, I took in the shape and slope of the lot and created something that was altogether unique and patterned to take in the wishes and desires of the homeowners."
That similar approach is what drew Barb to hire interior designer Dee Dubell. With 20 years of experience, Dubell helps clients customize home spaces according to each homeowner's unique personality.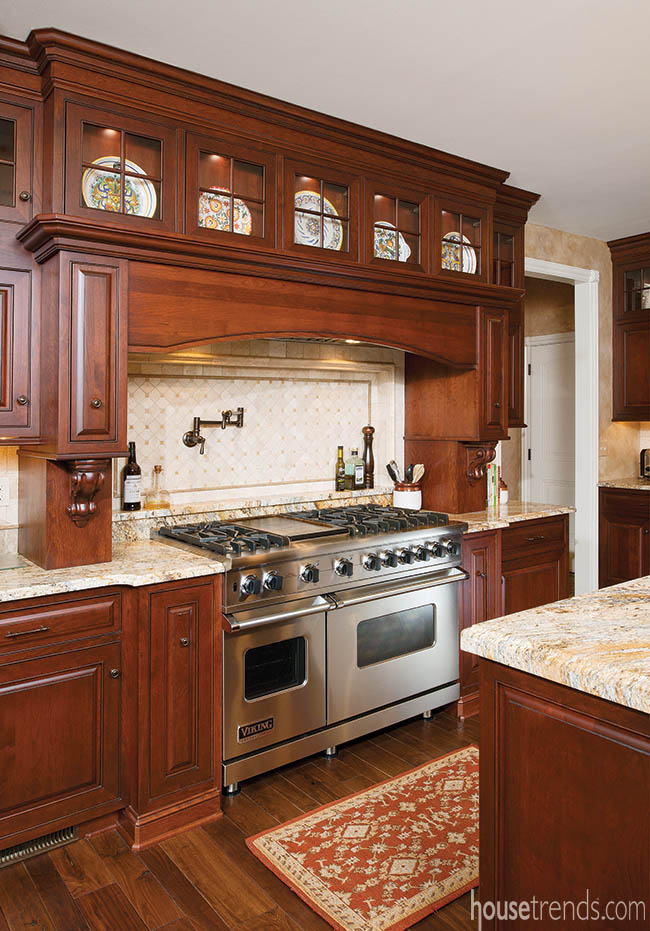 Twenty years prior, the homeowners purchased Kaclik Builders' original show home; more recently they tapped Kaclik to build their new 6,000-square-foot home.
"We love the walkability and small town feeling of Mars and we were thrilled when the perfect lot opened up that we could build on," adds Barb.
Once that lot became available, Chris Kaclik recommended residential designer Greg Betant. "Greg was and is a phenomenal resource, having designed over 2,500 homes in the area," says Barb. "He also designed our previous home."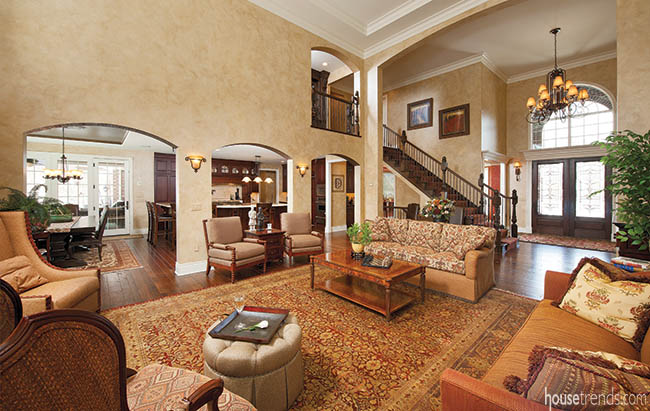 The centerpiece of Barb and Ron's home is a sweeping great room—with 20-foot ceilings—that leads directly into a spacious, entertainer's dream of a kitchen and adjacent morning room.
"Based on conversations with Barb and Ron and what I had designed previously, I came up with the idea of creating a great room space separated by three archways that would lead into the kitchen area," adds Betant. "We were aiming for the wow factor, and I think we accomplished our goal."
When it came to the design of the kitchen—convenience and space—were two key elements. "My husband loves to cook—thank goodness—and had a lot of input into our 20×20-foot kitchen space," laughs Barb.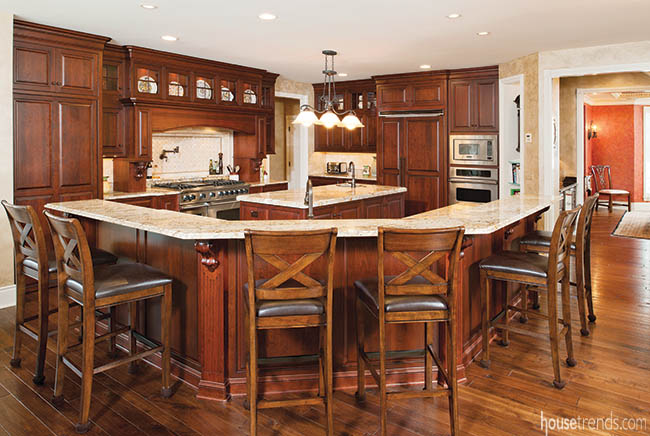 That input led to the incorporation of Viking appliances, including a 6-burner range with a griddle, double wall ovens and refrigerator, as well as a large pantry expertly hidden behind cabinetry. Six high bar stools are strategically placed around the half octagonal shaped perimeter island. "Greg creatively designed the perimeter island in such a way that you can't see the sink, or dirty dishes, from the great room," says Barb. "It works out perfectly when we have people over for a large gathering."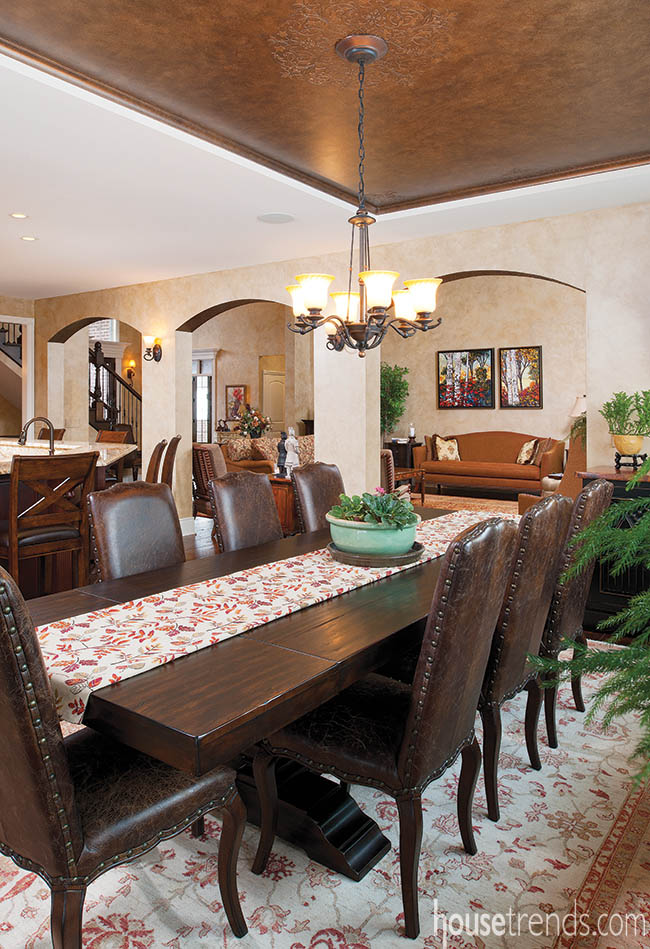 Reclaimed textured walnut hardwood flooring flows through the first floor, while woodwork details like the fireplace mantel and surround finish off the overall design.
"Greg is very good at what he does and a big part of that is being able to work between the builder and homeowners like us to take ideas and help the builder better understand how to make them work," adds Barb.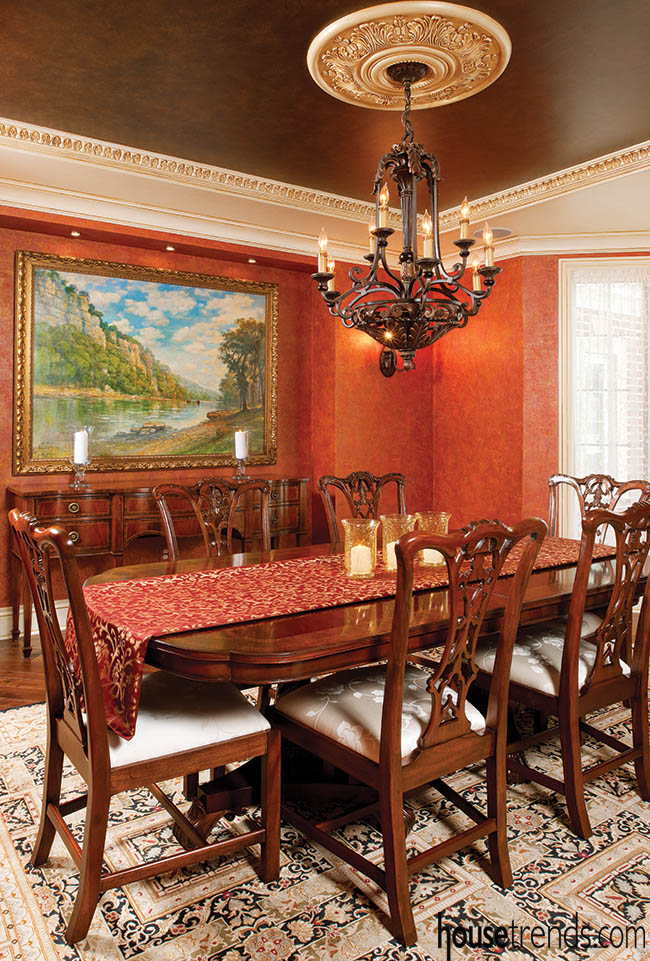 Because the project was such an enormous undertaking, Barb decided to enlist the help of an interior decorator—something she hadn't done in previous homes. "I'm so glad I did, because without Dee's help we wouldn't have found our gorgeous hardwood floors," she says. "Something else I wouldn't have done was build custom furniture with different upholsteries. Dee completely understood and got my eclectic side, probably because she took the time to do so. We love how every piece complements one another."
Resources: Residential designer: Greg E. Betant, Inc.; Builder: Kaclik Builders, Inc.; Interior designer: D's Designs, ASID; Lighting: Cardello Electric; Painting: Pegher Custom Painting; Wall treatments: Janart Decorative Painting; Flooring and kitchen backsplash: ProSource; Hardwood flooring: WTM Exotic Wood Flooring; Windows and doors: Cassady Pierce; Fireplace: Carter Lumber; Woodwork: Koch Construction, Inc.; Cabinetry: Santa's Custom Cabinetry; Sinks and faucets: Splash; Appliances: Viking, Bridgeville Appliance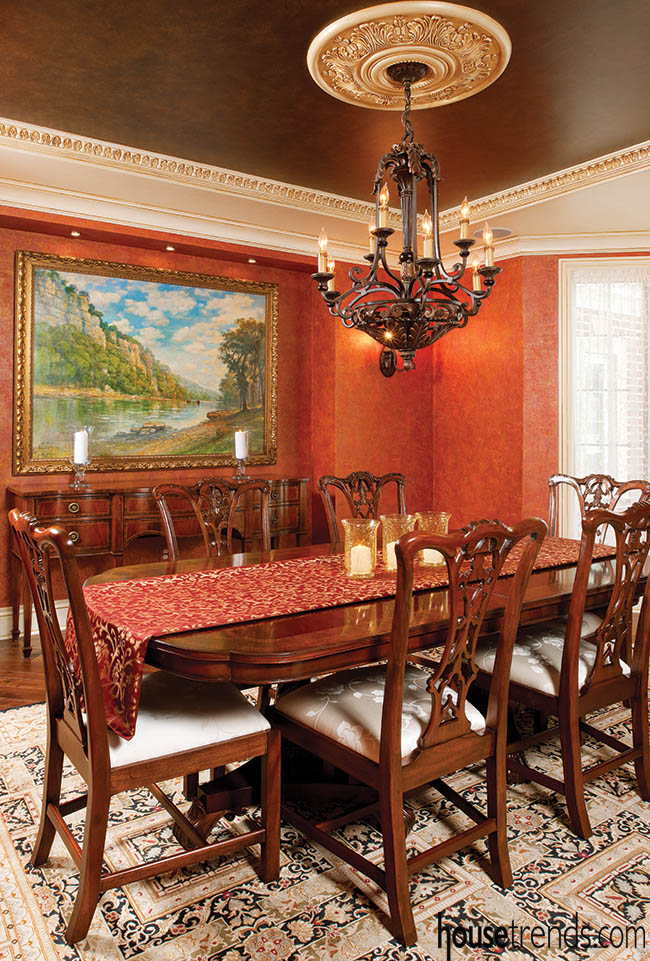 Because the project was such an enormous undertaking, Barb decided to enlist the help of an interior decorator—something she hadn't done in previous homes. "I'm so glad I did, because without Dee's help we wouldn't have found our gorgeous hardwood floors," she says. "Something else I wouldn't have done was build custom furniture with different upholsteries. Dee completely understood and got my eclectic side, probably because she took the time to do so. We love how every piece complements one another."