Rain or shine, a day spent at this luxurious pool is a day that will long be remembered. Built for year round use, this outdoor living space in Murrysville has been lavished with state-of-the-art amenities and top of the line design. The homeowners love to entertain, so they created their own personal oasis that could also be enjoyed in the winter months when the pool was closed.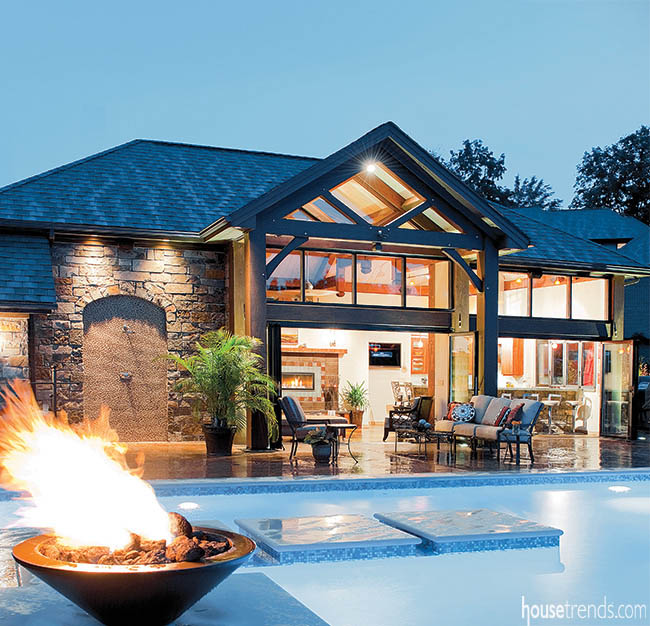 Equipped with a full kitchen, bathroom, laundry room and bar, the owners didn't want their guests to have to run back to the main house, once they had set up camp for the day. "We have every amenity so that when we are down here, we can enjoy ourselves as host and hostess," says the owner.
Pool lights rotate through a bevy of colors, making the water change shades. Glass tiles line the edge of the pool and radiate rainbow iridescence. Gas powered fire bowls and torches have been strategically placed in, and around, the pool. "At the same time you can see their hot tub with a huge pit of fire, so you are met with this spectacular presentation," says the designer. "With the flames, lighting, and perfect landscaping, you feel like you have come to an elegant resort."
Having worked with the couple before, designer Elise Denver was brought in to design the pool house and achieve the couple's overall vision. The bathroom/ changing room is wall to wall chic. In an effort to create an upscale spa like feel, stylish European faucets and fixtures were selected in bright chrome. A custom vessel sink bowl is made of stone with a mosaic sun pattern in metallic gold. Tiles in the shower appear like grasscloth, giving the room an organic earthy feel. Additionally, glass tile accents were interspersed to loan a touch of bling that the client desired.
Dark wood cabinetry, which includes lockers for guests, is a great contrast to the lighter tile colors. Timber frame construction gives the pool house a lodge feel, while a Feng Shui layout creates a soothing atmosphere.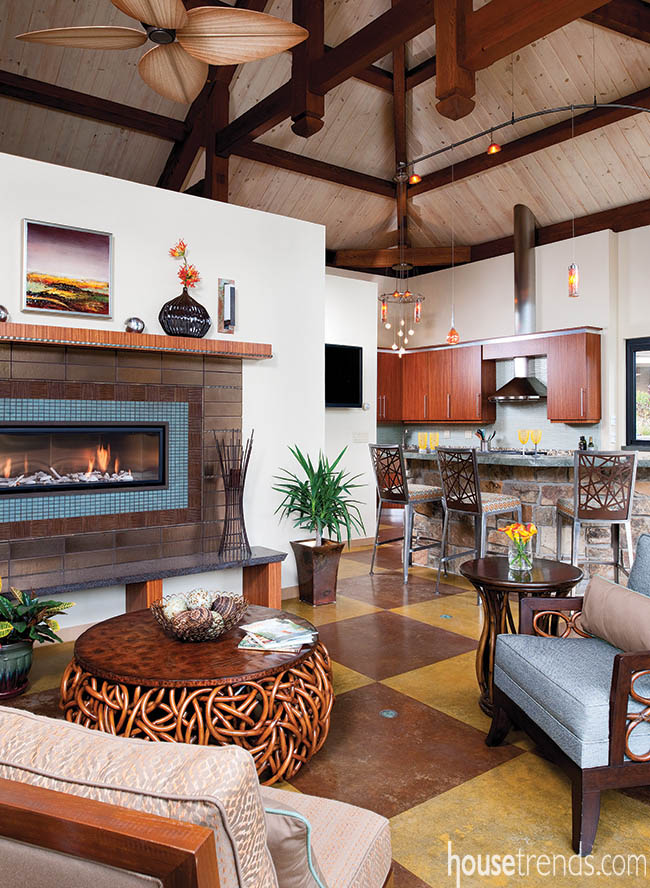 Although Feng Shui wasn't in the designer's mind at the onset of the project, the elements were all present, and it eventually evolved into that. "All of the materials that we used indoors are with respect to water," explains Denver. "The floor is stained concrete, the baseboards are ceramic, and even the walls are made with a product that is impervious to water." Floor drains were added to allow for a quick hose-down and cleaning.
The fireplace surround is made up of a mixture of stone and bronze. "Those stones are simulating sea stone," points out Denver. "They have driftwood and stone, which are things you would find near the ocean."
A concrete hearth adds to the upscale spa feel, and the legs on the fireplace, mantle, and kitchen cabinets were constructed of zebrawood.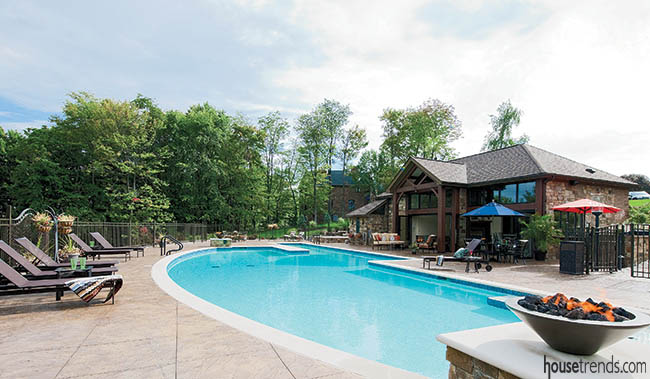 The pool incorporates both a lap-pool and a wading area where water gradually deepens, much like at the beach. Dyed concrete was poured around the pool, and then scored to make it look like giant, 24-inch tiles. Walls on the outside of the pool house are also poured concrete. "This place is built like a fortress," laughs the owner. All systems are computerized and can be operated electronically from any location.
The owner can turn on heaters, lighting, and entertainment systems right from his iPhone and is even able to light up torches before he arrives home. He also went to extensive safety measures and installed Sonaguard to prevent any type of accident. "If someone falls in when no one is in the pool, even a dog, then alarms go off as soon as the water is penetrated," he explains. "At night it makes for great security."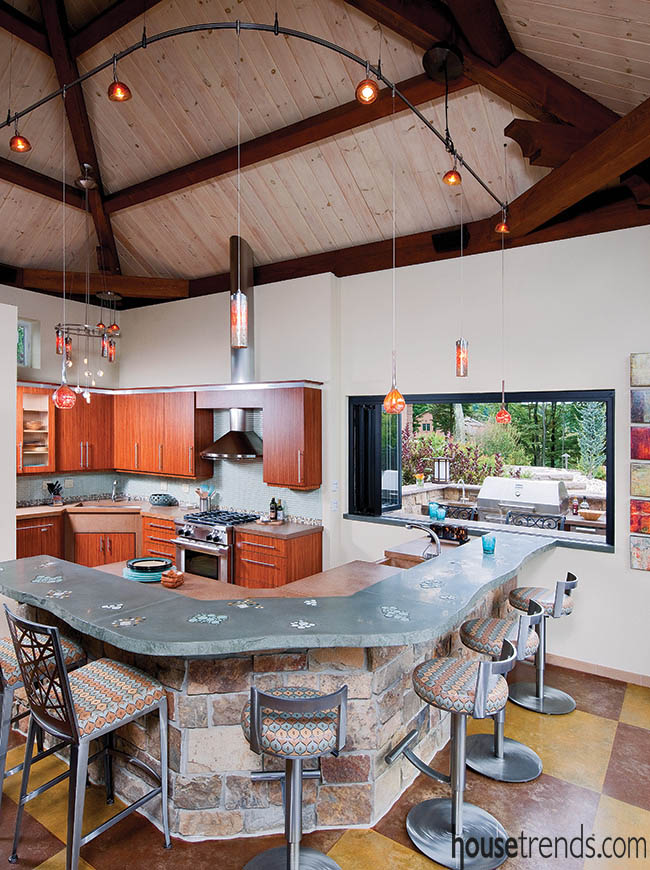 Instead of patio doors, the couple installed glass Nana walls that, in the warm weather, open up to connect the inside and outside. They were carefully designed with a threshold that blends into the concrete, catching all water deposits, and eliminating any sort of tripping hazard. There is forced heat and air-conditioning, and floors have radiant heat to keep feet warm after a dip in the pool.
The owner loves grilling, and gives his Kalamazoo gourmet grill a good workout, all year long. Although he's not known for being much of a swimmer, he is known for being an impeccable host. "He is one of these guys that wants to see everyone have a good time," smiles his wife. "Even when he's off in a corner smoking a cigar, if everyone is enjoying themselves then he's happy." With beautiful steaks sizzling, fine wines flowing, and torches blazing, this is indeed a happy place to be.