As more and more of us take the entertaining outside, we are getting creative with our living spaces such as pergolas, patios, porches and pavilions. Whether you want a clever way to hang a swing, a bit of shade, or an attached living space that houses an outdoor kitchen and lounging area, you're sure to see something you'll love among our favorite picks!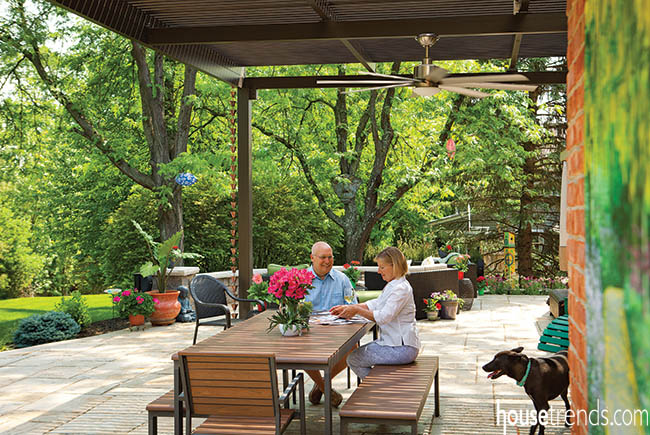 A remote-controlled, louvered roof system on this outdoor living space allows homeowners Todd Hale and Connie Shaw, (shown with their dog Luna) to control the amount of sunlight coming in. This feature can also be programmed to work with a home automation system.
Design, construction and louvered roof patio cover: Distinctive Patios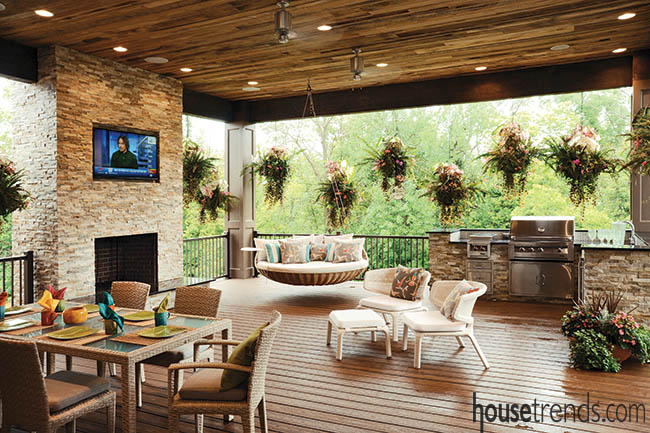 There's nothing else to want in this incredibly spacious outdoor porch space built for a Homearama® home.
Builder: Daniels Homes, A Maestro Company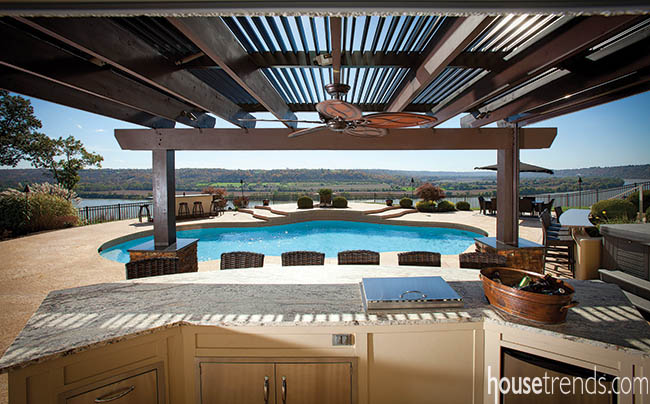 Guests enjoying this outdoor living space, complete with outdoor kitchen, enjoy a shady perch underneath this patio cover to watch activity in the pool or in the Ohio River, seen in the distance.
Contractor: Mike Niehaus Construction
Louvered roof patio and solar screens: Distinctive Patios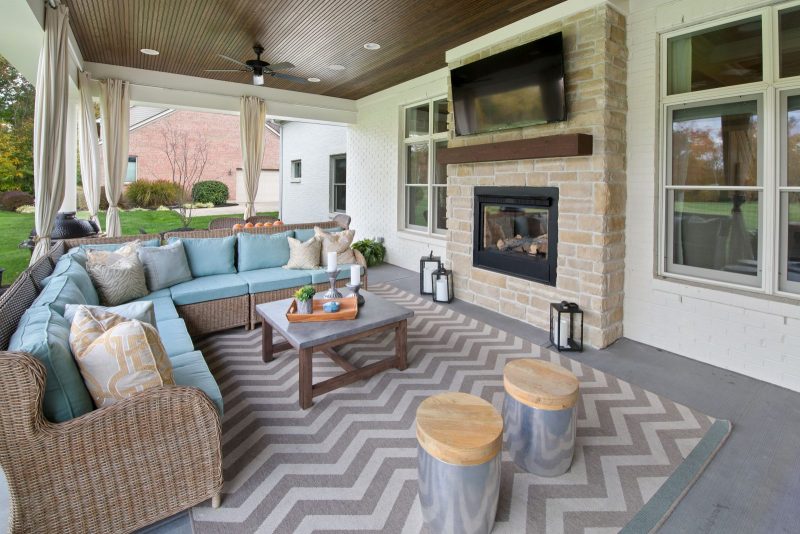 This calming patio is the perfect place to rest your feet after a hard day's work out in the yard. Enjoy the warmth of a fire with your favorite nightcap while breathing in fresh air. More photos of this home are available.
Builder: Wieland Builders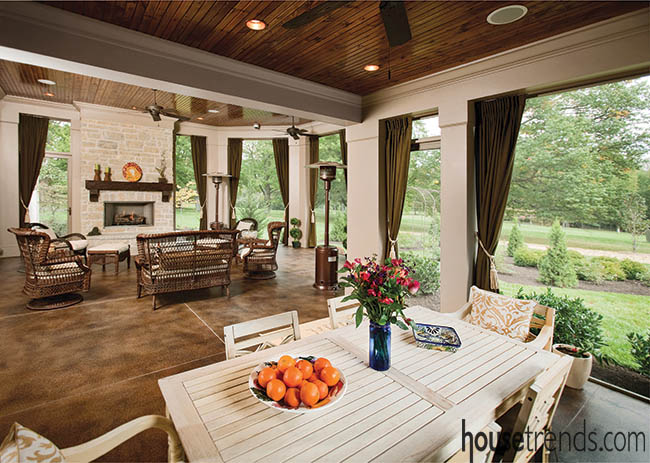 An expansive open-air patio is a favorite spot for this family to gather on spring, summer, fall, or even winter days.
Builder: Core Resources, Inc. 
Architects: Ken Bowerman and Mary Cassinelli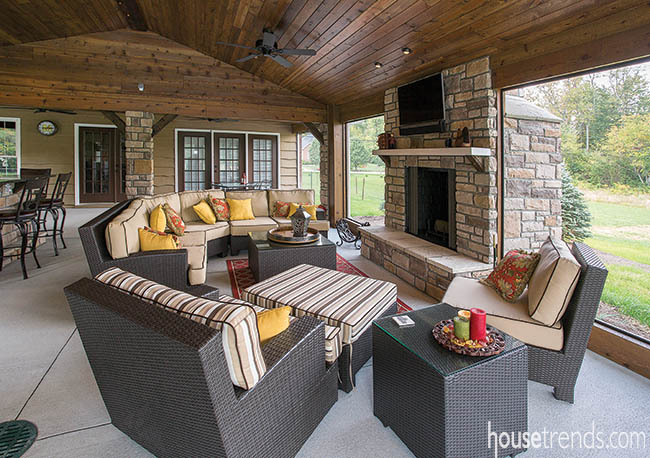 A tired deck was removed from this Cincinnati home and replaced with this inviting three-season screened-in porch.
Contractor: Robert Lucke Remodeling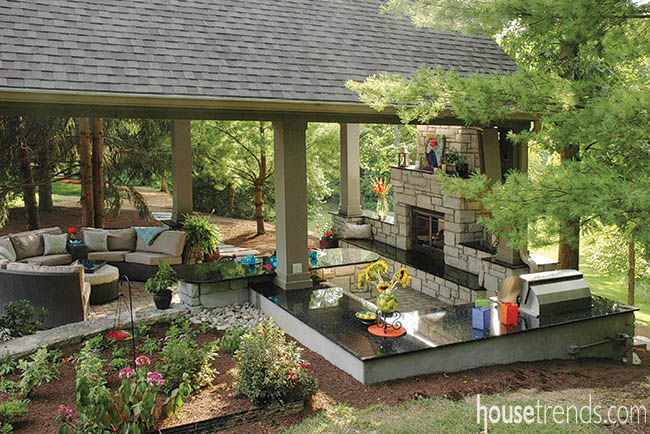 It's hard to beat this pavilion for an inviting outdoor space to get away from the heat.
Contractor: Neal's Design Remodel
Landscaping: Werbrich's Landscaping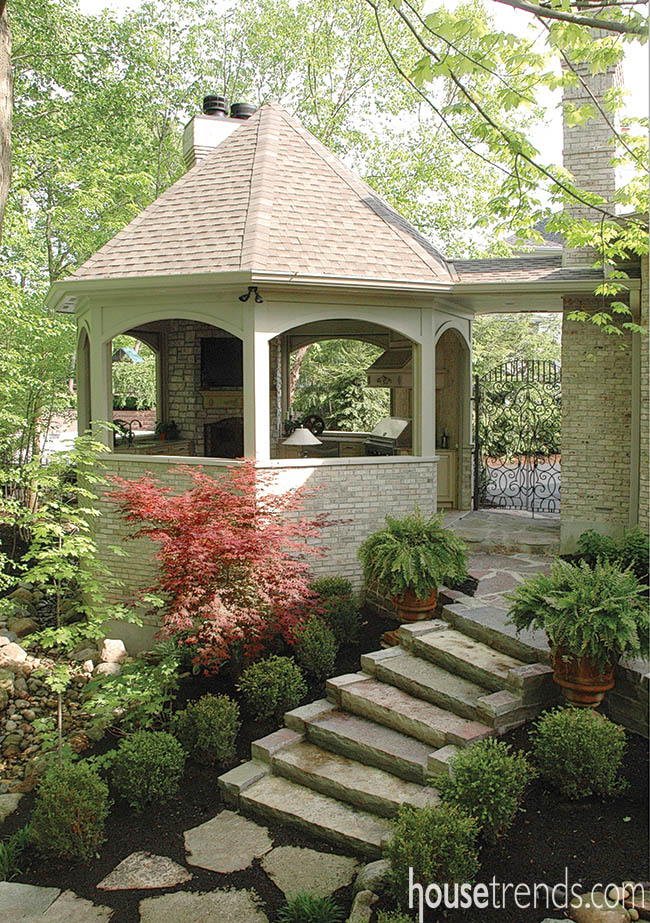 This six-sided stone gazebo comes complete with a gourmet outdoor kitchen, fireplace, television and lounging area.
Contractor: Neal's Design Remodel
Designer: Bob Voigt, Neal's Design Remodel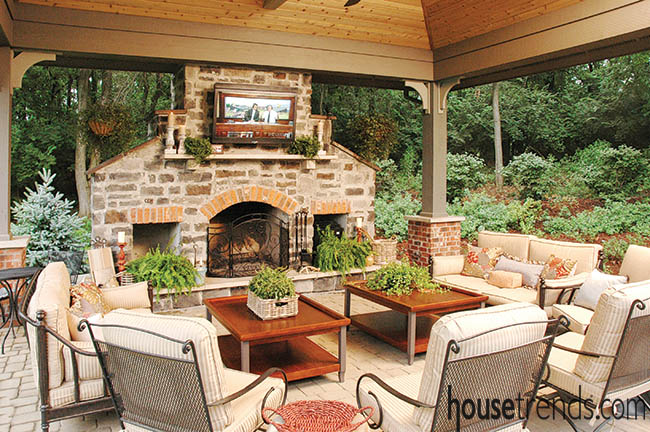 Separate from the main house, this outdoor pavilion space feels like a private retreat in the woods.
Contractor: Neal's Design Remodel
Landscaping: Werbrich's Landscaping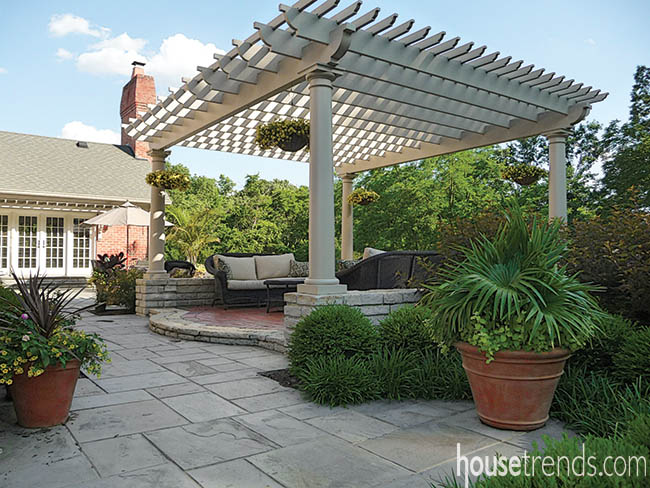 This elegant pergola uses all of the elements typically found in the classic style.
Design: Architectural Landscape Design, Inc.
Pergola: Bolyard Custom Woodworks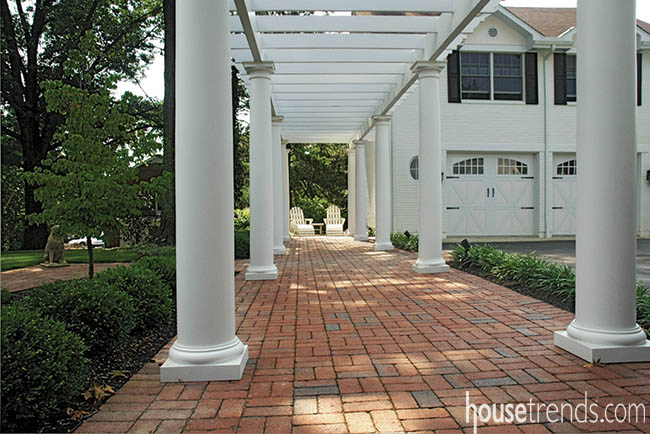 A pergola-covered walkway connects the main residence to the newly-constructed carriage house behind this home.
Design: Architectural Landscape Design, Inc.
Landscaping: Jamie Fox Landscaping, Inc.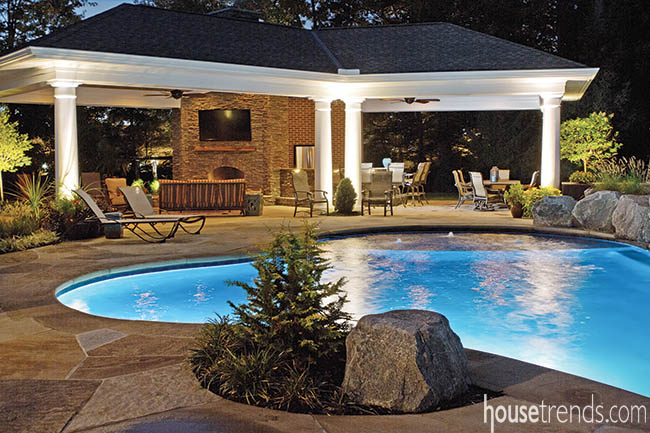 In Northern Kentucky, this Lakeside Park pavilion-style pool house dominates an exciting back yard. It shades a large outdoor dining space, a bar area and an seating area complete with a large screen television and fireplace.
Contractor: Noll Builders
Stamped concrete: Townescapes
Pool: Klimat Master Pools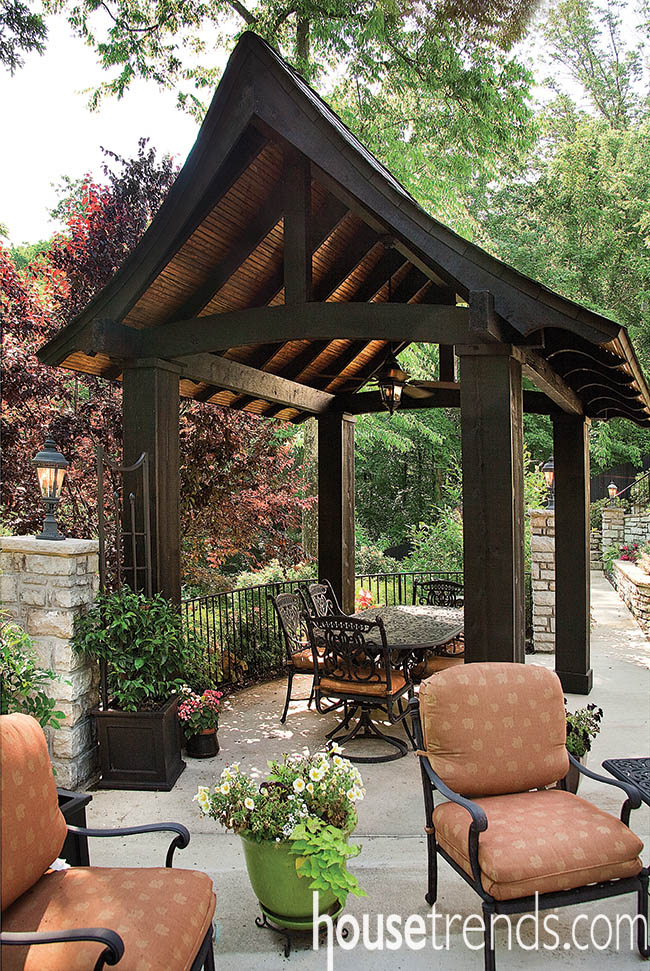 A pavilion keeps with the Japanese-inspired theme in this garden.
Pavilion design and installation: Tepe Environmental Services
Patio furniture: Watson's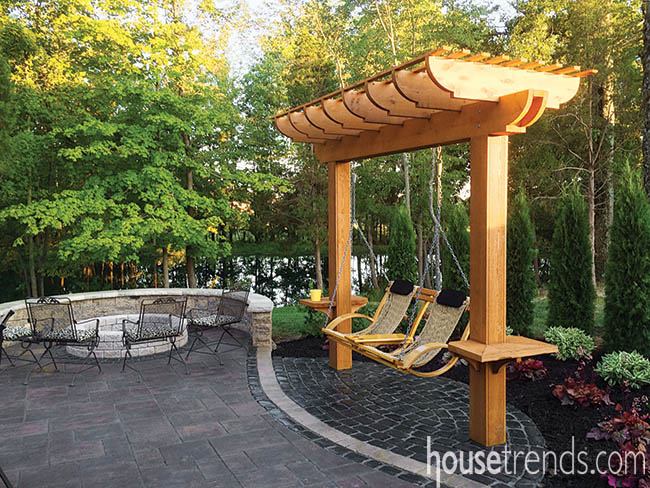 A petite pergola, with a swing for two, is all the invitation you need to spend a quite evening under the stars.
Landscaping, hardscapes and pergola: Townescapes
Swing: Nags Head Hammocks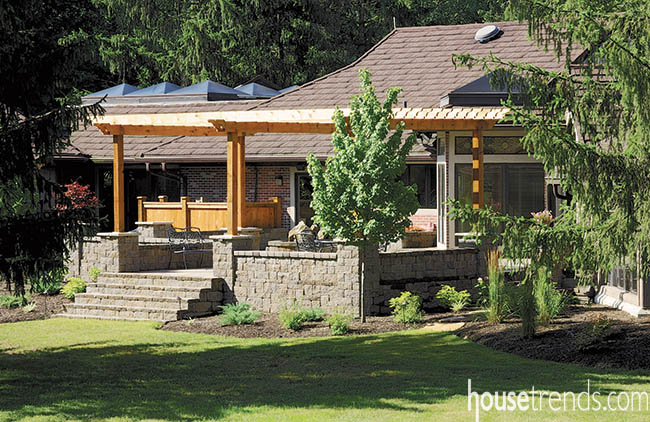 Surrounded by trees, both new and mature, this Cincinnati pergola provides a tranquil setting for family relaxation.
Design: Wenning Landesign Studio
The natural beauty of this gazebo looks right at home in the bucolic setting.
Designer and landscaping: Hap Evans, Allgreen, Inc.
Gazebo: Hemlock, metal roof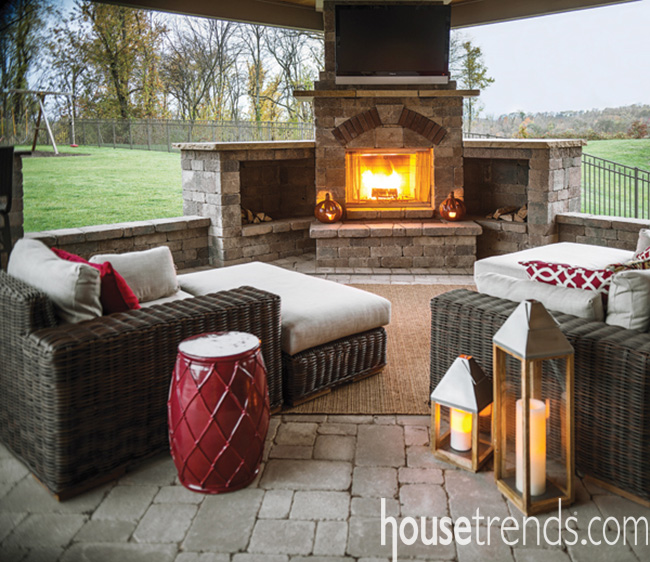 A beautiful stone fireplace and comfortable seating serve as the anchors under this impressive covered outdoor patio.
Metal, wood and stone meet in this expansive pavillion. A fireplace is the focal point for lounging along with an outdoor kitchen with covered seating.
Design: Riepenhoff Landscape, LTD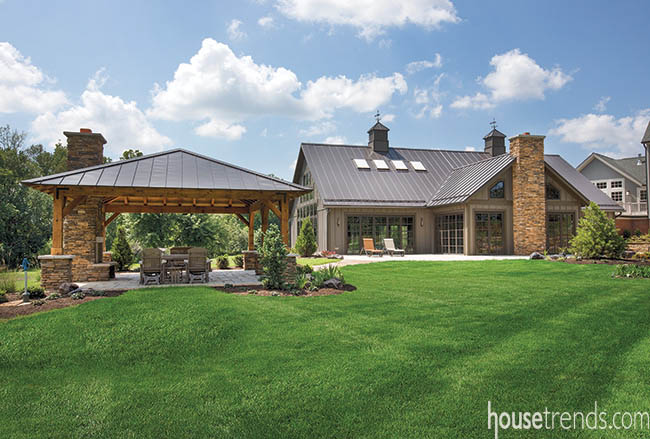 This covered area, complete with a fireplace, provides ample room for relaxation after taking a swim in the indoor pool just feet away.
Designer and contractor: Nicholson Builders
Landscaper: Daniel's Landscaping LLC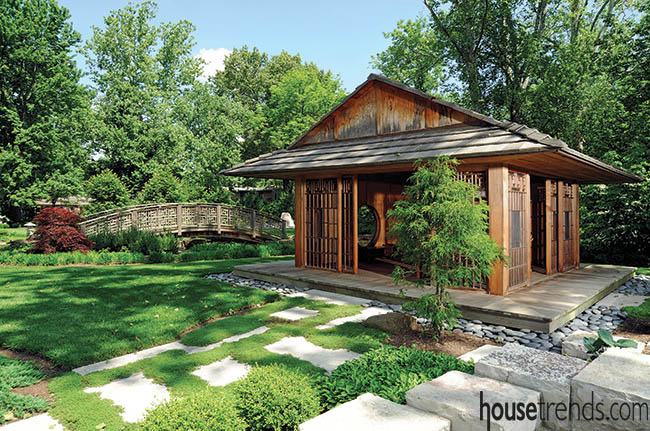 A Japanese garden with a ceremonial tea house alongside an arched bridge, adds a nearly mystical quality to this peaceful setting.
Design: Edsall & Associates, LLC
Hardscaping and planting: Peabody Landscape Group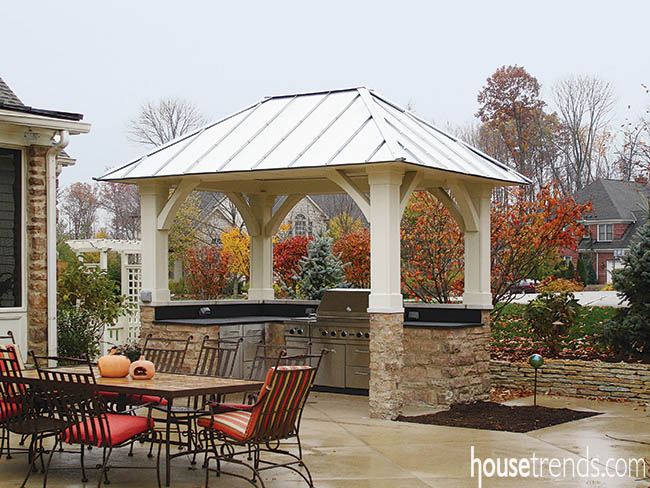 A well-equipped outdoor kitchen sports a stylish cover complete with a metal roof that adds audio ambiance on a rainy day.
Design and construction: Peabody Landscape Group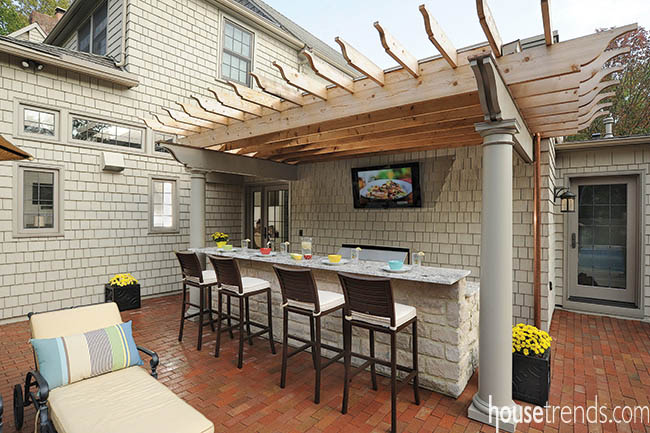 This outdoor bar and kitchen area provides the perfect shaded spot to have a snack and take a break from the action in a nearby pool.
Contractor: Renovations Unlimited
Architect: Gary Alexander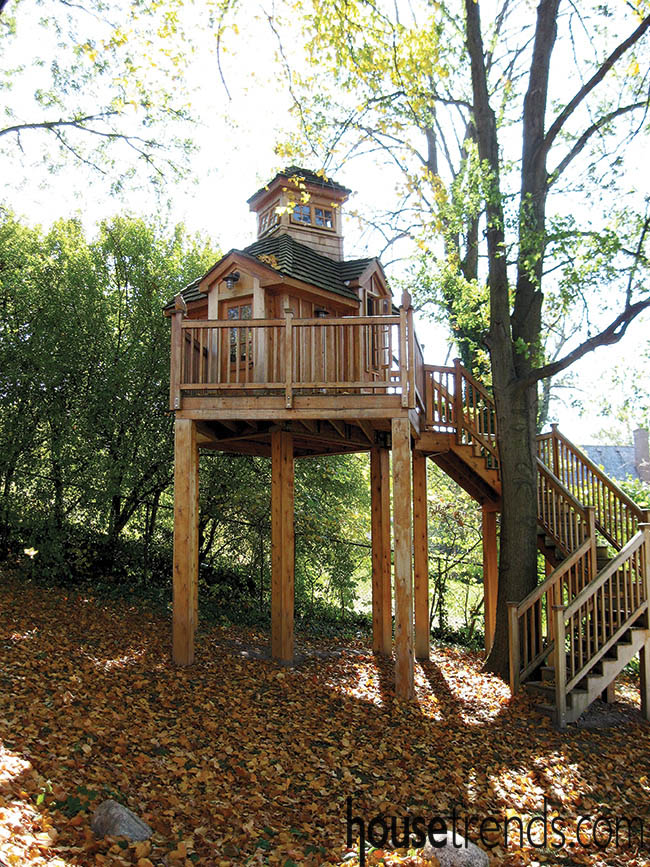 Even though it was designed with children in mind, this treehouse pays respect to Mother Nature too by protecting the natural elements surrounding the structure.
Contractor: Renovations Unlimited
Architect: Gary Alexander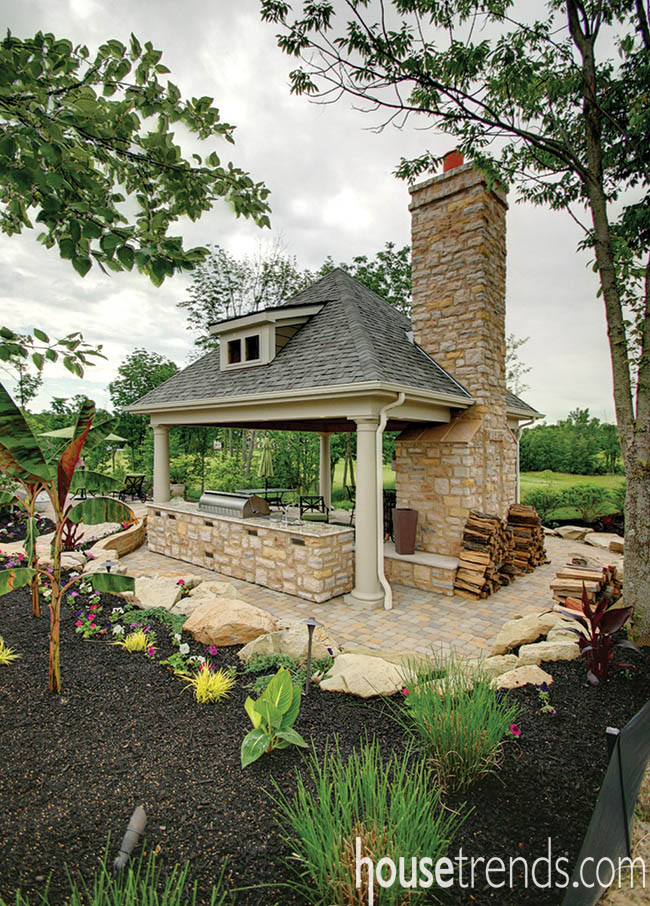 A wood-burning fireplace with its soaring stone chimney provides a visual anchor for this spacious outdoor entertaining area.
Contractor: Phillips Custom Builds
Landscaper: Five Star Landscape Group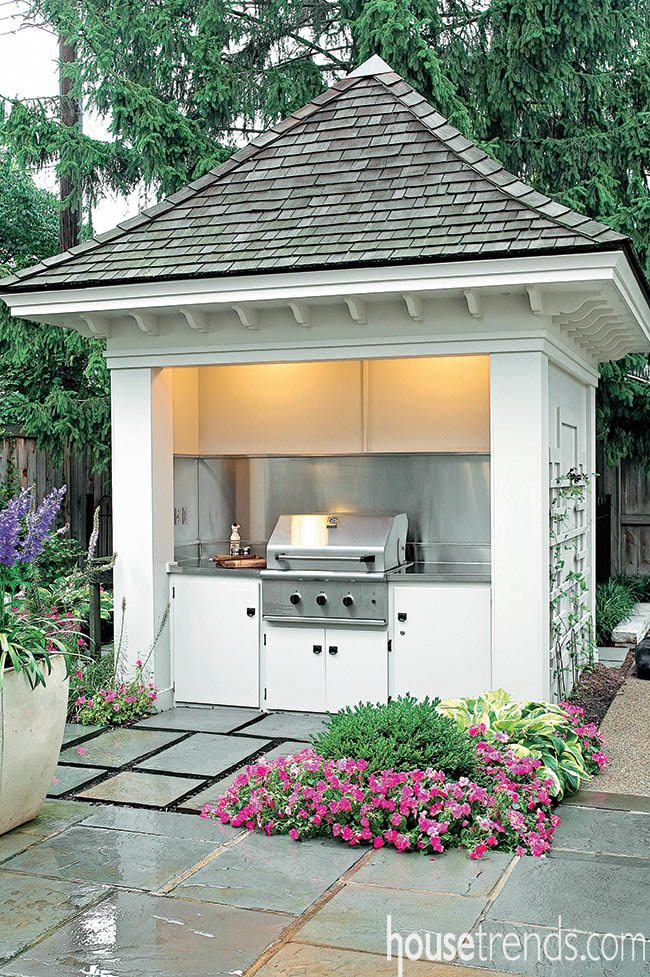 A seemingly simple structure turns a home for outdoor grilling equipment and storage space into a charming focal point for this Columbus residence.
Design: Behal Sampson Dietz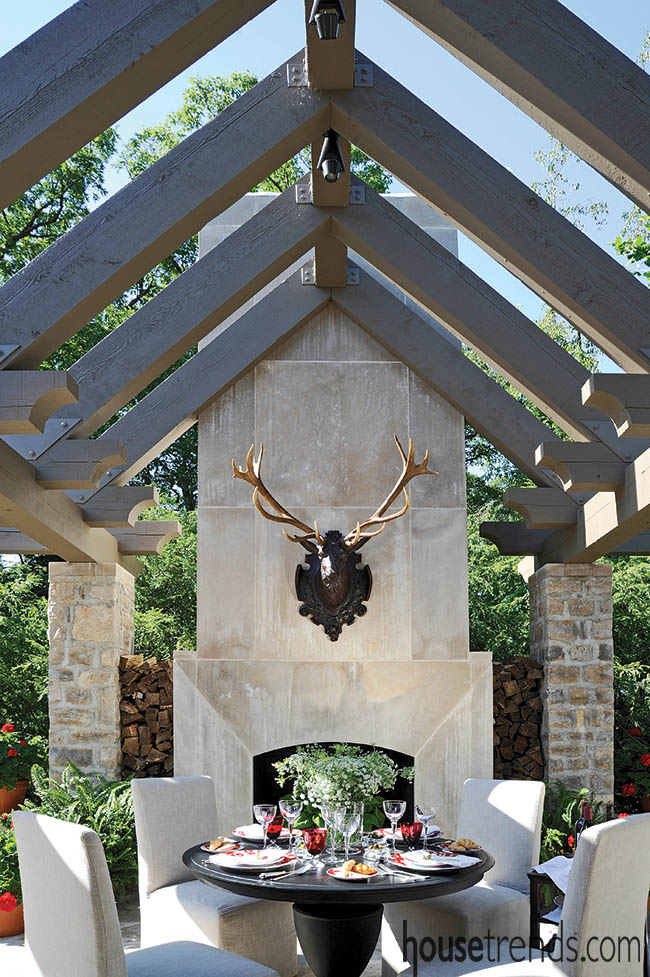 Rough-sawn cedar beams arch dramatically over this terrace, which includes a striking limestone fireplace, to create an enchanting outdoor dining area.
Design: Landfare Ltd.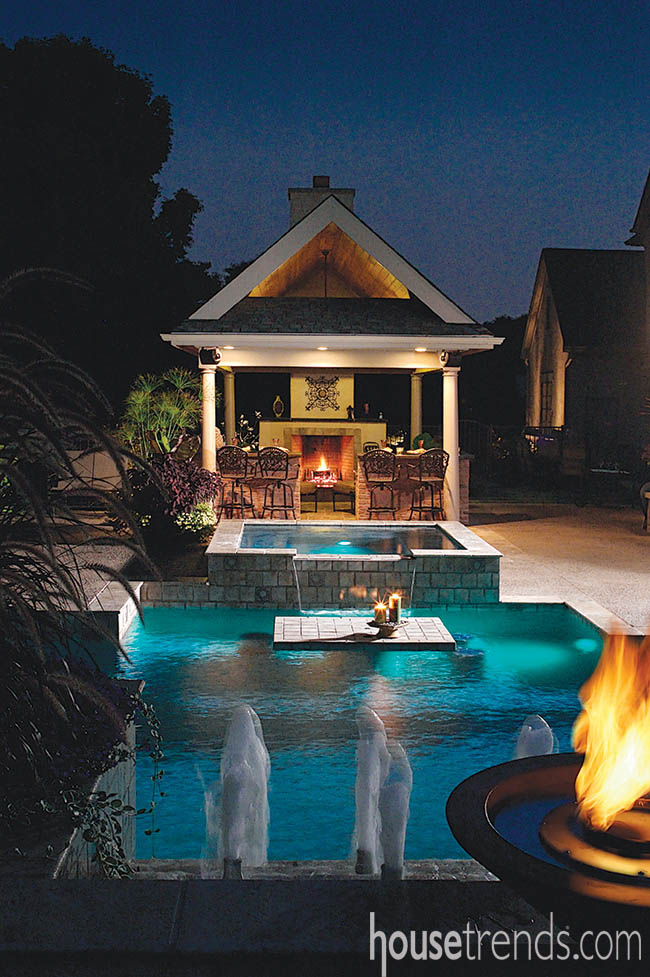 An open-air family room with a fireplace as its focal point adds the final dramatic touch to this back yard, which includes a pool, waterfalls, fountains and a fire bowl.
Design: Wood Landscape Services, Ltd.
Roof structure: Owens Construction
In Dayton, a pair of pergolas resting atop massive stone pillars flanks the seating area and fireplace, establishing a true outdoor room.
Contactor: Paver Planet
Torches: Tempest Torch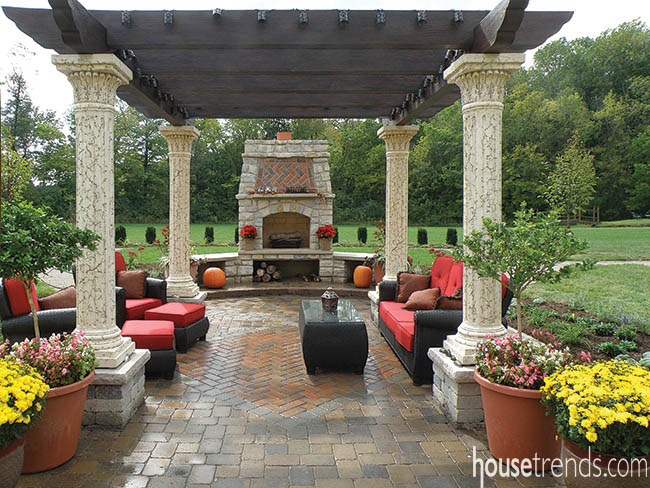 Custom-made concrete columns hold up the Western Red Cedar timbers of the pergola in this outdoor space.
Contractor, hardscapes and plant installation: Centerville Landscape and Irrigation
Pergola: Custom Outdoor Structures
Fireplace: Snyder's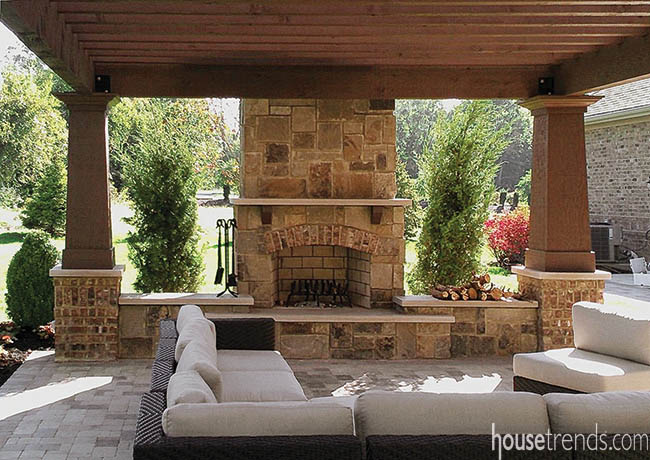 An expansive pergola offers respite from the hot sun in the summer and warmth on a cool evening thanks to the stone fireplace.
Contractor: Paver Planet
Landscape Designer: Dwight Goodin, Paver Planet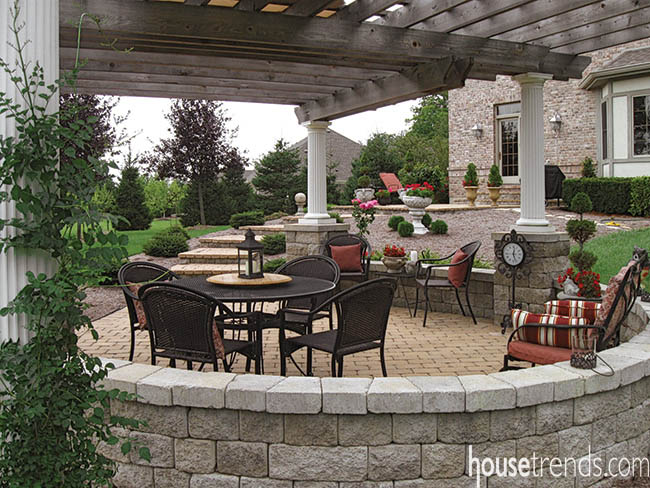 This pergola and accompanying stone landscaping wall helps to establish a formal outdoor space in this Dayton back yard.
Contractor: The Site Group
Pergola: Rough sawn cedar with poly post sleeves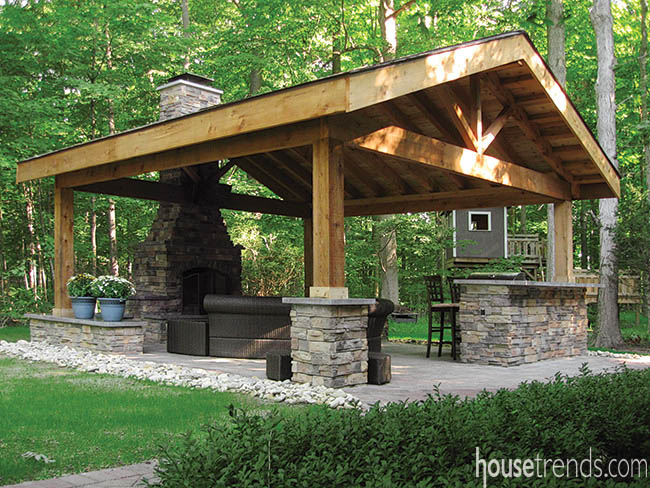 The rustic cedar pavilion looks right at home tucked into the woods.
Contractor: The Site Group
Landscape designer: Ben Bayer, The Site Group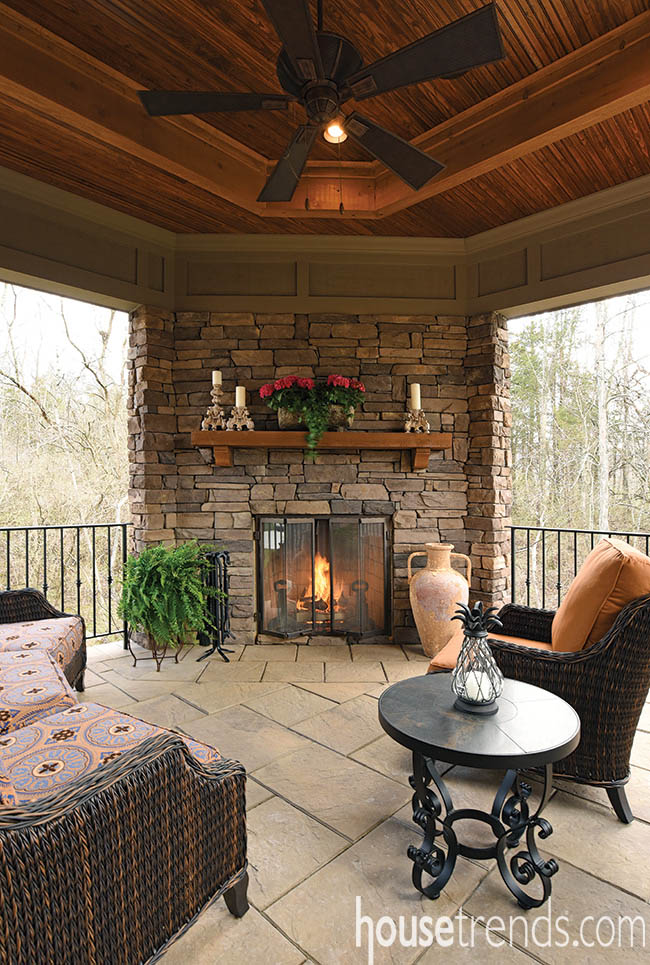 This cozy covered porch includes an inviting wood burning fireplace and private views of the wooded back yard.
Builder: Jenny Diorio, R.L Diorio Custom Homes Inc.
Fireplace: Dayton Fireplace Systems
Stone: Snyder Brick & Block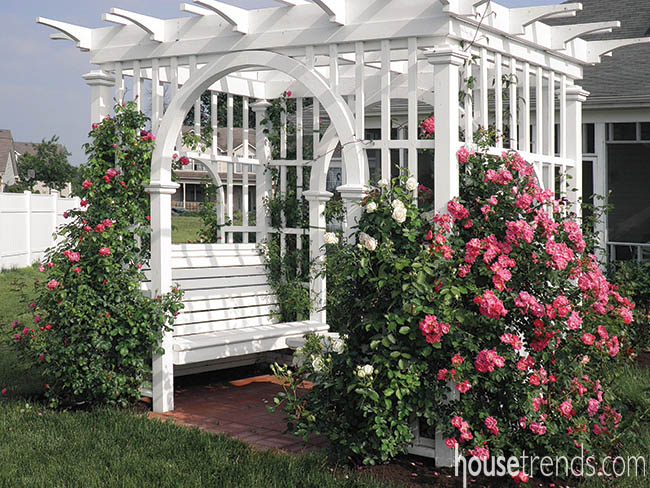 Fragrant and colorful roses pack a colorful punch around this quaint pergola.
Contractor and landscaper: Whispering Creek LLC
Plant and flower suppliers: Jackson & Perkins; Edmunds' Roses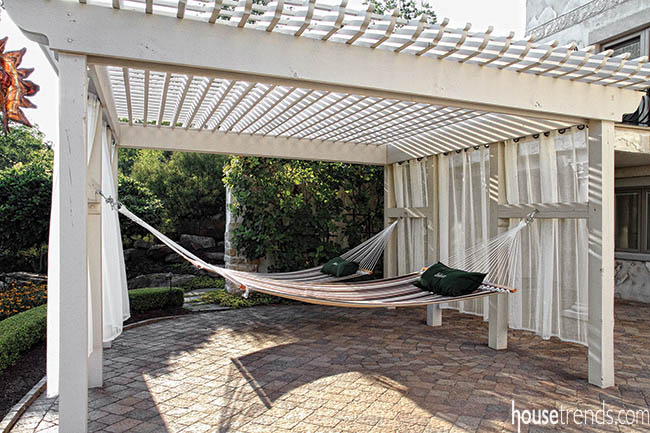 A pair of inviting hammocks offers a quiet respite under this white pergola accented with flowing outdoor window treatments.
Landscape designer: Justin Beall
Landscaper: Beall's Nursery and Landscaping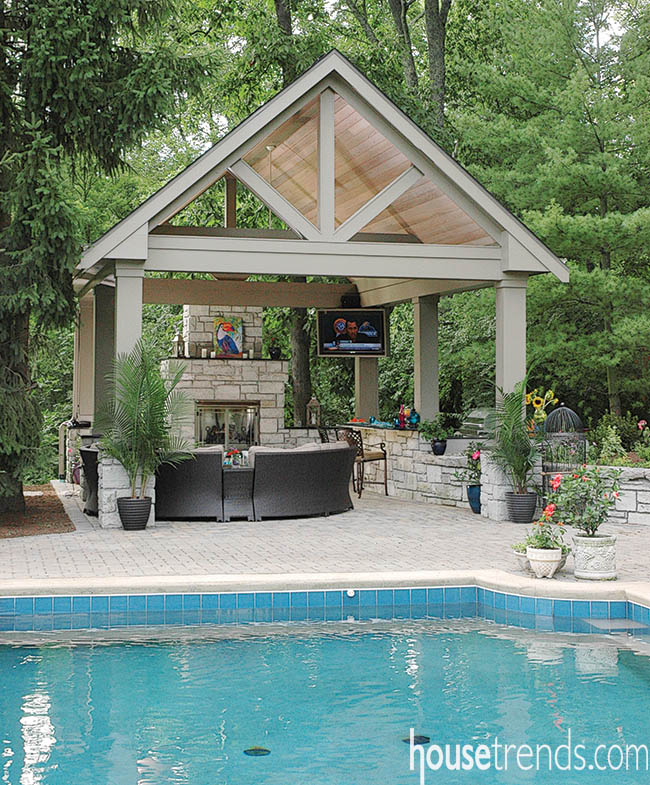 It's hard to beat this pavilion for an inviting spot to get away from the heat.
Contractor: Neal's Design Remodel
Landscaper: Werbrich's Landscaping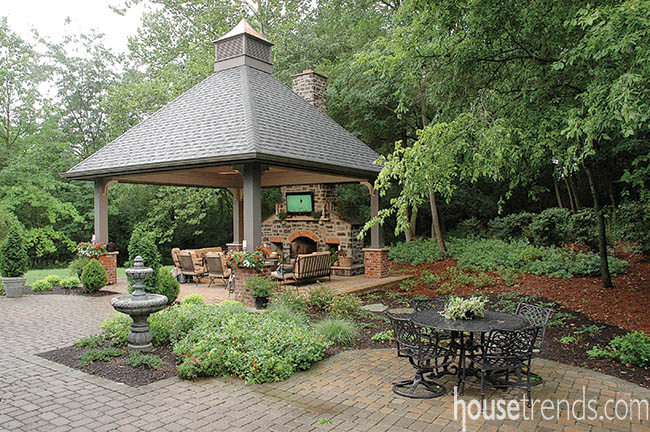 Separate from the main house, this pavilion feels like a private retreat in the woods.
Contractor: Neal's Design Remodel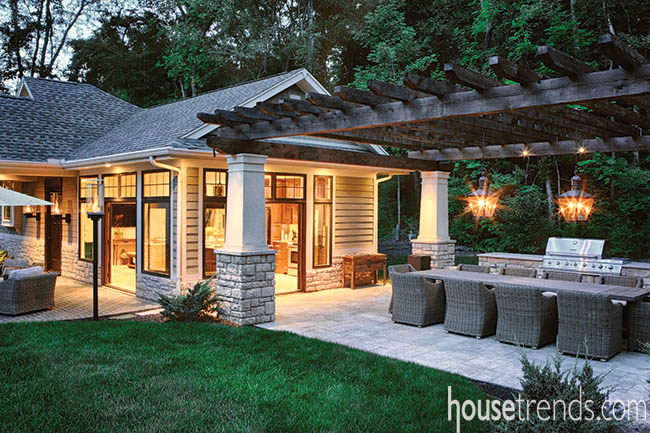 This over sized pergola was built to complement the adjoining pool house and serves as the designated outdoor dining and grilling area.
Architect: Brian Weaver, ALT Architecture
Plant installation and hardscapes: J.R. Harlow, Harlow Landscape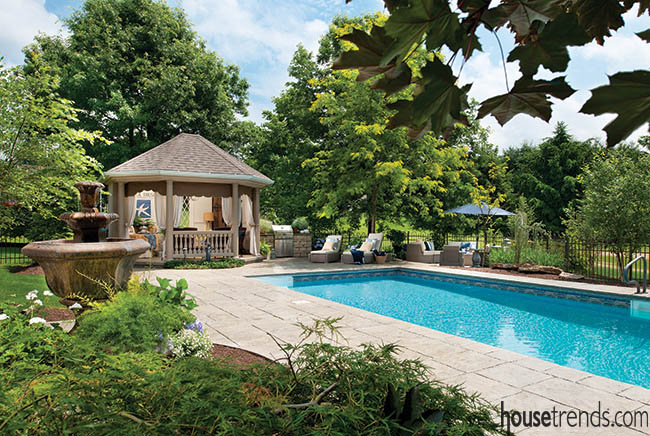 The gazebo, which is adorned with elegant window treatments and comfortable furniture, overlooks the pool and surrounding landscape.
Pool, gazebo and landscaping: Rick Rafail Construction Inc.
Stamped concrete: D&E Concrete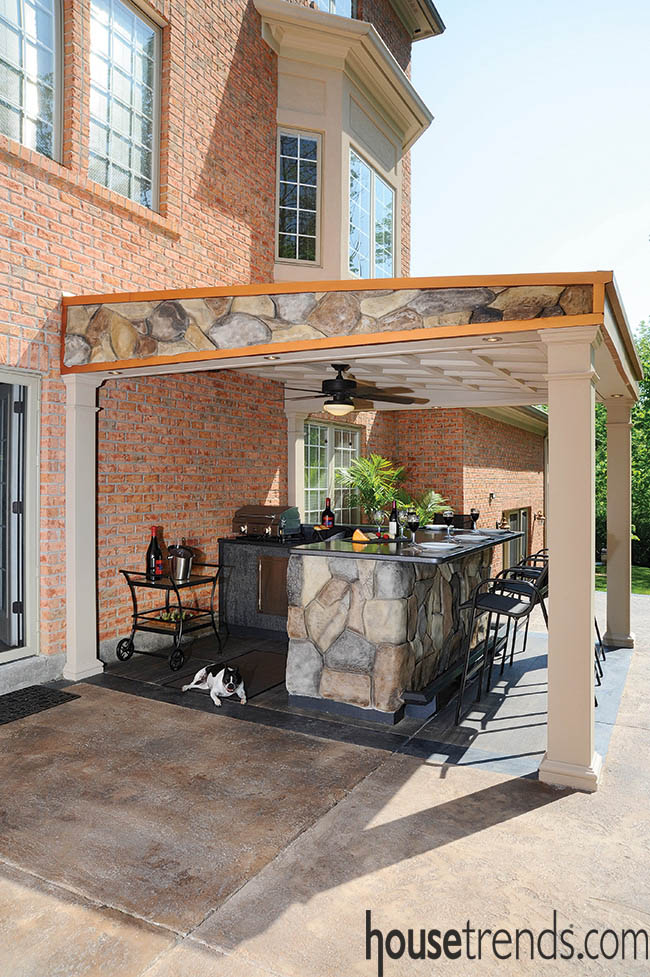 The custom-built lean-to houses an outdoor bar and features a copper roof and decorative concrete carved to look like stone.
Patio and hardscapes: Custom Outdoor Structures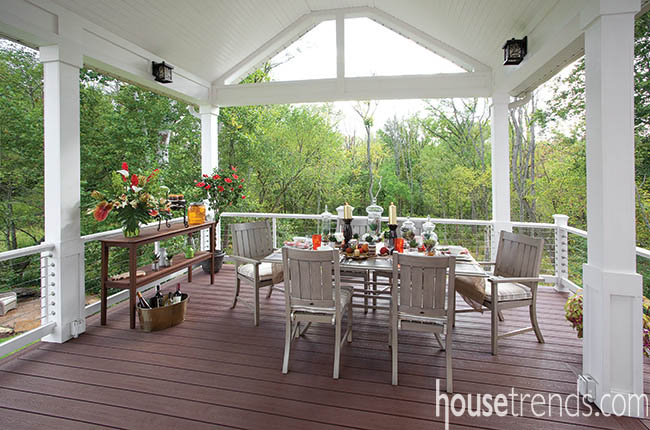 This creative pavilion is built 20-feet off the ground, featuring a Trex composite floor, Azek roof, and railings made of steel cables to allow the unobstructed views of the surrounding woods.
Landscaper: Ohio Valley Group
Furnishings: Patio Deck & Hearth Shop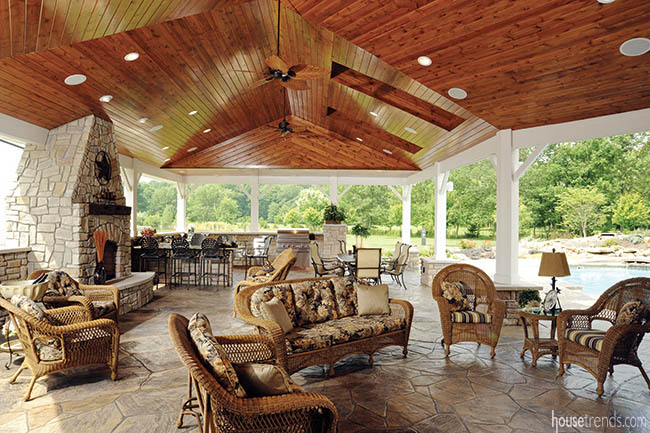 This covered pavilion was built off the back of the existing house and includes a full kitchen, outdoor fireplace and plenty of seating options.
Landscape architect and developer: Siebenthaler's
Contractor: Greater Dayton Construction Group