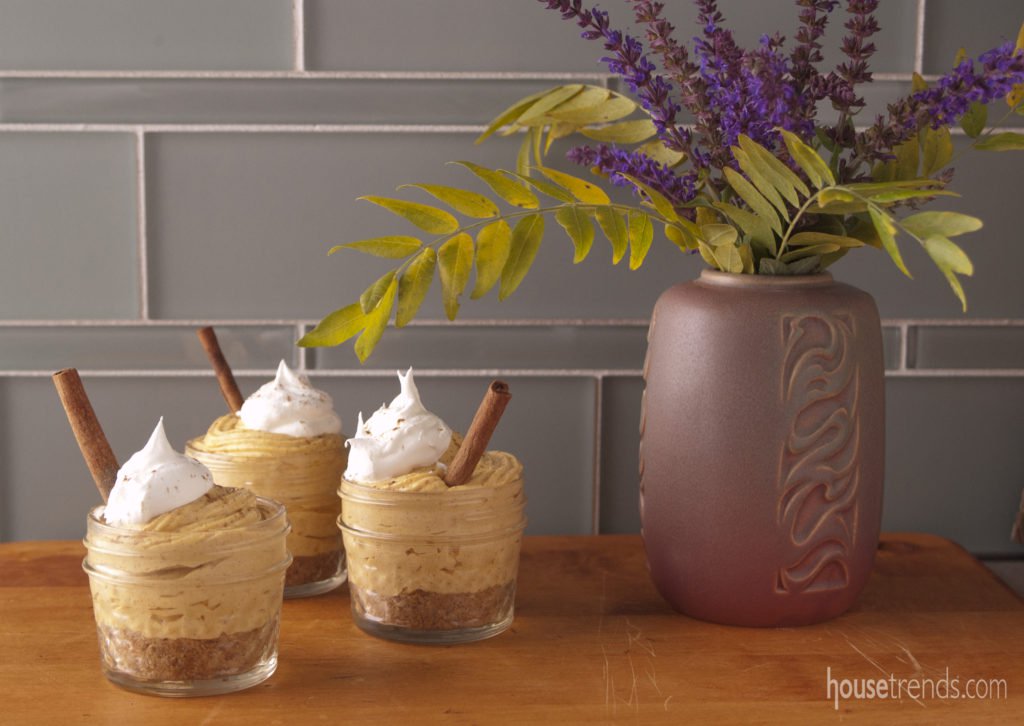 Some would argue the best thing about October is the pumpkin-flavored assault on our taste buds. At Housetrends, we were happy to oblige, with this No-Bake Mini Pumpkin Cheesecakes recipe Senior Advertising Designer Gina found to try out on the staff.
The recipe was easy to pull together, and Gina followed it as written by A Family Feast. The end result was  more like a mousse than a cheesecake, but these little darlings still disappeared fast from the Housetrends office.  Gina said eating them was like having Autumn bounce across your tongue and slide down your throat. They were a perfect way for Housetrends to wave hello to the season.
Although they went fast, Photographer Connie Kimsey still managed to get a chance to photograph them in our studio against some great tile samples from Louisville Tile. Samples from Island Stone's glass series in seagrass and Sonoma Tile Makers' Pure tile in bright white are pictured here along with a vintage Rookwood Pottery vase.
Recipe: No-Bake Mini Pumpkin Cheesecakes (from A Family Feast)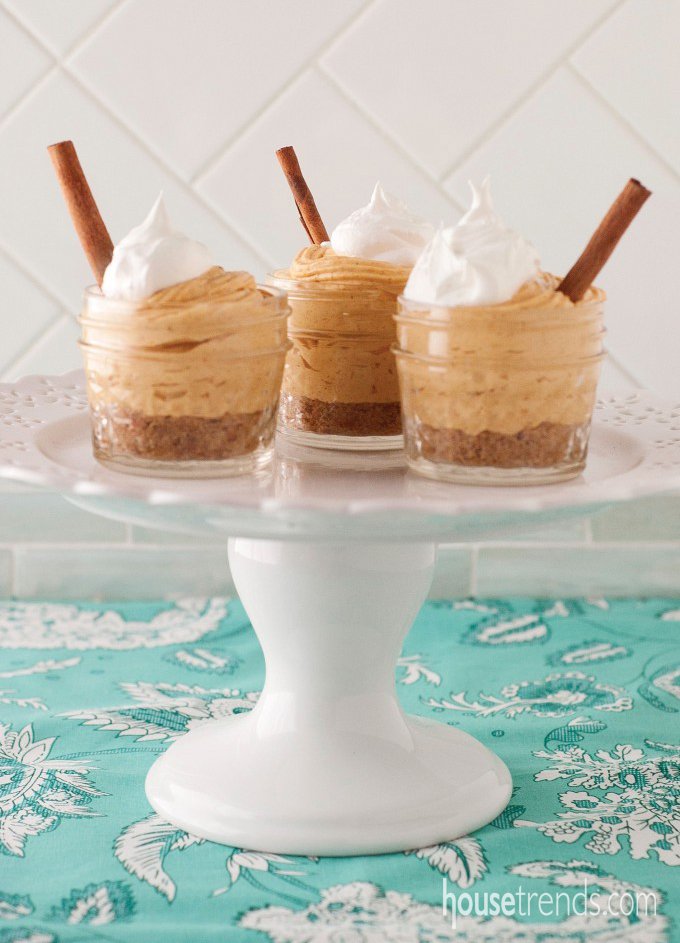 INGREDIENTS:
Crust:
1 sleeve graham crackers (about 9 crackers)
½ stick (4 tablespoons) butter, melted
2 tablespoons sugar
2 tablespoons brown sugar
Filling:
1 8-ounce package cream cheese, softened to room temperature
1 15-ounce can pumpkin puree
3 teaspoons pumpkin pie spice
1 1-ounce package sugar free cheesecake-flavored instant pudding mix (or 1/3 of a non-sugar free instant pudding may be used)
1 14-ounce can sweetened condensed milk
1 12-ounce container frozen whipped topping, plus extra for garnish if desired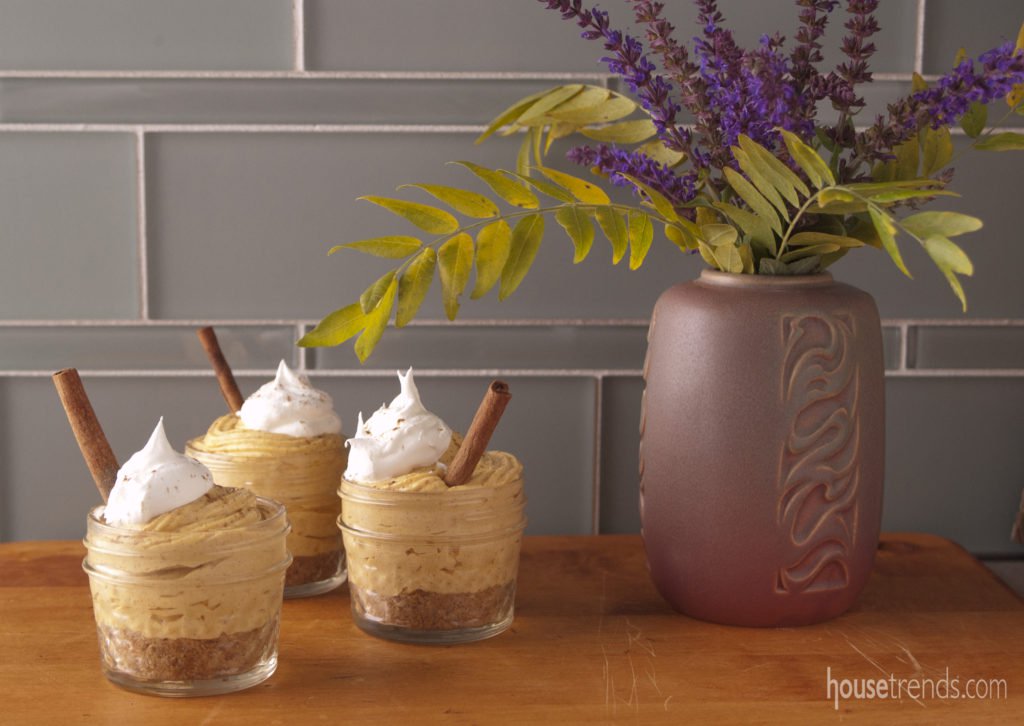 DIRECTIONS:
1. Place the graham crackers in the bowl of a food processor and pulse the crackers into fine crumbs. Add the melted butter, sugar and brown sugar and pulse until combined.
2. Spoon the crumbs into individual 9-ounce plastic cups (or other individual sized cups for serving). Place in the refrigerator to set while you are preparing the filling.
3. In the bowl of a stand mixer with the paddle attachment, beat the cream cheese until light and creamy.
4. Add the pumpkin, pumpkin pie spice, and pudding mix and beat until completely mixed, scraping down the sides and bottom of the bowl to ensure that all ingredients are well combined.
5. Add the sweetened condensed milk and mix again until well combined.
6. Change your stand mixture attachment to the wire whisk. On slow speed, fold in the tub of Cool Whip until well combined.
7.  Allow the mixture to sit in the refrigerator for about an hour to firm up.
8.  Using a large pastry bag with a large tip, or a spoon, top the graham cracker crust in each cup with the pumpkin mixture and refrigerate until ready to serve.
9. Garnish with additional whipped topping if desired.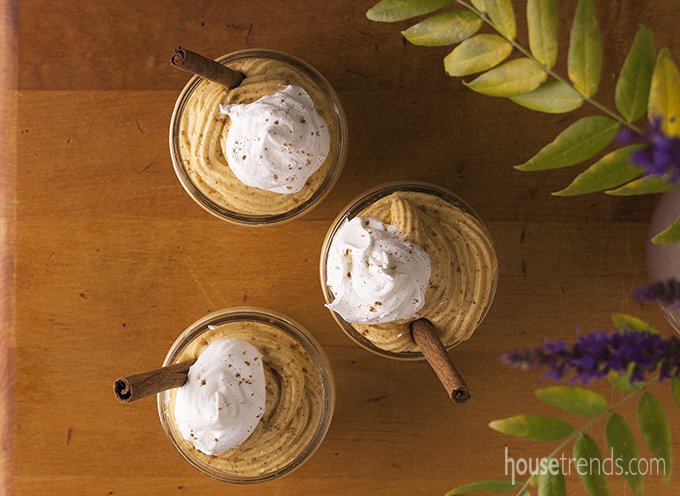 Save
Save
Save
Save
Save
Save
Save