Too often, masculine is interpreted in harsh lines and chunks of black and chrome. This stylish bathroom renovation by Barrie Spang of Lee Meier Interiors and George Shiekh and The Cleveland Tile and Cabinet Company proves that masculine doesn't have to mean cold and boring.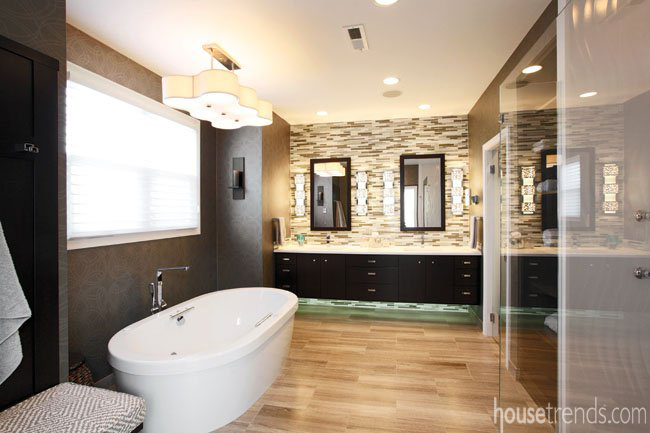 Rick Wiedemer, president of Hinkley Lighting, was excited about the possibilities of the Rocky River townhome he'd purchased. "I've done several major renovations in houses I've lived in, but never a master bath. So, I decided to call George, who is a real craftsman, and Barrie, a lifelong friend, to create something really special," he explained. Tasking the pair with creating something masculine and simple, but elegant, Rick gave them free rein to demolish the existing dated and "fluffy" bathroom. "They were great to work with. They gave me ideas and I would say yes or no. They would never be too pushy or sensitive if I said no. They went back to find more options," said Rick. George explained that they worked close together to come up with final design and layout to create the master bath the executive had always wanted.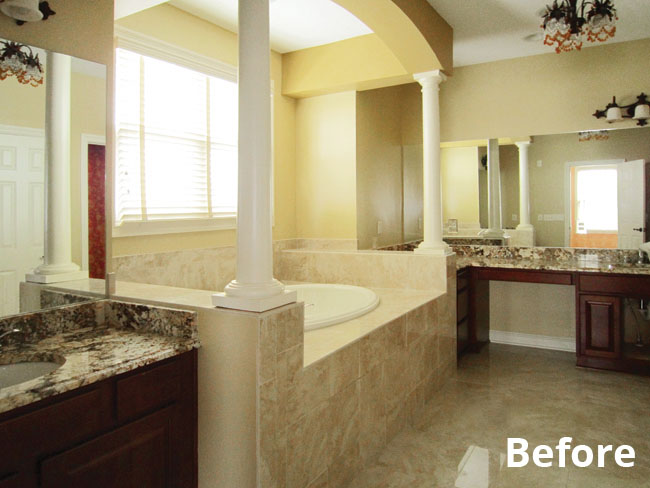 George's team set to work tearing out the old Greco-roman design, removing the columns and decking built around the tub, two oddly separate sink areas, and a small fiberglass shower enclosure.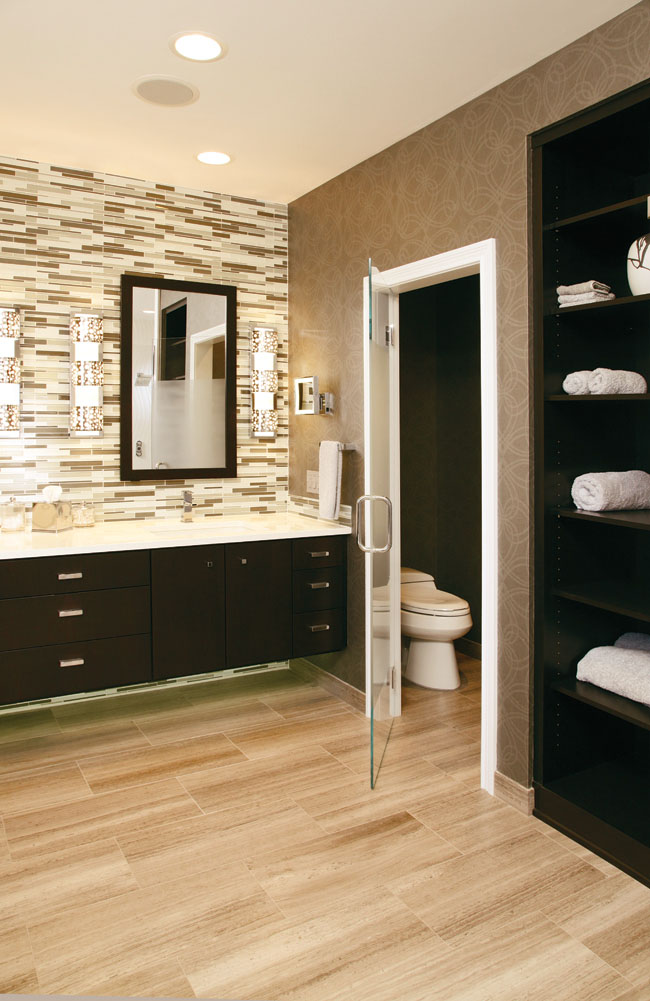 Pulling from George's 35 years of experience in remodeling, the new layout of the space emphasized clean lines of sight, highlighting the newly opened up space. Working with a palette of rich brown, white, and grey, Barrie layered rich details and textures to give a masculine, clean and fresh feel to the room. George focused on the high-tech details that are a must-have for any masculine retreat. "I always recommend installing heated floors in the bathrooms. They can be set on a timer so that bare feet never touch cold stone." Natural limestone vein-cut tile was chosen for the floor in Ash. The rich pattern was cut into 12"x24" rectangular pieces and small 6×6 squares for the shower. "We spread them out and laid them by hand a couple of different ways to make sure it looked right," said Barrie. This is where the team's attention to detail and effort shine through. From a distance, the texture of the floor is reminiscent of the grain of a rare wood, while alternating squares set the shower apart visually with the added benefit of natural slip-resistance.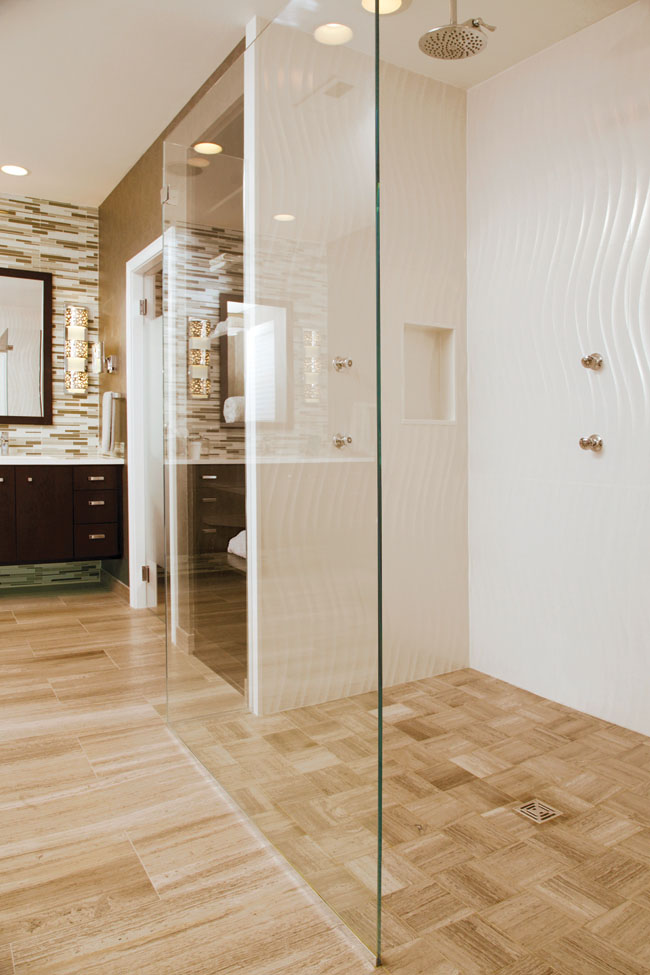 The new floor runs continuously on one level into the shower, tilting into the drain and eliminating the need for a curb for the now generous open shower. "We installed Starfire extra clear glass. Regular glass will have a green hue to it and then looking through it, the shower tile will appear greenish as well," said George. It would be a shame to mar the perfection of the large format 3-D wave textured white Qatar Nacar wall tiles.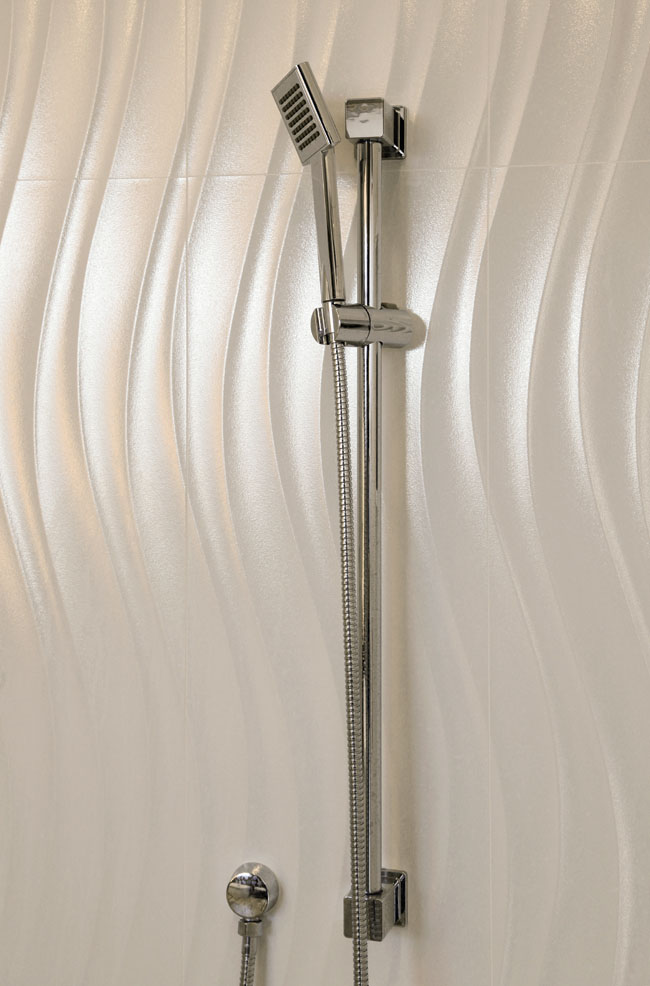 A rainhead and a standard showerhead by Moen were installed with additional bodysprays and handshower to complete the spa experience. All are operated by digital remote, so the shower can be started from the warmth of the bed on those cold Cleveland mornings.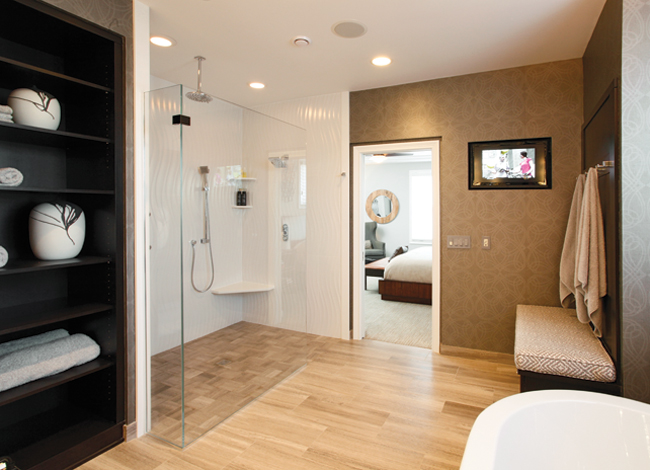 The water closet features a custom full-length door of Starfire glass with a sandblasting to ensure privacy. "I put in the James Bond picture to add that extra testosterone," Barrie smiled. The new tub area is certainly worthy of a Bond movie. Candles in minimalist sconces are ready to cast soft light for a romantic bath in the air-jetted freestanding tub by Jason with chroma-therapy lighting. A Grohe Veris tub faucet provides a polished chrome middle line, proving all is centered on the window. The new layout now allows that natural light to flow into the room. A television is recessed into the far wall so that a favorite movie can be enjoyed during an extended soak.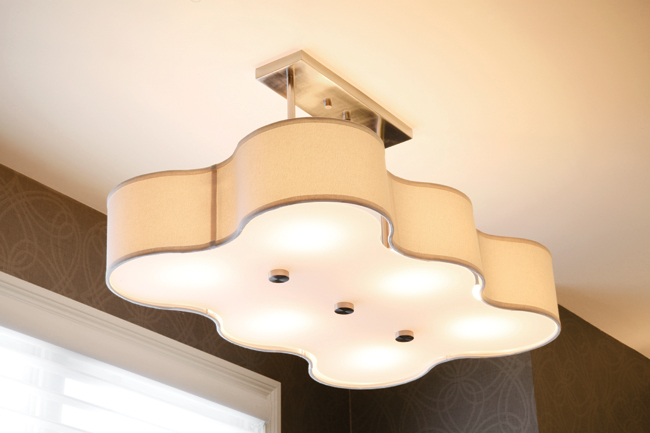 Centered on the new tub is a striking selection from Wiedemer's own line of contemporary chandeliers. The ivory linen of the hard back Cirrus shade ripples in a soft wave, while the elegant shape of its etched acrylic lens is punctuated by brushed nickel buttons.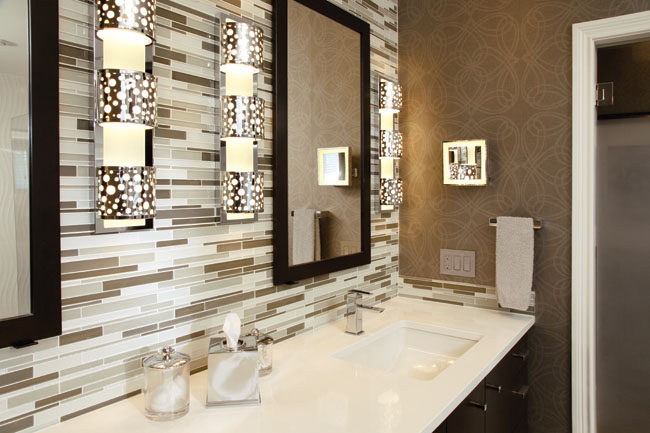 While there are still two sinks, they now are located side by side, under-mounted in a wash of Cambria quartz countertop punctuated by Moen faucets. The double vanity is suspended above the floor, a fact emphasized by the LED lights below the dark, modern Brookhaven by Wood-Mode cabinetry with flush doors. The inset twin medicine cabinets open to clear glass shelving across mirrored backs. Their dark wooden frames contrast boldly against the impressive wall of opera glass in varying shades of white, brown and grey. It is the perfect background for another Hinkley light. On either side of the mirrors, vertical Mira Fizz sconces meld innovation with playful design. Metal cutwork shades accent the long unbroken line of soft light cast by the etched seeded glass set on a raceway backing.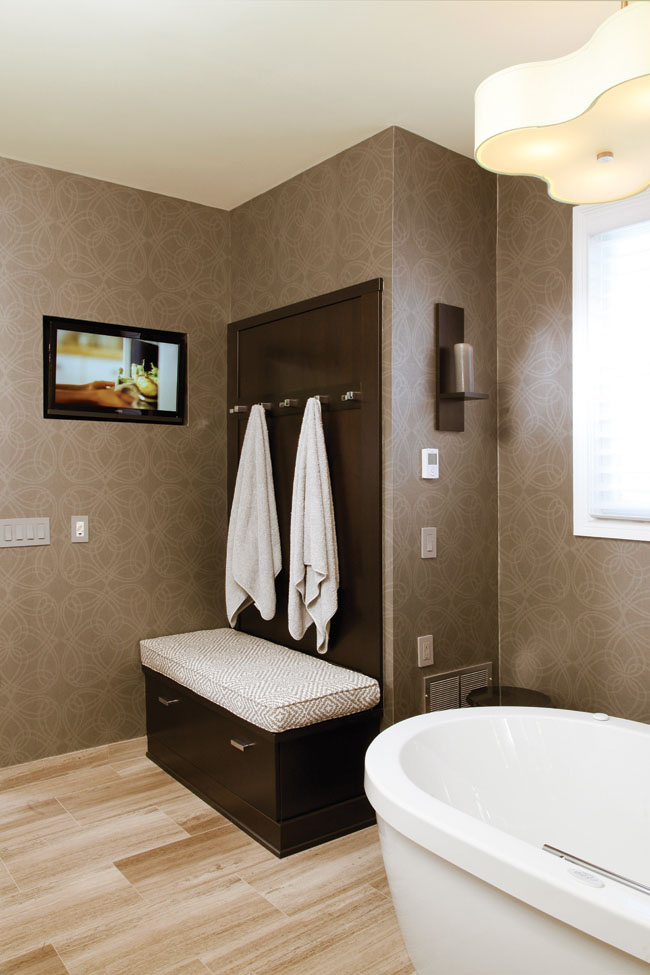 The final addition was a built-in bench with deep drawers for extra storage. The coffee-colored wood is topped with a thick cushion of indoor/outdoor fabric by Duralee, offering a soft place to sit after a shower. "I like to get a little fabric in a bath design. A bench is a great way to bring in a little textile and comfort," explained Barrie. It's easy to picture Bond hanging his tuxedo jacket and holstered Walther PPK on the chrome hooks.