Take one step into the Tampa kitchen of Dr. Charles "Chuck" and Marianne Paidas and you feel as if you have been instantly transported to the beautiful Italian countryside. Robust colors, rich textures and more than likely the enticing aroma of pesto, meatballs or homemade tomato sauce help to establish that old-world atomosphere. "We are from an Italian-Greek family, so it was very important to me to instill that ethnic spirit into the design of the kitchen," says Marianne.
The 4,400-square-foot ranch, built in 1982 had been remodeled before Chuck and Marianne purchased the home. White cabinetry, granite countertops, a small island and new appliances meant the kitchen worked for the couple for quite a few years. But, as expected, the kitchen started showing its age. "We enjoy this house so much-it is easy to live in and the neighborhood is great," says Marianne. "Remodeling the kitchen just seemed like the natural choice.
Enlisting the expertise of kitchen designer Krista Medendorp, of Artisan Design, was a serendipitous moment according to Marianne, who retired from teaching at Tampa Catholic last year. "I would drive past their showroom every day and I loved it," she says. "One day I just stopped in and met Krista and things just took off from that first meeting.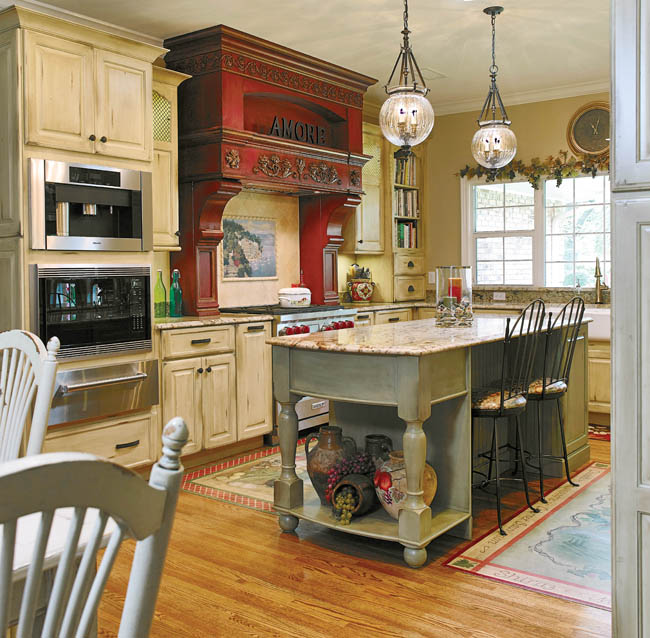 The trend in homebuilding in the 1970s and 80s leaned toward creating distinct rooms for cooking and eating, but that philosophy has changed dramatically over the years. The new homes of today feature open floor plans, allowing the kitchen, dining and living spaces to mingle together. Chuck and Marianne's motive for remodeling their kitchen was to create a central location for their family. "We don't just cook, we laugh and sing and talk," says Marianne. "It needed to be a big, open space where my three kids could come and enjoy spending time together."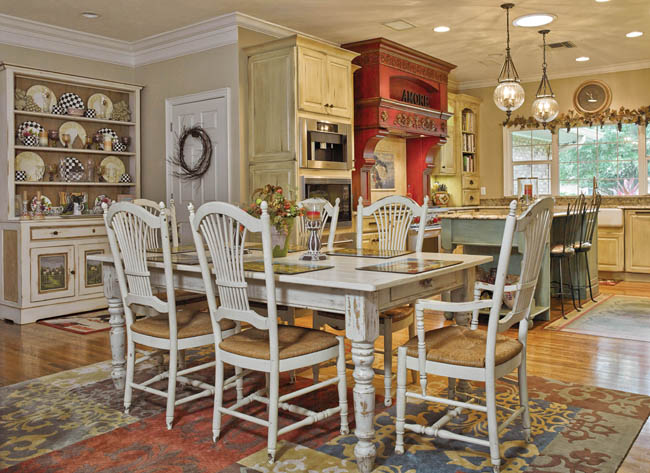 To create that open-concept feel, Medendorp removed a half-wall that separates the old kitchen from the living room. This allowed space for the dining table, which can comfortably fit ten people. "I love being able to sit together as a family," says Marianne. "We're now able to gather in the kitchen, sit at the table and prepare a meal in the same space." Medendorp also removed an old butler's pantry off to the side of the kitchen next to the china cabinet to make way for a pantry, an amenity the old kitchen was lacking. The original hardwood floors were also refinished and a darker stain was applied for a modern touch.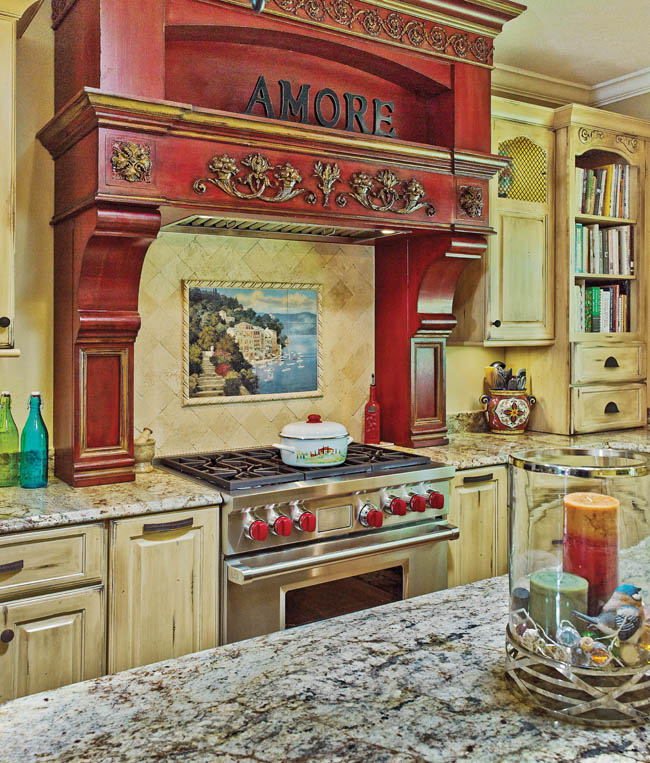 The stunning Habersham range hood, part of the company's Gallery Collection, commands center stage in Chuck and Marianne's new kitchen. Painted Rich Carmine, the deep red hood serves as the focal point. "I knew Marianne would love the idea," says Medendorp. "She has an artistic soul. Habersham does amazing finishing like no one else. This piece is a real show-stopper."
"Every person who walks into our kitchen says 'Oh my, what a piece!' We live in our kitchen, so it should reflect our personality as well as be a functional space," says Marianne.
Chuck, a pediatric surgeon for USF, enjoys cooking and expressed interest in having the large Wolf gas range. "It's wonderful," says Marianne. "I can sit at the island and we can talk while he cooks up anything he desires."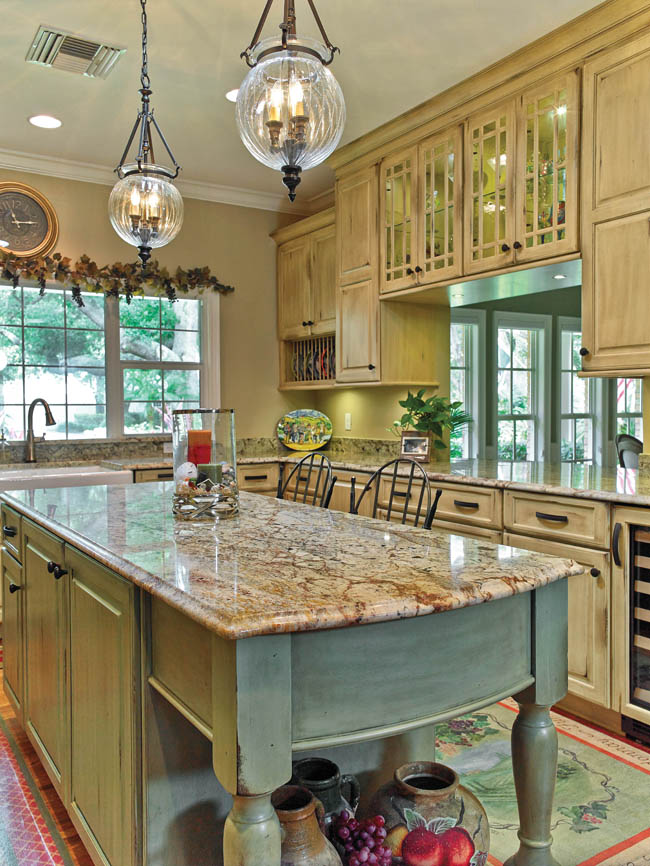 To bring the kitchen and formal dining room together, Medendorp knocked out a portion of the wall separating the two spaces and created a pass-through. "Now, when Chuck and Marianne are cooking they can still take part in any activities or conversations going on in the dining room," she says. In addition to the red range hood, Marianne wanted to incorporate other rustic colors into the kitchen design. The maple island features a Jade green finish to offset it from the neutral-tones of the perimeter cabinets.
Chuck was instrumental when it came to selecting the San Marino granite countertops. "Krista and I had picked out a few options that we liked and then Chuck came along and found this stone," says Marianne. "He made such a great choice. It looks fabulous." The swirls of gold, gray, cream and white in the countertops perfectly complement the old-world character of the maple cabinets from Shilo Cabinetry. Marianne selected Shilo's Cornsilk finish for the perimeter cabinets, which have a slight golden hue. The oversized Kohler farmhouse sink and old-fashioned cabinet knobs and pulls complete the overall look.