When your job pulls you away from home multiple days a week, it not only dictates your schedule but it causes you to think differently about the design of your home. For flight attendant Jimmy Mitcheson, and Alan West, who also is out of town weekly for work, their travel dictated everything from meetings with their builders, Michael Ruefle Jr. and Colleen Ruefle-Haley of Suncrest Homes, to the design of their massive laundry room.
But more than anything, Jimmy and Alan wanted a place to come home to … a house with a view.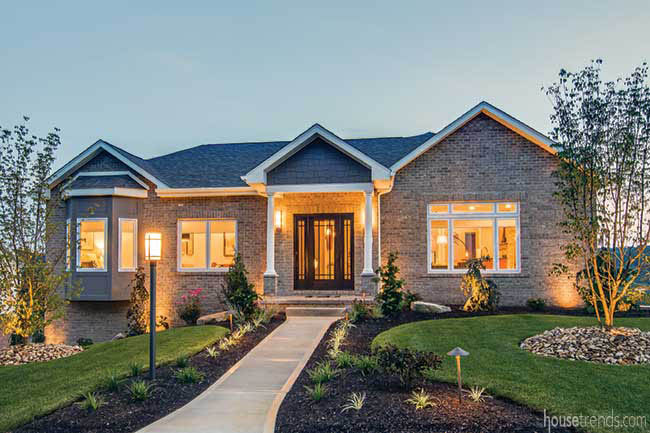 Million dollar views
While Jimmy was born and raised within three miles of the couple's new home, family wasn't the only reason they settled on their location. "Our lot is tremendous," Alan explains of the couple's decision to sell their townhouse and build their first home together. "We drove by the lot for about a year. We would stop and look out over the hill and imagine what it would be like to have that view."
When Alan and Jimmy first met with Ruefle-Haley and the team at Suncrest Homes, the family business started by her father Michael, they discussed their wish list: a ranch-style home with single-level living and a finished lower level. They also wanted a large covered porch for outdoor entertaining. The couple found a house they liked minus one thing – the floor plan.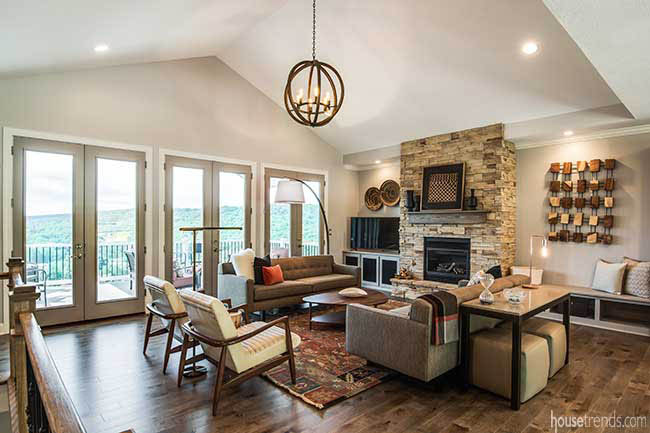 "I didn't like the kitchen being in the back," Alan says. "I liked the house, I just didn't like the interior. As a kid I always loved doing floor plans, so I decided to play around with moving things … and Michael helped me flip the house."
"They have amazing views, so it made sense to flip the floor plan," Ruefle-Haley says. "The family room would normally be in the front of the house, but now the home opens into the kitchen."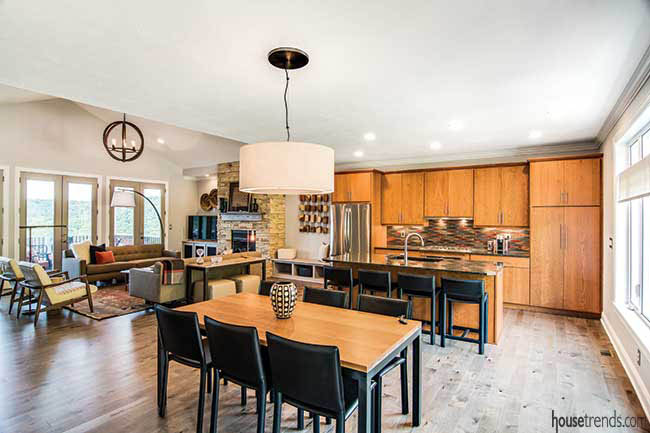 A non-cook's kitchen
"People make fun of us because we never have food in our house," Jimmy says with a laugh. "But it's hard for us to keep food, so we just buy what we need on the fly."
"I do more of the cooking," Alan adds. "But I hate to admit our kitchen is used on rare occasions. We love it though."
Because they flipped the house, Alan and Jimmy wanted to make the kitchen an aesthetic focal point as guests walk in the door. Colleen put the couple in touch with Jennifer Baustert, CKD at Manor House Kitchens. They didn't have a large wish list. Alan knew he wanted a gas range, and Jimmy wanted a statement backsplash. Other than that, they trusted Jennifer's direction. "We loved working with Jennifer," Alan says.
"It's not a big kitchen, but Jennifer did a great job tying it into the living area," adds Ruefle-Haley. One of the ways Baustert did this was by installing a built-in bench between the refrigerator and stone fireplace. This wall is somewhat of a gallery to highlight the couple's favorite pieces inspired by their travels.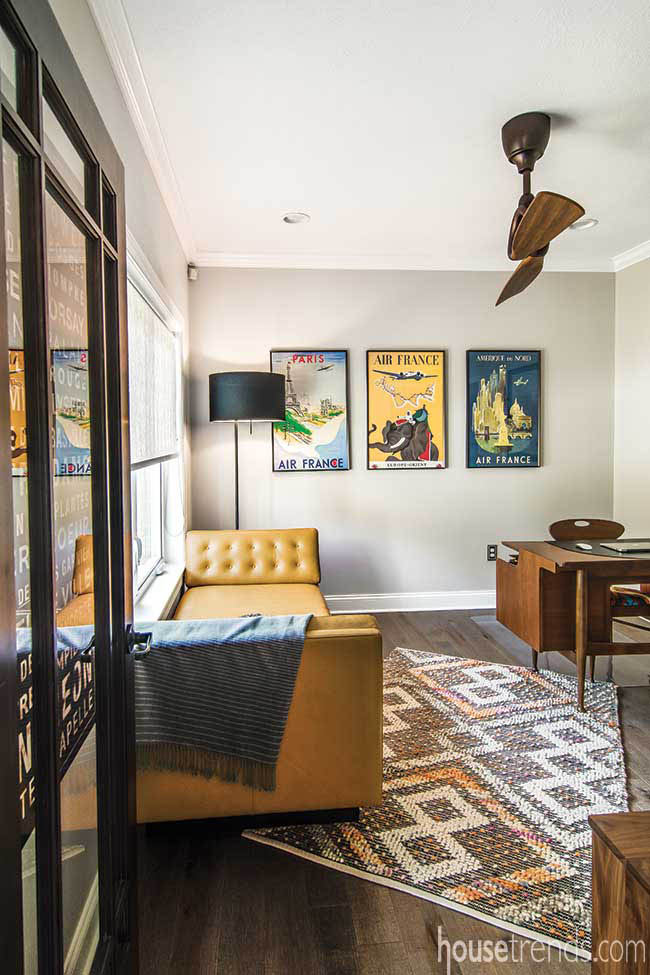 Travelers' treasures
A kumba cloth, a traditional Southern African tribal fabric, hangs over the couple's fireplace. Alan and Jimmy didn't purchase this piece in Africa, but it was inspired by their travels. This also is true of the African marriage baskets.
Next to the front door of the couple's home is an old trolley scroll from London listing all of the stops on the route.
The office holds several international pieces that are important to the couple.
"My grandparents came to America from Czechoslovakia and opened a grocery store," Jimmy explains. "The desk in our office was where my grandmother did her office work in that store."
The three Air France posters hanging in the office were originally a gift from Jimmy's friends. Alan found them in the basement at Jimmy's father's house. "They were all frayed, but I was able to have them cleaned up and framed for his birthday."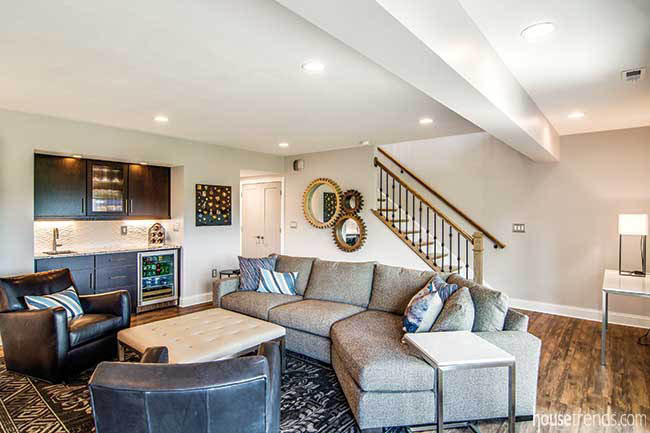 Jimmy and Alan collect magnets from all the cities they visit. At their townhouse the magnets were displayed on the side of the refrigerator. When they moved, one of Alan's conditions was that their refrigerator stays clean. "But our magnets represent our travels," Alan adds. "So we bought a magnetic board and have our magnets in the basement by the bar. It's a nice statement piece."
The couple has a hard time deciding on their favorite travel destination. "I used to say Sydney, but I don't know anymore," Alan says. "We went to Spain this year and fell in love."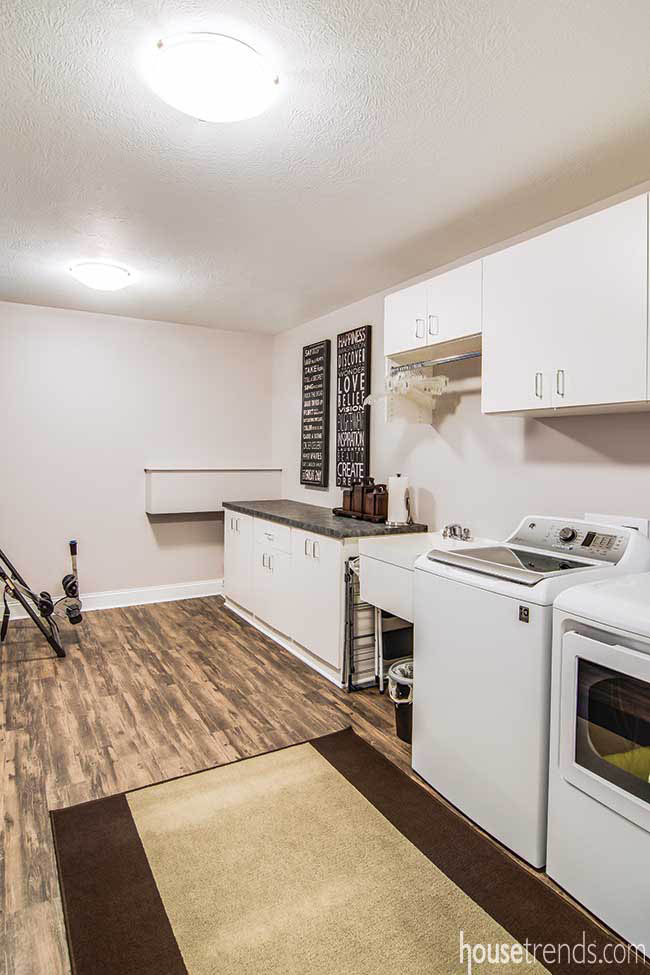 Laundry room for luggage
You don't want to think about what's on the floor of an airport restroom – and neither do Jimmy and Alan. That's why their suitcases no longer come in their house, thanks to their massive laundry room.
"We moved our washer and dryer three times," Alan remembers. "They were upstairs, but we wanted a larger master suite so we moved them downstairs behind the wet bar. Then we moved them into the room where they are now, but we were going to leave that room unfinished. And Colleen convinced us that we'd already come this far … we might as well finish it right."
"I was very envious of their laundry room. … It's as big as some people's bedrooms," Ruefle-Haley says.
"We're glad we did it, very glad," Jimmy adds. "We don't want to bring our rolling bags in our house after being on airplanes and in public restrooms. Now our bags go straight from the garage into our laundry room on luggage racks."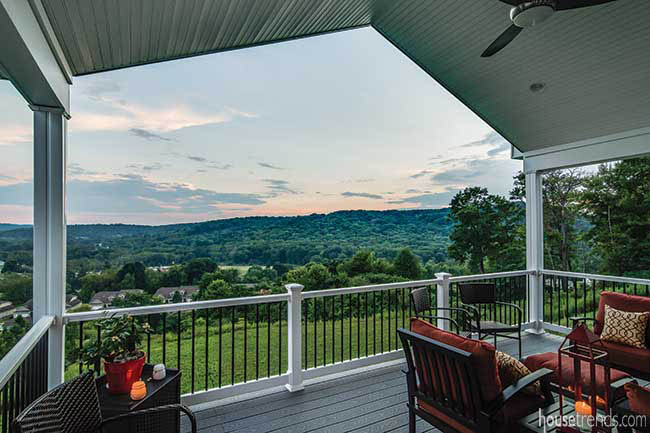 Weekend warriors
"We warned Michael and Colleen, when we first met, that we're not hard to get along with but we're challenging because we're not home a lot," Alan remembers of their restricted schedules. "Michael and Colleen would meet with us on Saturdays."
Jimmy adds that the couple had a wonderful working relationship with their builders. That it was easy. "I work with people from all over the country, and anytime anyone was building a house I would hear them complain about the process, but we didn't experience any of that," he explains.
Alan says Ruefle-Haley would walk into work every Monday morning to find an email from him with bullet points of questions and concerns. "We thought we were being pains, but Colleen reassured us that it was good that we knew exactly what we wanted," Alan recalls.
"They have amazing taste, so they were fun to work with," Ruefle-Haley says. "They have been all over the world and seen different things, so they wanted to incorporate that into the house. They weren't afraid to do something different."
The couple lived with Jimmy's father during construction. While this might be a strain to some people, both Jimmy and Alan really enjoyed this time with family. "My mom passed away in 2013, so I think my dad enjoyed the company," Jimmy says.
They actually were a little sad to move out, but being so close means Alan and Jimmy have friends and family over often – and they love to sit on the deck.
"Nobody's asked us if they can housesit, but Jimmy's niece called just the other day to ask if we could have a deck party," Alan says.
Resources: Architect: Home Innovations; Builder: J. Michael Ruefle, Jr. and Colleen Ruefle-Haley, Suncrest Homes, Inc.; Kitchen designer: Jennifer Baustert, Manor House Kitchens; Lighting: Hummell Brothers; Painting: Sherwin-Williams, Fresh Paint; Flooring, kitchen backsplash and game room: PGH Floors; Windows: Andersen, O.C. Cluss; Doors: Masonite, O.C. Cluss; Fireplace: PSP Stone Age, Inc.; Kitchen cabinetry and bathroom cabinetry: Manor House Kitchens; Kitchen countertops: Granite, Manor House Kitchens; Kitchen faucets: Kohler, Crescent Supply; Kitchen appliances: GE cooktop, oven, refrigerator and dishwasher, Manor House; Bathroom countertop, bathroom sink and home bar: Manor House; Bathroom faucets and tub: Kohler, Crescent Supply; Decking, siding and shingles: 84 Lumber; Exterior brick: R.I. Lampus