From the moment I stepped foot in the Orange County Convention Center in Orlando for the Kitchen & Bath Industry Show (KBIS) and the International Builders Show (IBS), color seemingly was everywhere.
And it wasn't just one color that dominated the shows. All colors of the rainbow were represented, and there even were some displays that resembled a rainbow.
Here are six colorful products that jumped out at this mega event earlier this year.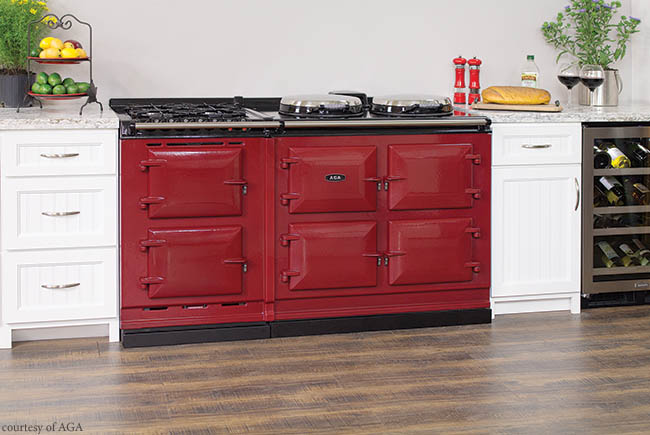 AGA Total Control 3-Oven Cast Iron Range
Many show attendees stopped to take a photo or just a second look at this cast iron range in a striking claret color.
And it turns out that amazing color is the result of a meticulous process.
According to AGA: "Much like a gemstone, the signature beauty of an AGA cast iron range lies within its gleaming vitreous enamel, the breathtaking result of century-old artisan methods born from the Industrial Revolution."
While it has a traditional appearance, this range is available in 11 colors and comes with modern technology, including touchscreen controls inside the door and a digital remote.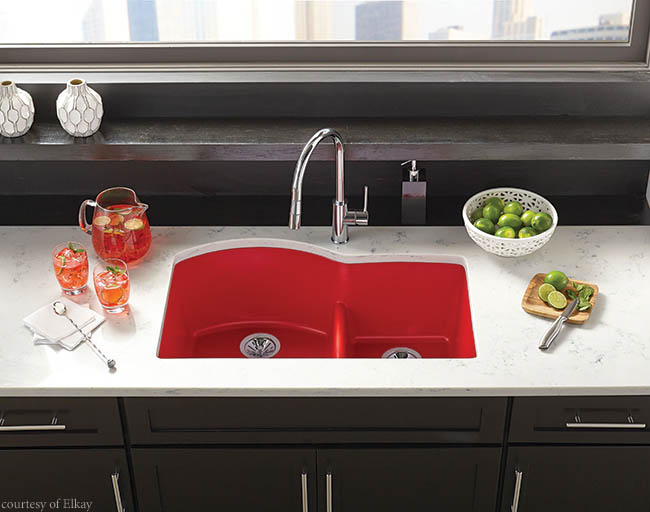 Elkay Quartz Luxe Sink
The Elkay Quartz Luxe sink is available in six colors: Caviar, Charcoal, Chestnut, Maraschino, Parchment and Ricotta. We are particularly fond of the bright red Maraschino color.
"The Elkay Quartz Luxe Collection offers superior strength, is silky smooth to the touch, and features rich, bold colors that make a statement," according to Elkay, a family-owned company headquartered in Oak Brook, Illinois, that dates back to 1920.
Additionally, these sinks are heat safe, low maintenance, stain and smudge resistant, nonporous, easy to clean and have several available accessories.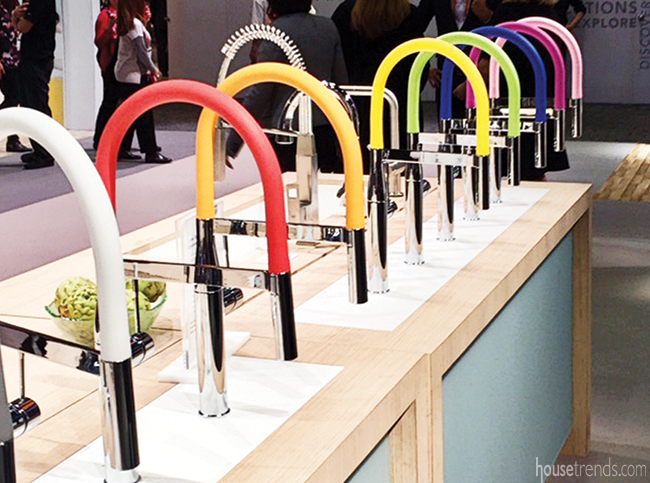 GROHE Essence Semi-Pro Faucet
One of the most fun-looking displays was found at the GROHE booth. Lined up were several faucets, each with a different brightly colored hose – creating a rainbow appearance.
These colorful hoses are expected to launch later this summer, and GROHE believes it's on to something.
"Designed to meet the need of today's homeowners who demand a professionally inspired kitchen, the GROHE Essence Semi-Pro kitchen faucet is available in "velvet matte black" with interchangeable rainbow hoses (red, orange, yellow, green, blue, purple, and pink) and two other neutral colors, "matte sheer marble" and "matte dark gray."
And don't worry about having to settle on just one color.
According to GROHE: "The interchangeable silicone hoses allow for easy maintenance and give homeowners the option to update their space according to their style year-round."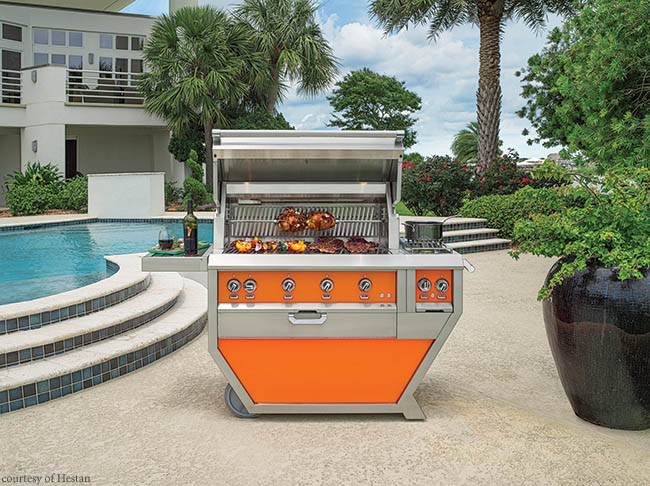 Hestan Outdoor Deluxe Grill
Hestan Outdoor, headquartered in Anaheim, California, showcased its Deluxe Grill with Double Side Burner at the show, and the Citra (orange) colored grill on display really stood out.
This grill is available in 12 signature colors, including Lush (dark purple), Bora Bora (turquoise), Tin Roof (burgundy), Sol (bright yellow), Pacific Fog (gray) and more.
Some of the features of this fantastic grill include an easy-open hood (the patent-pending Horizon Hood TM) with motion-activated lights (called Stadium Lights TM) as well as a multipurpose infrared rotisserie burner and a one-push lighting assist function.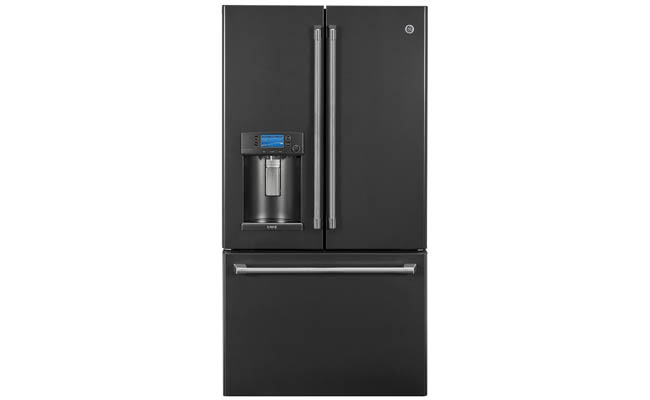 GE Café Refrigerator
While many of the colors were bright and demanded attention, the thought behind GE's Black Slate appliances was intended to keep things simple.
"The simplicity of the surface allows the color and design to be the focus," according to GE Appliances.
The company believes this new color will meet the desires of consumers.
"A kitchen is the heart of the home, and homeowners today want natural, warm textures and finishes that add a sense of quietness," said Paul Haney, chief designer at GE Appliances, a Haier company. "Black Slate is a timeless, premium finish that can match any décor and command just the right amount of attention."