We love a good design story here at Housetrends. And usually, home renovations unearth some of the most interesting stories. Who doesn't have an outdated kitchen in need of a fresh start or an unfinished basement with the potential to become the entertainment hub you have always dreamed about? We also enjoy keeping up with what's going on in our community—so we jumped at the opportunity to showcase some of the amazing home remodeling projects going on in the Dayton area. Each year, the Miami Valley Chapter of the National Association of the Remodeling Industry (NARI) hands out its Contractor of the Year (CotY) Awards. For us, this event offers the chance to highlight some of the area's best contractors and get a glimpse of the latest design trends being created right here in our own neighborhoods.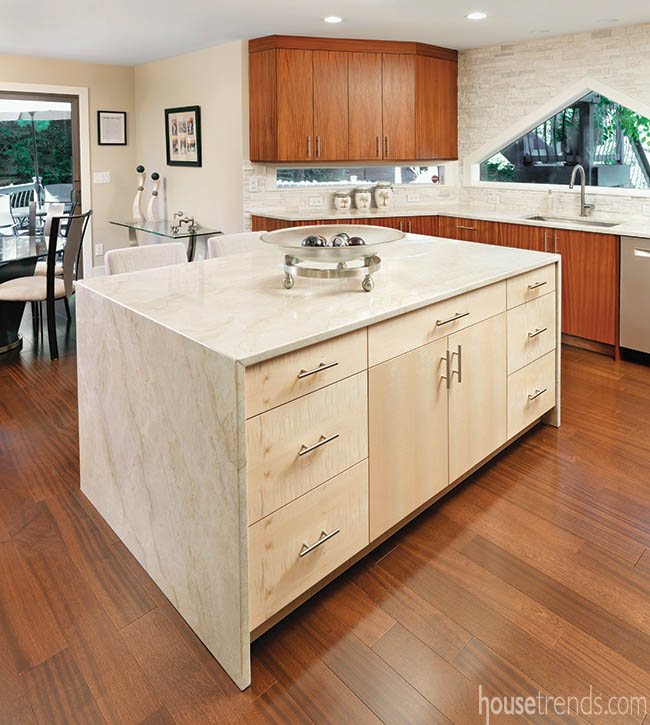 Albrecht Wood Interiors, Washington Township
Residential Kitchen $60,001 to $100,000
Design Philosophy
Create a functional, yet aesthetically pleasing kitchen that can accommodate daily wear and tear.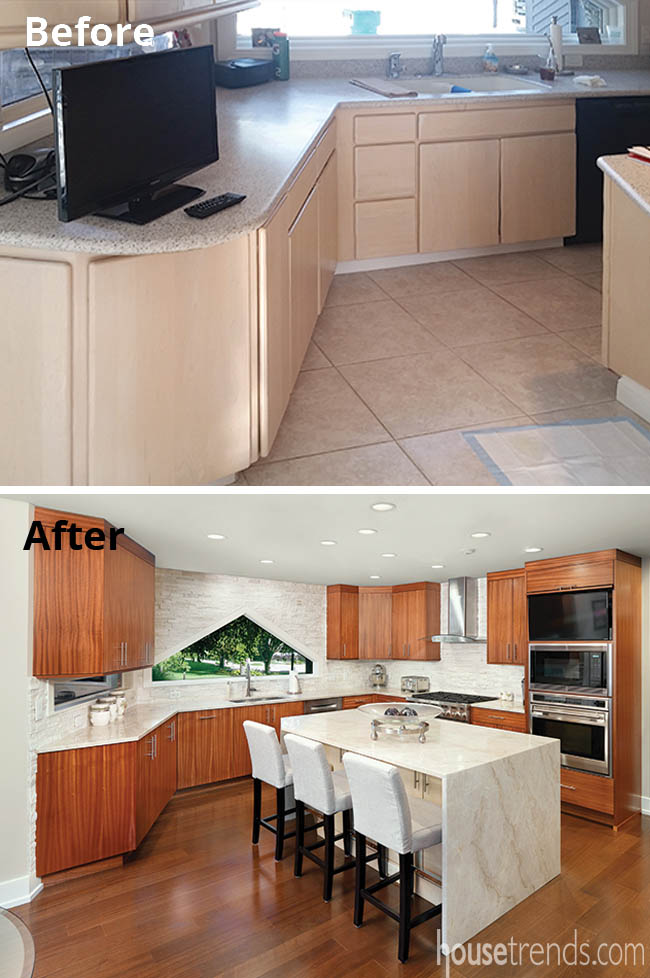 Challenge
Brian Albrecht of Albrecht Wood Interiors points to the sill height of the unique triangular window above the sink. "It was too low to end the backsplash at the sill, and it wouldn't have looked right ending the tile on the angled portion of the window," he says.
Solution
The team at Albrecht used a white stacked stone for the backsplash, carrying it up all three walls. The stone doesn't overwhelm the space and provides texture and color contrast from the unique cabinetry.
Bonus Points-Island Style
The island base cabinetry is English Sycamore, featuring a wavy grain and a slight shimmer that is accented by the Taj Mahal quartzite countertop with waterfall edges.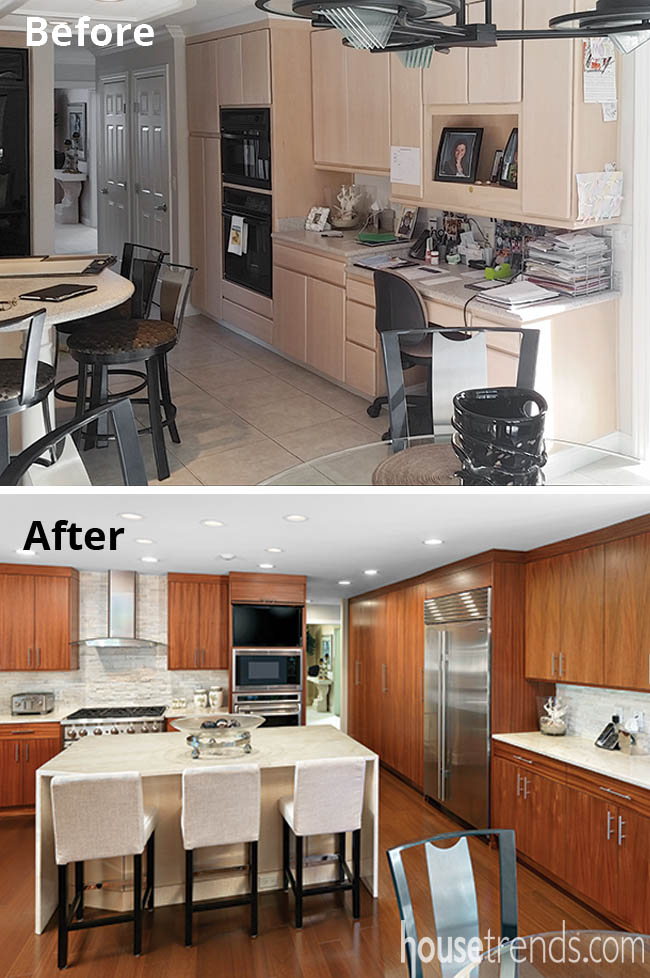 Resources:
Cabinetry: Ribbon Sapele mahogany and English Sycamore, Albrecht Wood Interiors
Backsplash: Sierra Vista Stacked Stone, Bob Madden Carpet & Tile
Countertops: Taj Mahal quartzite, Modlich Stoneworks
Sink: Ferguson
Faucet: Hansgrohe Axor Citterio
Appliances: Sub-Zero, Appliance Gallery
Flooring: African mahogany, Bob Madden Carpet & Tile
Lighting: Prestige Electric
Painting: Taylor Painting & Wallcovering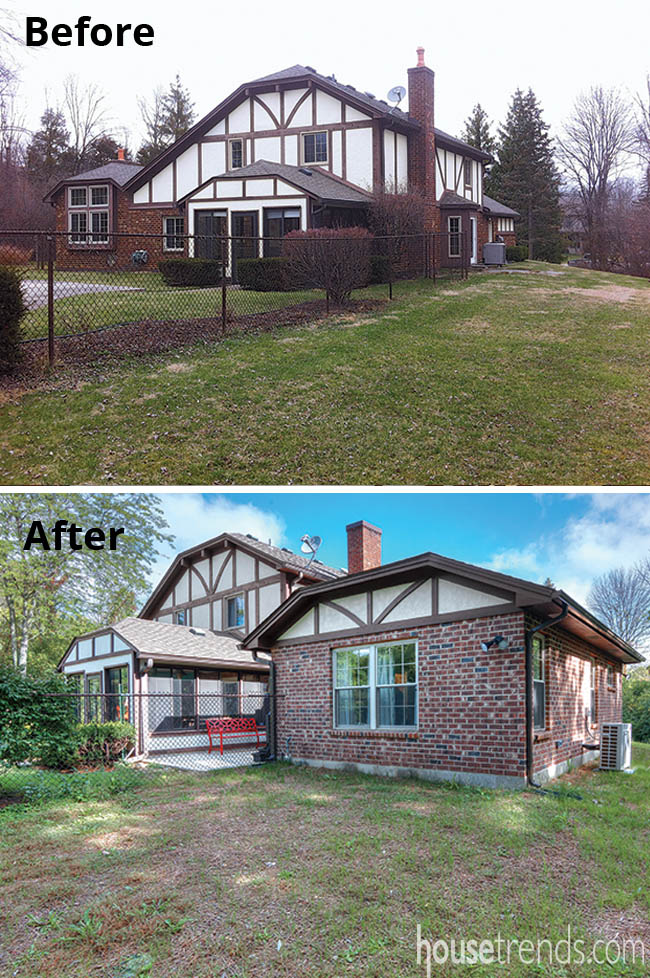 Brentwood Builders, Inc., Washington Township
Residential Addition $100,000 to $250,000
Challenge
Not only was Brentwood Builders tasked with matching the home's existing 35-year-old brick façade, but the team also needed to find a spot on the property to build the addition since the back yard was already home to a swimming pool.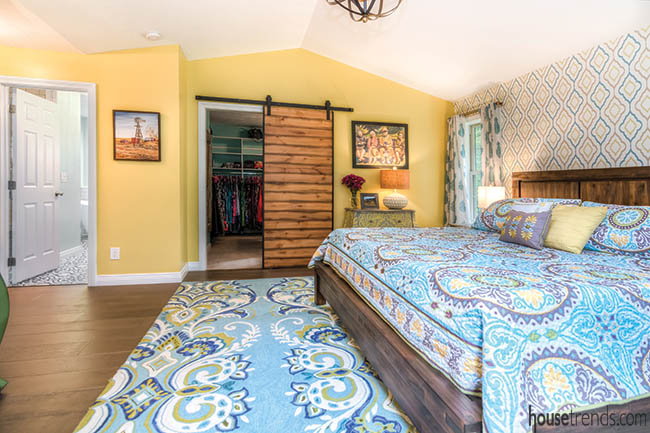 Solution
Building out the side of the home was the only real option. "This was the logical choice," says John Harkleroad, CR, UDCP with Brentwood Builders. "But we also had to design and construct the addition around an authentic wood-burning fireplace and chimney."
Harkleroad and the Brentwood Builders team were able to successfully connect the addition around the chimney and design it to complement the architecture of the original home.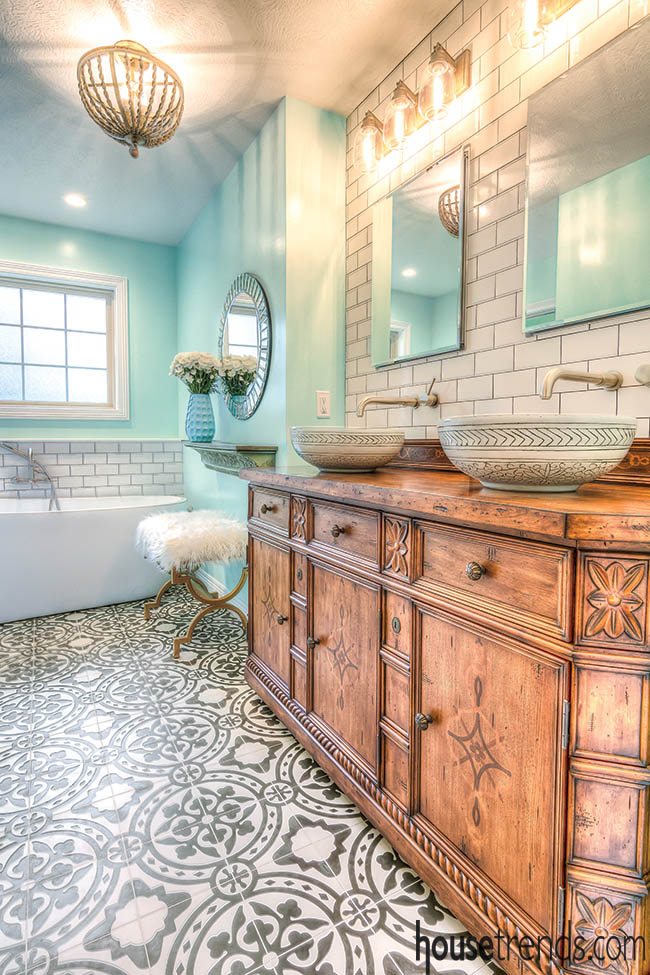 Bonus Points-Suite Design Choices
The homeowner, Dr. Jenny Hartsock-Vandine, was instrumental in selecting the interior finishes for the new space. The refreshing bedroom leads into a master bathroom retreat complete with an elegant patterned cement tile floor with radiant heat, artistic-inspired vessel sink bowls and a beautiful wood vanity that resembles a piece of furniture.
Resources:
Designer: John Harkleroad, CR, UDCP, Brentwood Builders, Inc.; Carol Landing, Productive Designs
Bathroom flooring: Cement Tile Shop
Bathtub: Sheba Acrylic freestanding tub, Signature Hardware
Vanity and countertop: James Martin Furniture
Sinks: Porcelain vessel, Legion Furniture
Faucets: Pioneer Motegi
Shower and wall tile: Merola subway tile, Home Depot
Paint: Summer House (bathroom), Abstract (bedroom), Behr Ultra
Bathroom lighting: Trent Austin Design wall mount vanity lights
Bedroom lighting: Uttermost
Bedroom flooring: Jasper engineered hardwood in Baltic Oak
Windows: Simonton Brickmould, Sibco Building Products
Bedroom wallcovering: Candice Olson Diva
Bedroom rug: Company C Adele
Barn door: Barndoorhardware.com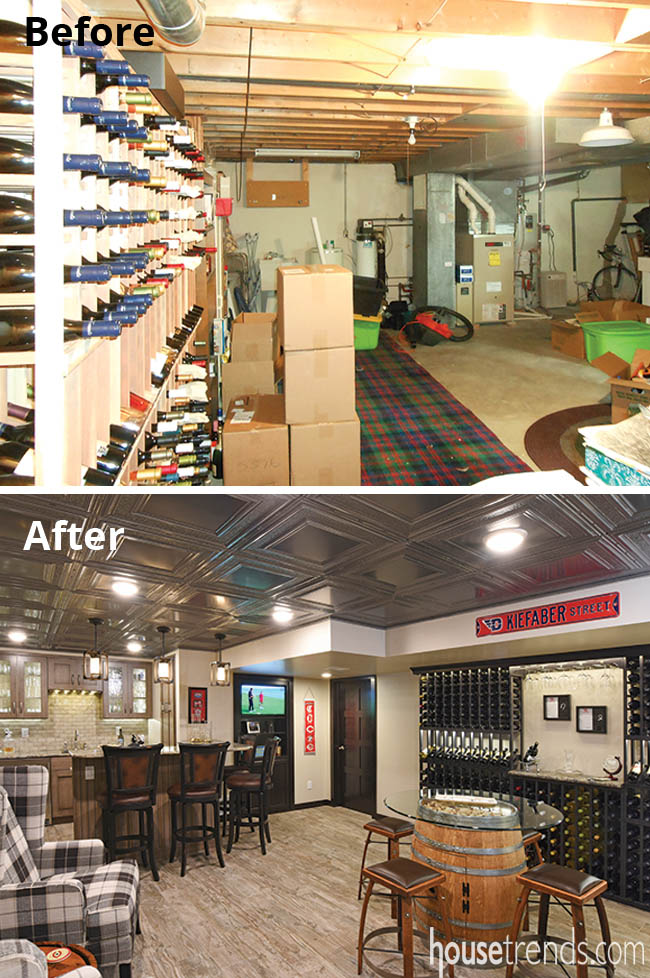 Remodeling Designs, Inc, Washington Township
Basement $50,000 to $100,000
Design Philosophy
Bring a little taste of Napa Valley to Dayton by transforming an unfinished basement into an entertaining area accented by elegant wine storage space.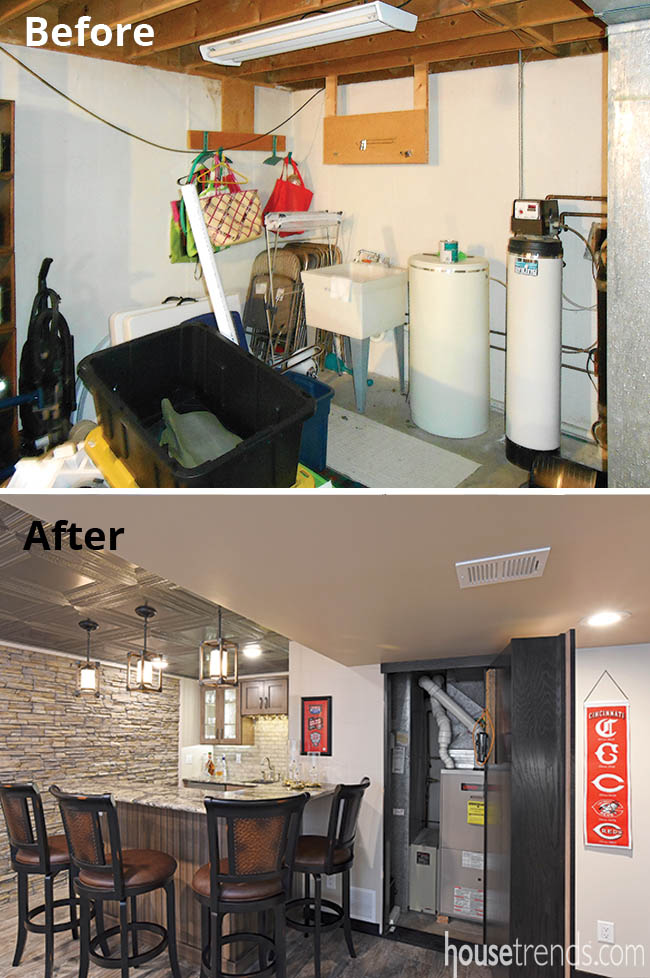 Challenge
The team at Remodeling Designs, Inc. was initially tasked with creating functional and visually appealing storage space for several hundred bottles of wine. That vision grew to also include a bar area and inviting seating space. In order to accommodate these new additions, the contractor needed to develop a creative concept to conceal the HVAC system and support beams for the house.
Solution
A custom bookcase doubles as a secret door that provides full access to the furnace and other mechanicals for the home. This allowed for a large bar complete with quartz countertops and a beverage cooler tucked between the concealed mechanical room and an eye-catching stone wall.
Bonus Points-Texture and Shine
A variety of materials offering texture and
character were utilized to establish the cozy feel in the space. The tin panels lure eyes up to the ceiling, while the porcelain tile mimicking hardwood softens the floors underfoot. Rich black wine storage racks tucked behind a glass-topped wine cask table establish the dramatic focal point along the main wall in the basement.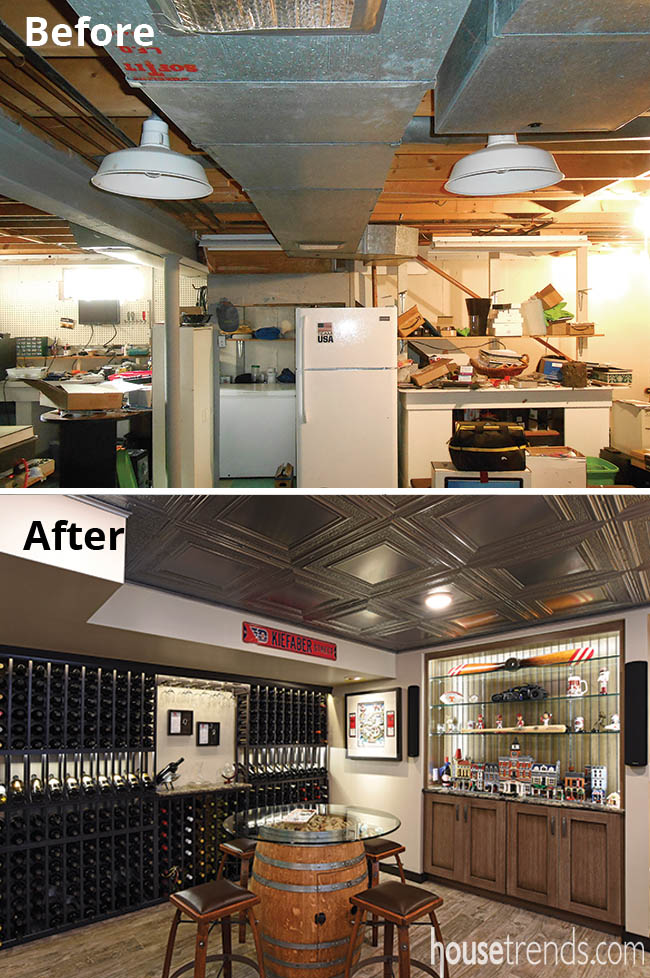 Resources:
Contractor: Remodeling Designs, Inc.
Flooring: Daltile Season Wood porcelain tile in Orchard Grey
Ceiling: Armstrong Metallaire Hammered Border Tin in Lacquered Steel
Cabinetry: Omega Dynasty Quartersawn Oak with Porch Swing Brushed Sepia finish
Wine racks: Wine Racks of America with Sherwin-Williams Black Magic paint
Backsplash: Sonoma Tilemakers Euphoria in Tres Chic
Stone wall: Eldorado Nantucket stacked stone
Countertops: Langdon Cambria
Furniture: Beth Spegal, House Dressing Interior Design, Ltd.
Appliances: Custom Distributors
Wallcovering: Sherwin-Williams Accessible Beige
Custom door hiding HVAC: Murphy Door, Inc.
Pendant lighting: Sea Gull Lighting Dunning Collection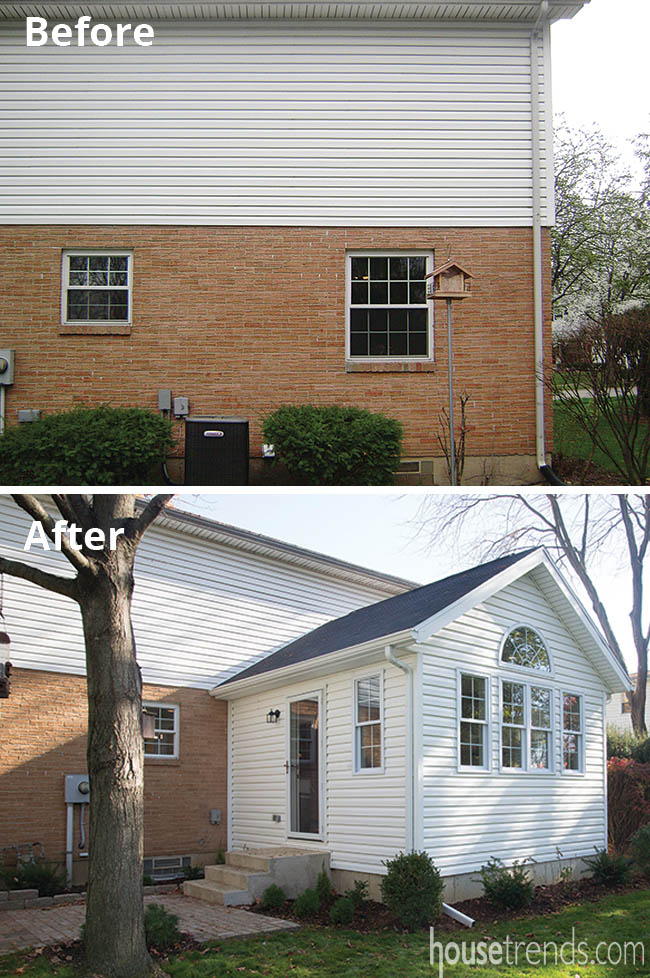 Greater Dayton Building& Remodeling, Kettering
Residential Addition under $100,000
Design Philosophy
Transform an outdated kitchen into an aesthetically appealing cooking and eating space that can accommodate a large family.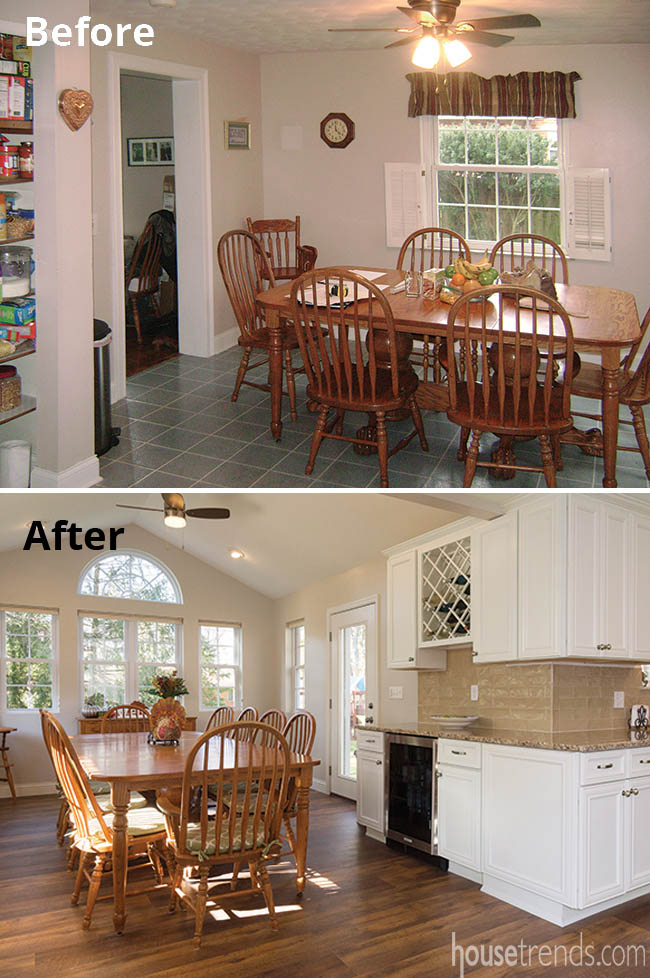 Challenge
For these homeowners it was all about adding space up and out. In order to increase the ceiling height and add enough room to fit an 11-foot dining table, the team at Greater Dayton Building & Remodeling had to contend with an outdated kitchen, limited dining space and a drop ceiling that held the plumbing for the upper level bathrooms.
Solution
Designer Victor Rooney and the Greater Dayton team removed the drop ceiling in the kitchen and relocated the plumbing, opening up the cooking space tremendously. New cabinetry, countertops and a beautiful island now set the tone in the kitchen. An adjoining addition led to an extra 200 square feet of space, providing the perfect location for the dining table. The cathedral ceiling was an added bonus.
Bonus Points-Vinyl Goes Luxury
Vinyl flooring has come a long way. The Coretec Plus XL luxury vinyl tile covering the floor in this kitchen replicates the appealing look of oak hardwood, without the typical drawbacks. This waterproof vinyl floor is impermeable to warping and will never swell when exposed to water, making it the perfect option for the kitchen.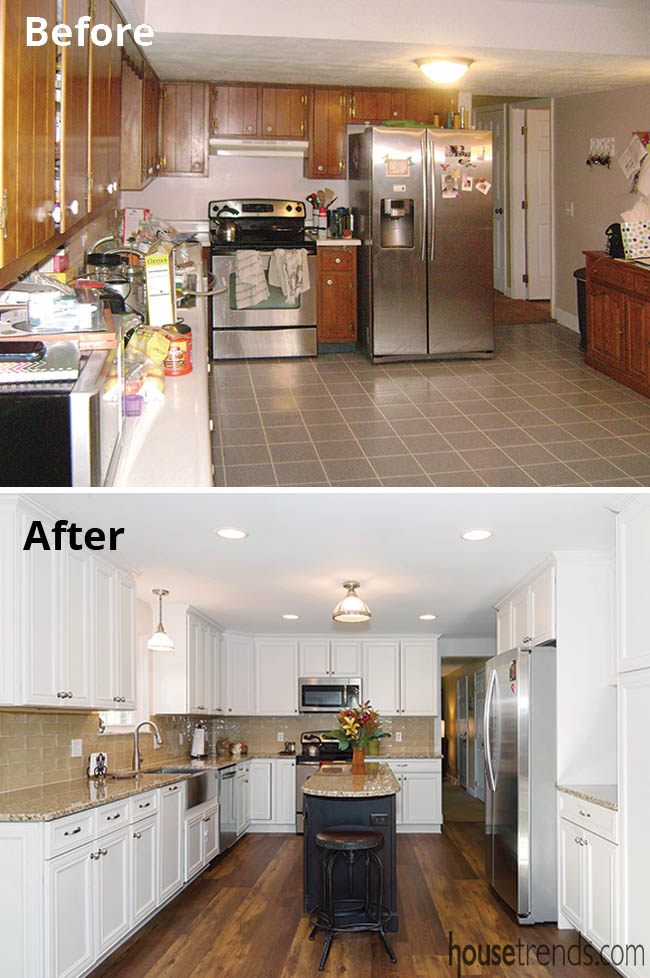 Resources:
Contractor: Greater Dayton Building & Remodeling
Cabinetry: Americana Capital in Arctic and Java
Countertops: New Venetian Gold granite
Backsplash: Florida Tile
Sink: Kraus Apron stainless steel
Faucet: Moen Arbor spot resistant finish
Hardware: Amerock
Flooring: Coretec Plus XL in Montrose Oak
Windows: Silverline White vinyl double hung
Wallcovering: Sherwin-Williams Agreeable Gray and Dover White
Miami Valley NARI CotY Awards
Residential Kitchen $60,001 to $100,000
Albrecht Wood Interiors
Residential Kitchen over $150,000
Albrecht Wood Interiors
Commercial Exterior
Brentwood Builders, Inc.
Residential Addition $100,000 to $250,000
Brentwood Builders, Inc.
Residential Kitchen $30,000 to $60,000
Greater Dayton Building & Remodeling
Commercial Interior
Greater Dayton Building & Remodeling
Commercial Specialty
Greater Dayton Building & Remodeling
2017 National COTY award winner
Residential Addition under $100,000
Greater Dayton Building & Remodeling
2017 Regional COTY award winner
Residential Exterior under $100,000
Greater Dayton Building & Remodeling
Residential Interior $75,000 to $150,000
Kircher Design & Build
Basement $50,000 to $100,000
Remodeling Designs, Inc.
2017 Regional COTY award winner
Residential Kitchen $100,001 to $150,000
Remodeling Designs, Inc.
Residential Bath $25,000 to $50,000
Remodeling Designs, Inc.