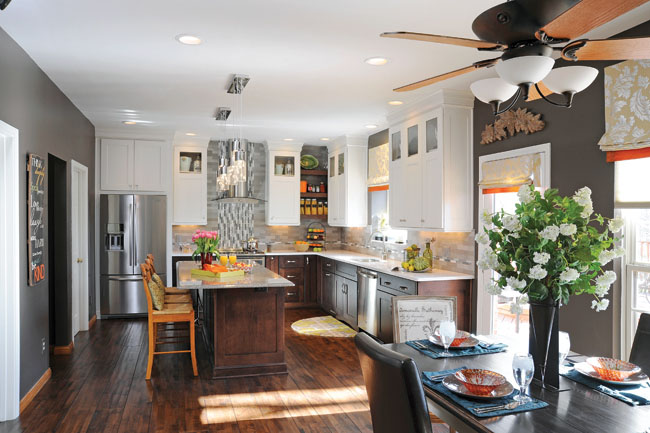 Interior designer Lisa Crouch took on a kitchen renovation project last year that was very close to home: her own home, in fact.
Once their three children were out of the house, empty nesters Lisa and her husband Mark of Miami Township decided it was time for a kitchen update in their home, which they built in 1995. Like many homes, the kitchen had been kid-central when the children were young. Lisa wanted to transform the space into one that was more adult-friendly, allowing for a better layout for entertaining friends and with a more sleek design.
She began the project in October and completed it in January, designing it entirely herself and making all design selections.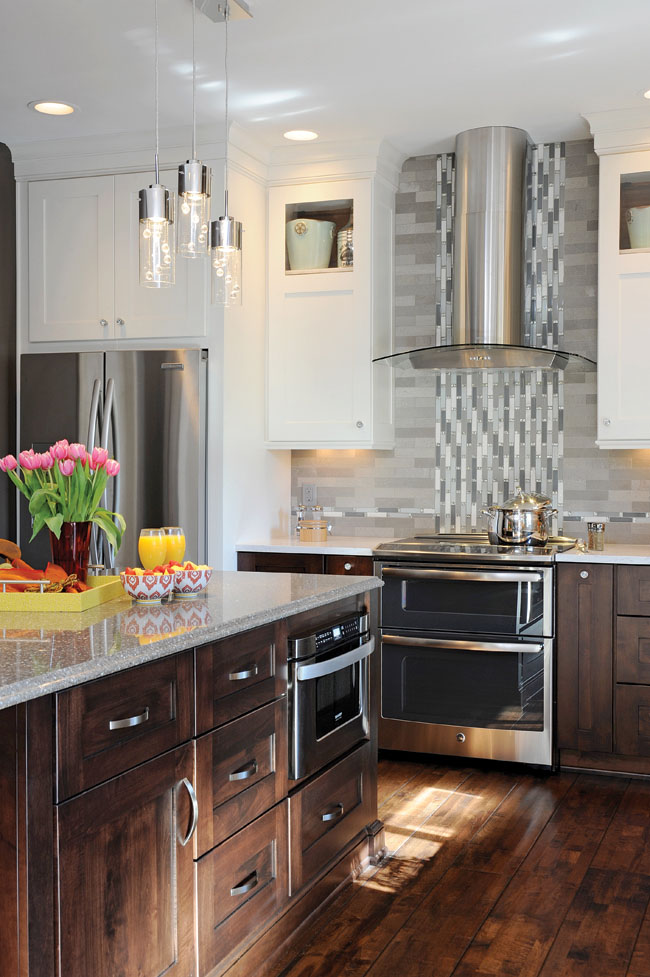 Lisa, a Nationally Certified Interior Designer and ASID professional member, has owned iDesign, LLC since 2003, specializing in residential remodeling design and space planning. She has had a working relationship with Select Kitchen Design at the Greene Showroom in Beavercreek for the past several years, using their cabinet lines in her projects. Indeed, the redesign of her own kitchen began with replacing the builder's grade cabinets, using a 20/20 software program designed to see a 3D vision of the completed space.
Illustratively, the kitchen balances a blend of several types of styles. "It has elements of French country with distressed surfaces that are gently worn, whitewashed accent pieces and painted and stained woods that whisper of age."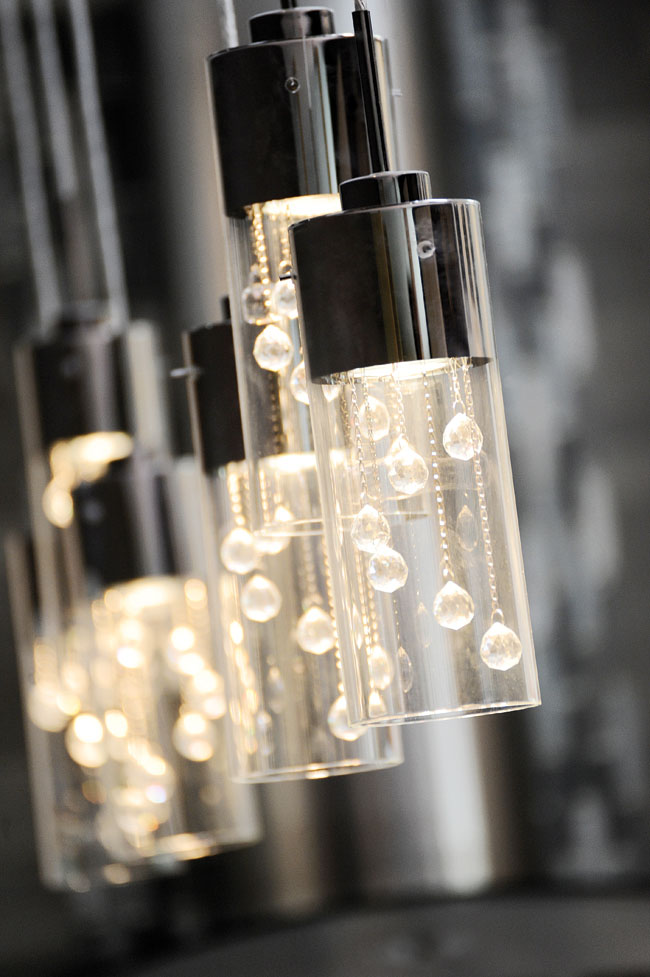 The pendant lighting and matching crystal knobs on the cabinets add a wow factor to the area. "It has elements of contemporary and glam with the smooth sparkle of the countertop and the crystal lighting and the cabinet hardware," Lisa adds.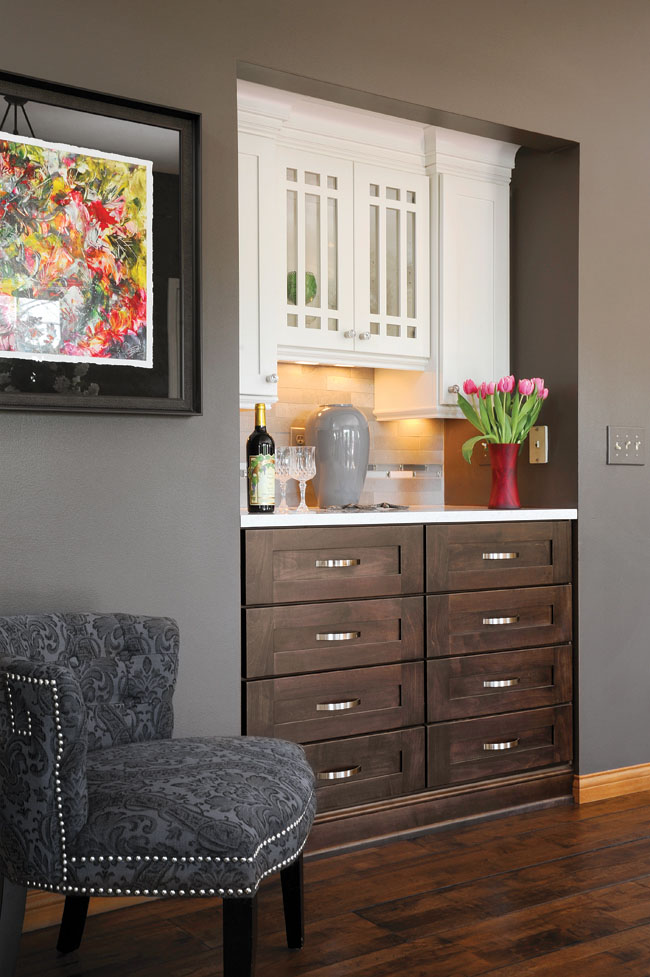 Just as she likes to mix materials, Lisa used the same design concept when it came time to choosing colors. She utilized a painting she had bought years earlier at Alley Fine Art & Framing in Miamisburg as the jumping off point for the kitchen color choices, a painting containing turquoise, orange and bright green. "It has such a rich collage of bright colors that I used to bounce around the kitchen. I used the gray tones to contrast these vivid colors and act as a backdrop to showcase them," she says.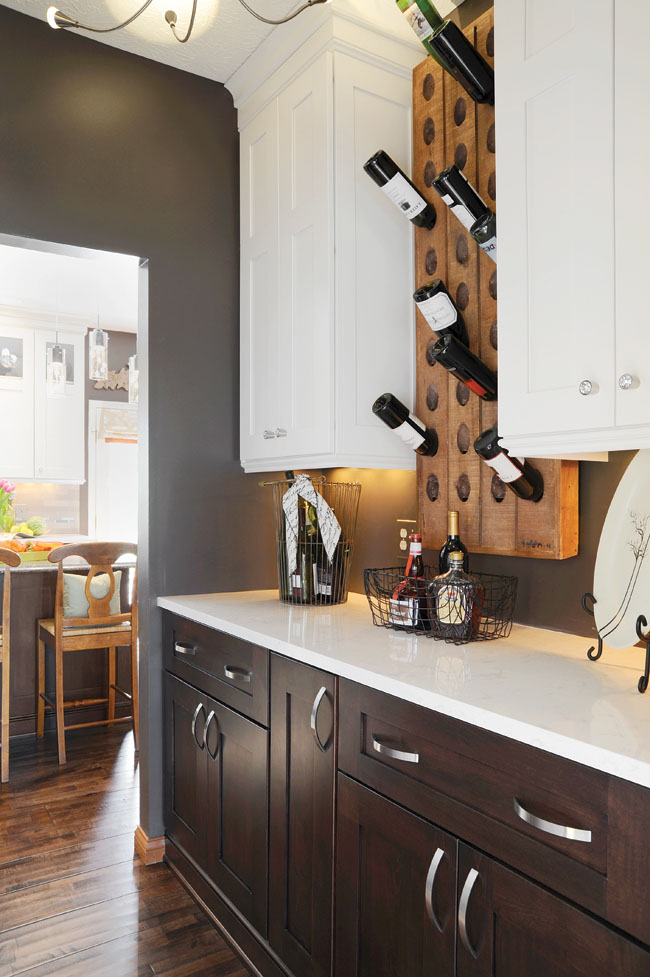 Another transformation was turning the former butler's pantry into a mini wine area, complete with a decorative, riddling rack wine holder made of reclaimed wood.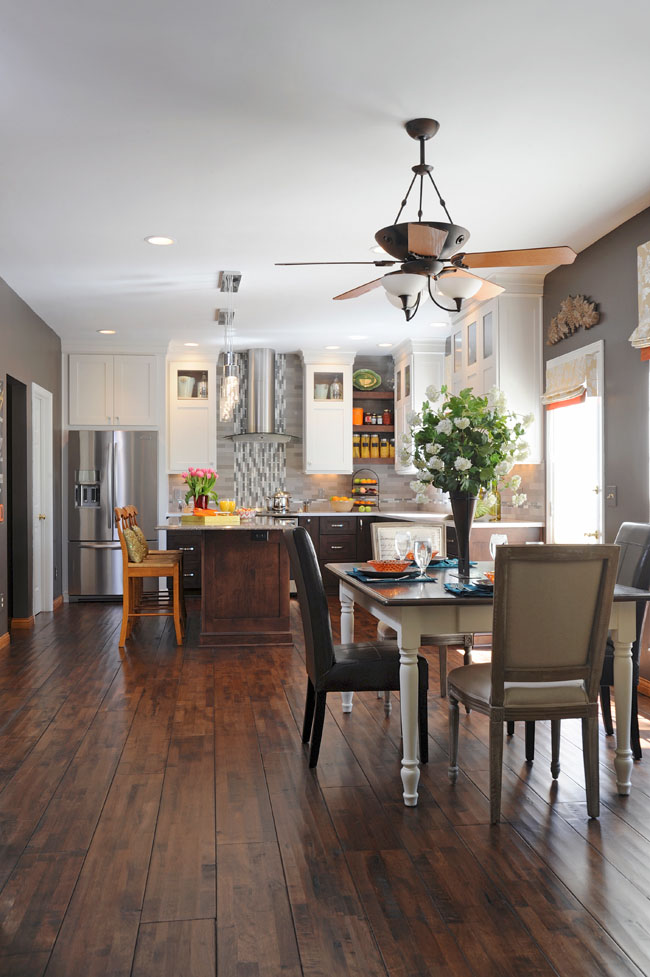 As both the homeowner and the designer, Lisa was in a unique position. While she often has to present ideas to clients, Lisa says she had to hone in all of the ideas that were brimming in her mind, while discarding others. "I gave Mark choices, which I informed him, I had the right to veto his decision. He was completely okay with this since he's colorblind and fully trusts my choices as a designer," she quips.
But her "client" is extremely pleased with the result. "I love the way all the layers and elements came together in my completed space and the sense of accomplishment I feel from transforming it," she says. "Unlike designing for a client, where I take the final photos and move on to the next project, I get to stay awhile and live in my design."
Editor's Note: Lisa K. Crouch, ASID, interior designer and owner of iDesign, has been named First Place winner in the 2014 ASID Ohio South/Kentucky Chapter Design Competition in the Single Space Residential category (Stephen Ely Award).