The staff at Housetrends is always interested in the latest trends in luxury items for the home. And there is no better place to find just that than The Kitchen and Bath Industry Show (KBIS). Here are some of the most interesting items we found at the three-day event held earlier this year in Las Vegas.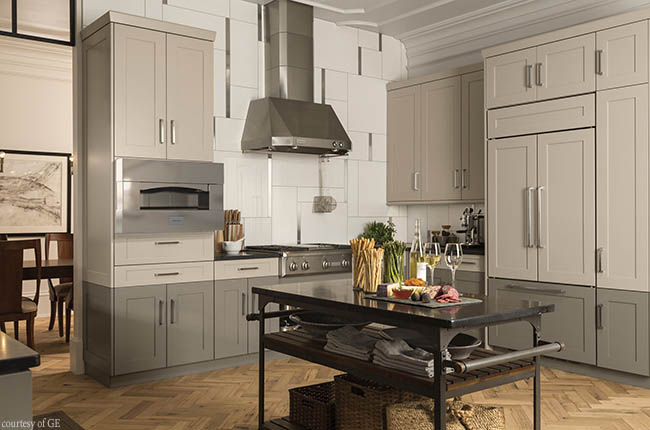 GE Monogram Pizza Oven
According to a USDA report, about one in eight Americans eat pizza on any given day. And we imagine many of those people would like to cook their pizza at home. The GE Monogram Pizza Oven can fill that desire. The same size as a standard built-in oven, this is a dynamic cooking appliance with a great look.
"We saw a considerable market gap when it came to the available at-home options for pizza enthusiasts and home chefs," said Wayne Davis, commercial leader at GE's FirstBuild. "Outdoor pizza ovens lacked convenience, and indoor options often require substantial ventilation. The Monogram Pizza Oven easily integrates into the luxury kitchen, offering professional-style pizzas any time."
After preheating, the Monogram Pizza Oven can fully cook a pizza in just two minutes, and the home chef can cook any type of pie in it.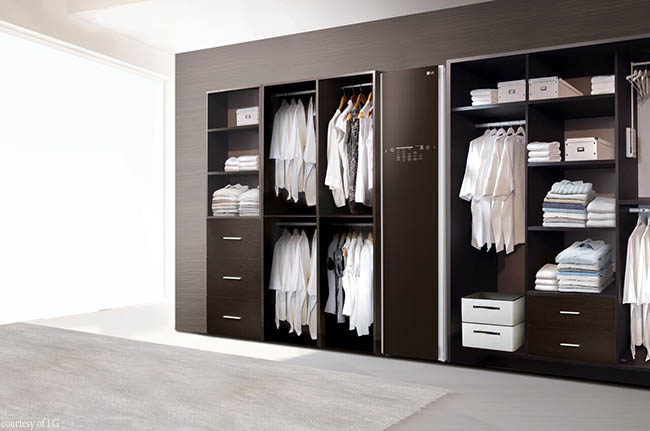 LG Styler Steam Clothing Care System
LG says its steam technology will do the ironing for you, saving you time and money. Who can argue with that?
"LG Styler is a revolutionary solution for those who are balancing busy schedules while striving to maintain a meticulous wardrobe and present their best selves to the world," said Dave VanderWaal, vice president of marketing for LG Electronics USA.
Features of this unit include quick refresh, odor removal and easy pants crease care. With a sleek look, it's possible the LG Styler Steam Clothing Care System could blend in well in your home.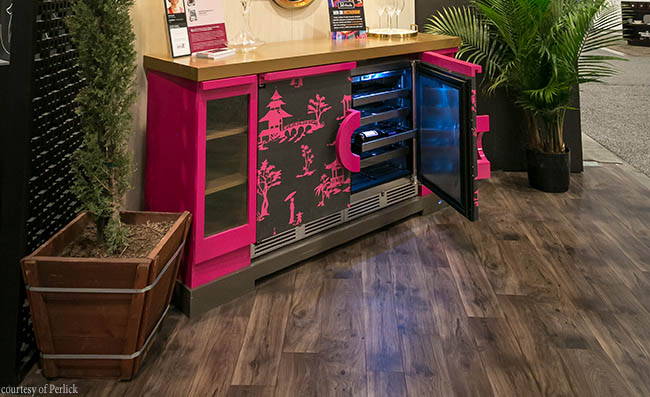 Perlick Signature Series Sottile Refrigerator and Wine Reserve
We saw undercounter refrigeration nearly everywhere we turned at the show. These appliances, which come in a variety of shapes and sizes, are not just for the kitchen anymore. In fact, they can enhance the décor of a room or be the focus of it.
"With point-of-use refrigeration gaining popularity indoors and out, undercounter refrigeration has become an integral part of the interior design process," said Tim Ebner, Vice President of Marketing and Business Development at Perlick. "Feedback from interior designers regarding the trends in universal design and the challenges they're facing to provide sleek, yet uninhibited refrigeration solutions led us to create Perlick's Signature Series Sottile collection."
This beauty, designed by Rose Dostal (RMD Designs LLC) of Hudson, Ohio, for Perlick, could fit perfectly in a dining room.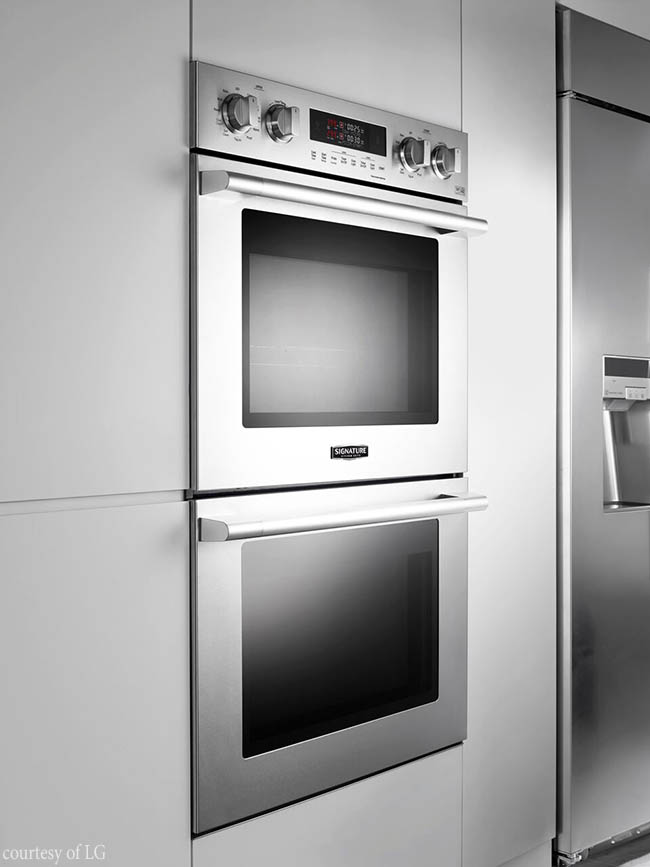 Signature Kitchen Suite Double Wall Oven
It seems everything involving homes is moving in the direction of using more technology to make lives easier—and the kitchen is no exception.
Worried there isn't enough time to make a meal on a busy weeknight? Fear not. Signature Kitchen Suite, LG's new luxury appliance brand, allows for WiFi connection through its Smart ThinQ technology. This means you can use your phone to preheat the oven before even leaving the office.
The Signature Kitchen Suite Double Wall Oven also comes with Advanced EasyClean® Technology, a three-step system that doesn't use chemicals or high heat.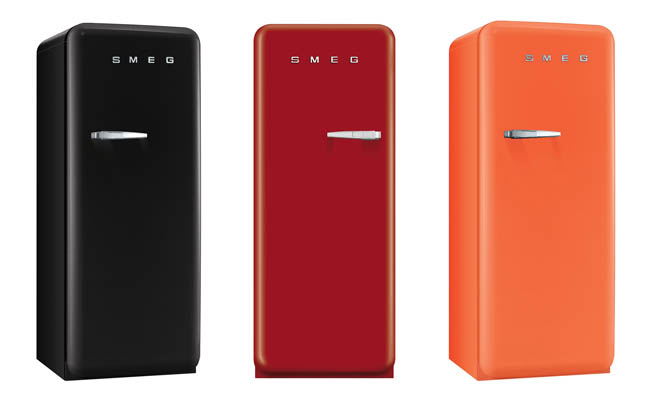 SMEG FAB28 Refrigerator
SMEG, an Italian home appliance manufacturer, showed off several of their products at the show, including a pair of brightly colored refrigerators. Guests couldn't help but stop to take a look at these red and orange kitchen appliances.
Based on a 1950s style, yet including the latest technology, these refrigerators are designed to attract attention and become conversation pieces. SMEG Refrigerators are available in 10 colors as well as Union Jack and Italian flag designs.
Vinotemp Under Stairs Wine Cabinet
If you are looking to truly wow your guests, the design team from Vinotemp, a California based company, will work with your specifications to create a Custom Under Stairs Wine Cabinet. That's correct—a wine cooler built right in to a flight of stairs.
And while it will provide an amazing look, this wine cabinet is completely functional. It includes Vinotemp's Wine-Mate cooling system, which maintains temperature and humidity, a critical combination for proper wine storage and preservation.
"Wine connoisseurs are looking for innovative wine cellaring options that are easy to access and that provide a stunning visual display of their prized collections," states India Hynes, CEO of Vinotemp. "Vinotemp's Under Stairs Wine Cabinets transform unused space into the perfect wine storage solution that's stunning to look at, simple to access, and that can be retrofit or specified into new construction."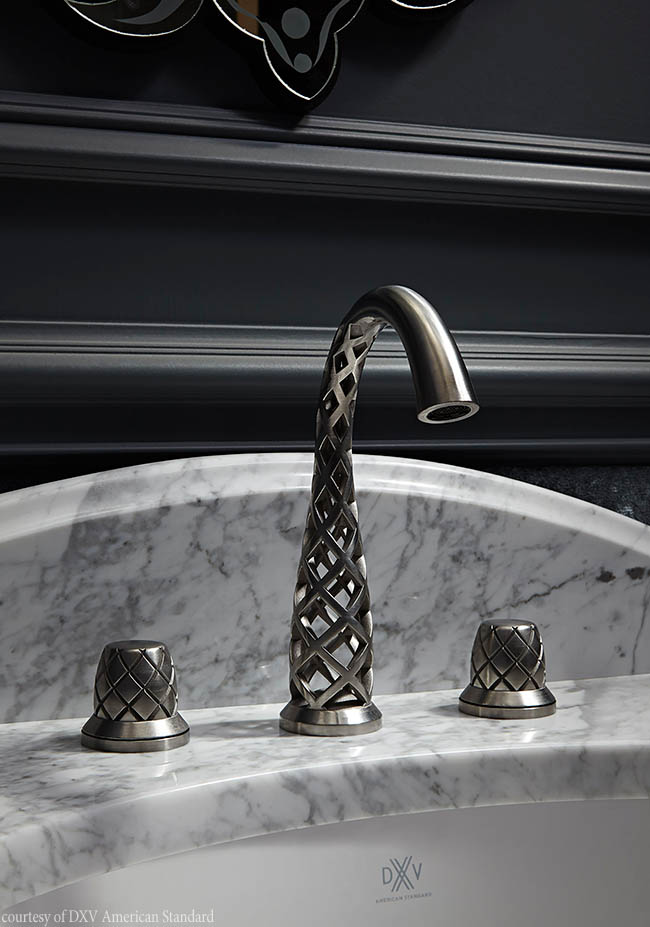 DXV Vibrato Bathroom 3D Faucet
DXV by American Standard has created the first residential faucets that use 3D printing and are printed in metal—and the results are amazing.
"A work of art in both aesthetics and operation, the Vibrato faucet from DXV provides a striking focal point in luxury settings," said Jean-Jacques L'Henaff, Vice President – Design, LIXIL Water Technology Americas, American Standard and DXV. "Characterized by an eye-catching mesh of delicate latticework, the faucet makes a vivid and unforgettable statement of flowing water. Water flows from what appears to be a hollow spout, delivering a near-magical experience with each use."