This family bought their 1930s Squirrel Hill home because they loved its Arts and Crafts style, in spite of a 1970s kitchen remodel that came with it. The husband, a retired submarine commander, wanted efficiency in their renewed kitchen; his wife wanted beautiful aesthetics too.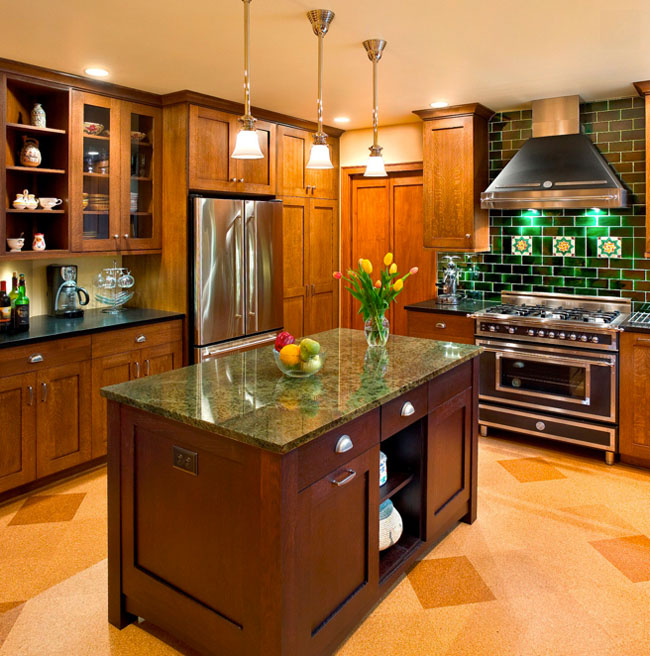 Placing the refrigerator and coffee station on a separate wall left room for more counter space.The look is period with high-tech features, including the classic Bertazzoni stove with matching range hood, hand-painted tiles, honed granite counters, quarter-sawn oak cabinets and patterned cork flooring.
Extra insulation was added in the kitchen under the renewable cork flooring because of the garage below. Under-counter LED lights illuminate working surfaces as part of a sophisticated new lighting system. Existing tile in the hallway was cleaned and also warmed up by the new wall color scheme.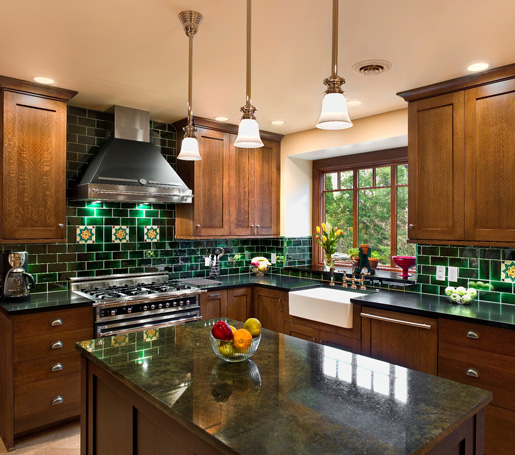 The new color palatte includes warm rich tones with a strong green accent and two-tone walls. A wide variety of fine materials give the kitchen the luxurious feel of an updated Arts and Crafts style and might help to explain the three awards that this kitchen has won.