It all began with two little words…"what if?" This simple question has been the driving force behind an extraordinary collaboration on a recreational back yard created by Northeast Ohioan Fred and The Ohio Valley Group, a custom landscaping company. Fred's family is really happy he started asking questions, because their private "Adventureland" continues to evolve as the answers keep coming.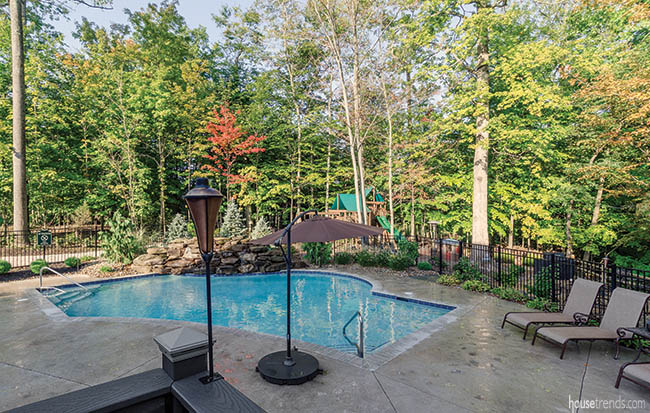 "I said 'What can you do?'  He said, 'What do you want to do?'" Fred explained of his relationship with Jay Schwartz, Vice President of The Ohio Valley Group. "What's so enjoyable about working with Jay—he has that imagination thing, so you begin thinking 'what could be' as you plan it out."   But then Fred cautions, "Be careful, you can begin reaching well beyond what you thought."  Fred explained that he decided to hold a family meeting to get their input. Did they want a playground…a firepit…an outdoor kitchen?  "Harmless enough, what could possibly happen?"
"That's where I made my mistake," he said. "Asking them led what started out as a small project into something much larger than initially planned. They said 'yes' to everything and I got so caught up with their excitement, so did I!"
"My daughter reminded me that I owed her a pool since I wouldn't let them get one growing up. And then, I'm a golfer, so I thought why not put in a putting green and throw in some sand traps," laughed Fred.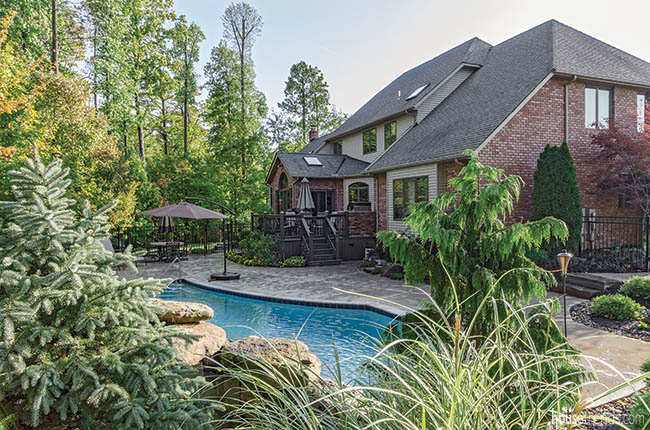 As a designer, it was important to Jay that the various spaces were integrated into a whole, allowing visitors to make a left out of the kitchen and make a complete circle through each recreational space and end up back at the house.
The outdoor kitchen that precipitated everything crowns the entire project.  Perfect for entertaining, the kitchen features a built-in grill, a refrigerator for snacks and drinks, and storage under the L-shaped countertop. The stainless steel appliances stand out from the natural stone face, echoing the stone used throughout the landscaping design. The limestone countertop with lap-faced edges is generous enough to host a buffet for large parties, while outdoor speakers set the mood.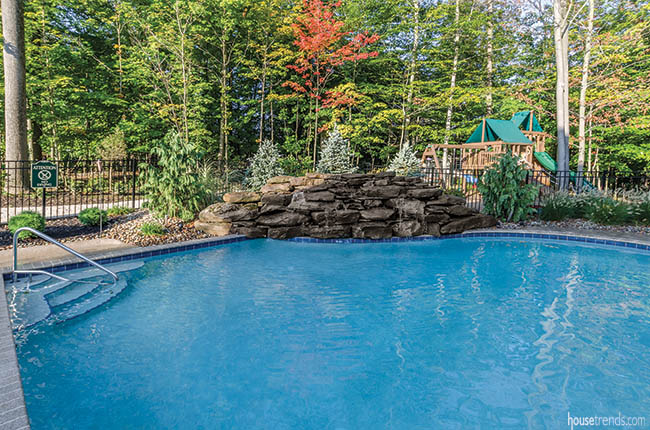 Taking center stage is the geometric arch-shaped pool framed by a rock waterfall made from 12 tons of natural stone.  Designed to encourage lounging and interaction, the custom pool by Designer Pools was made so that the deepest part lies in the center while the shallow portion rings the pool. "You aren't doing laps when you entertain," Fred said emphatically. "This way, people can put their feet in the water and sit and chat with drinks poolside."  With two sets of circular steps at either end, everyone can find a spot to cool off.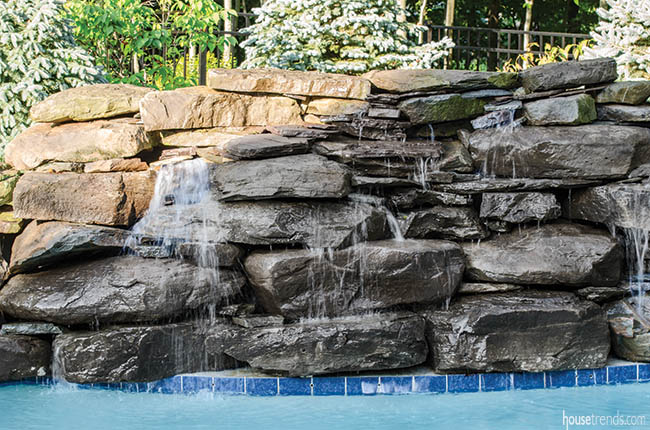 Ensuring a natural look, Jay tied together the multiple recreation areas by using more boulders to accent each space.  Next to the playground, the rocks were piled to hide a retaining wall built for the pool.
Pea gravel surrounds the playset for Fred's two young grandsons, standing in clear sight from the deck and pool.  For adults looking to be closer to the action, another area boasts the toastiest seats in the house, around the square unilock Brussels stone firepit, also set on textured stamped concrete.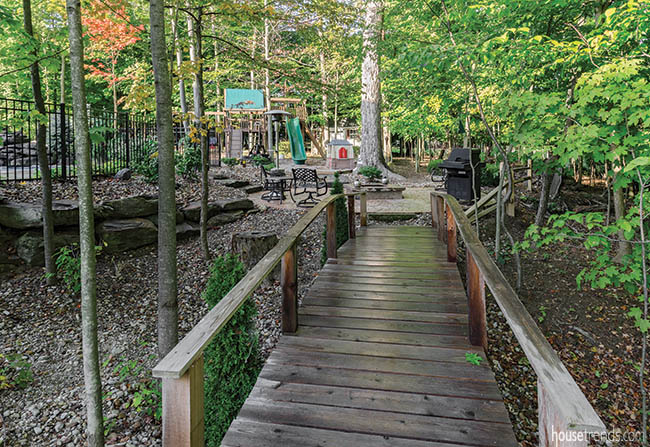 The bridge that traverses the space from the firepit to the putting green was built twice, relocated and extended as elements changed, underlining the project's very fluid design process. Explaining that this is quite often how such projects work, Jay said, "When you are sitting at the kitchen table, it can be hard to visualize certain ideas.  When it begins to come to life, then people can see where you were coming from and do end up adding different elements that you've talked about early on."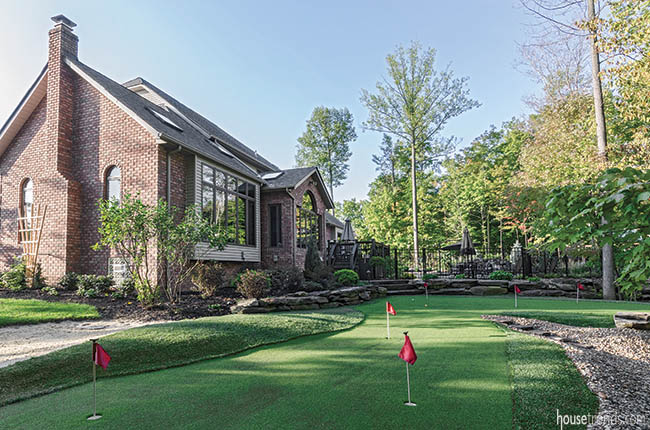 The stone texture was also brought into the putting green where Fred indulges his passion for golf.  River rocks serve as a walkway along the course.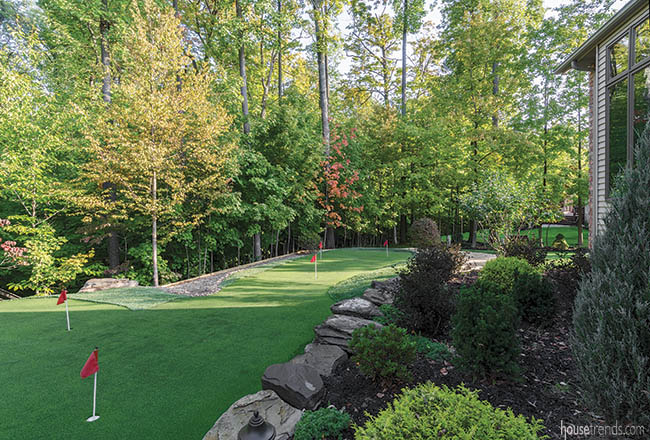 Gone is the 12 by 12 narrow strip of yard and in its place is now a six-hole putting green approximately 40 feet by 18 feet.  The L-shaped two-tiered green features a sand trap at the end highlighted by several of the large stones.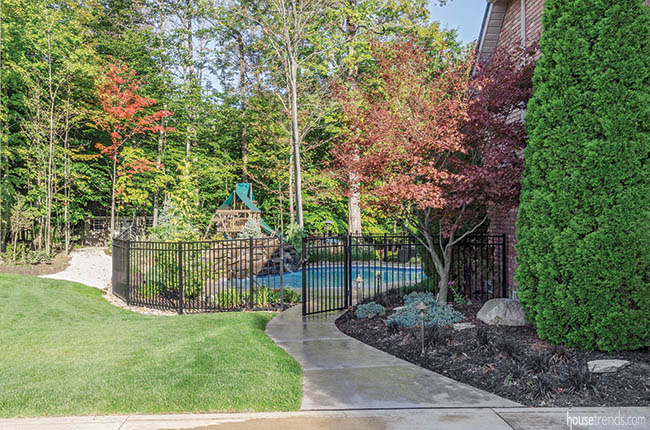 The family has fielded many comments about the resort-like effect, especially once the lighting comes on at night. "It's the perfect place to entertain. Our friends are always eager to have the party at our house," chuckled Fred.  And, this backyard adventureland isn't complete yet. "My mind has been turning ever since I realized there is all this land across the ravine that we can use…"