Front yards are often for show, but around back is where we like to spend some down time. It's the place to stop and smell the roses or lavender, listen to a gurgling fountain or a splashing waterfall, read a book, or take a dip. Talented landscape designers know how to create a mood that encourages visitors to sit and stay with plantings, structures and accessories. Here we share some of their tips.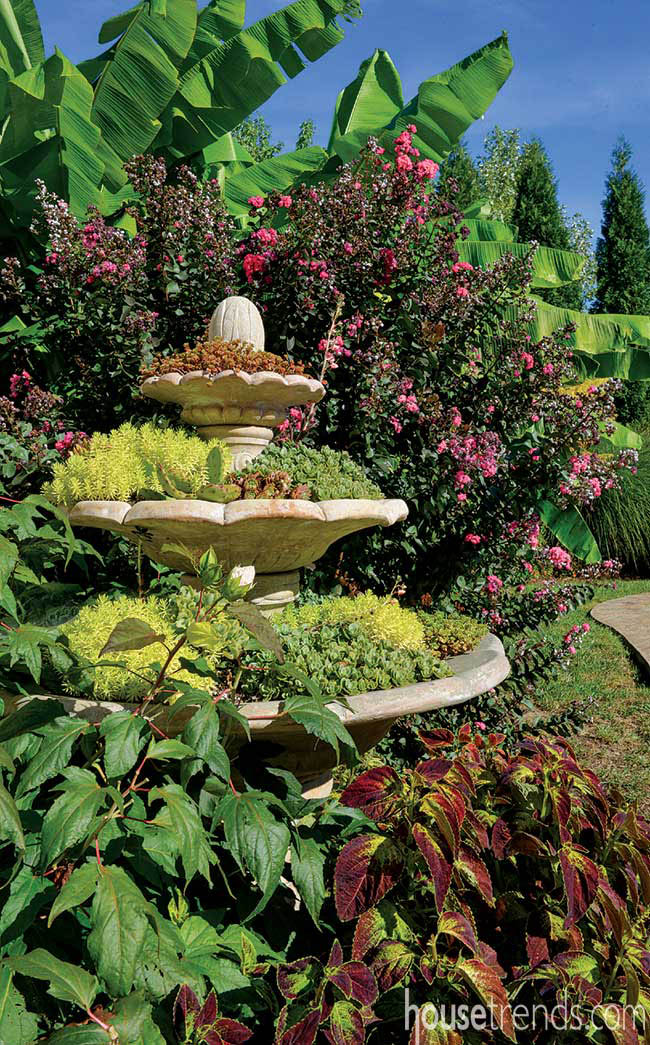 A variety of sedum "flow" from a three-tiered fountain with a crape myrtle tree nearby.
Design by: Natorp's Landscaping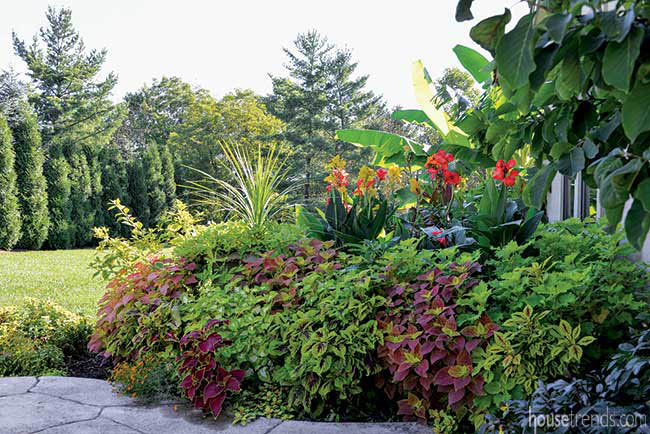 Assorted coleus with cannas and a banana tree add a bright and showy tropical feel just off the deck of a backyard pool.
Design by: Natorp's Landscaping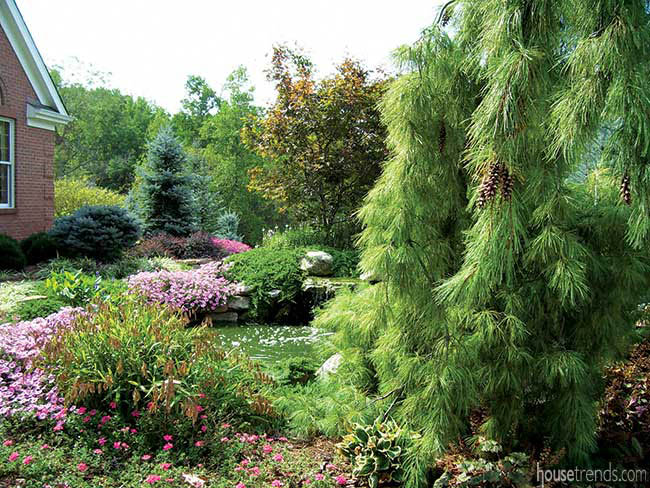 A weeping pine drapes over a pond while petunias sweep through for annual color in this space.
Design by: Bzak Landscaping, Inc.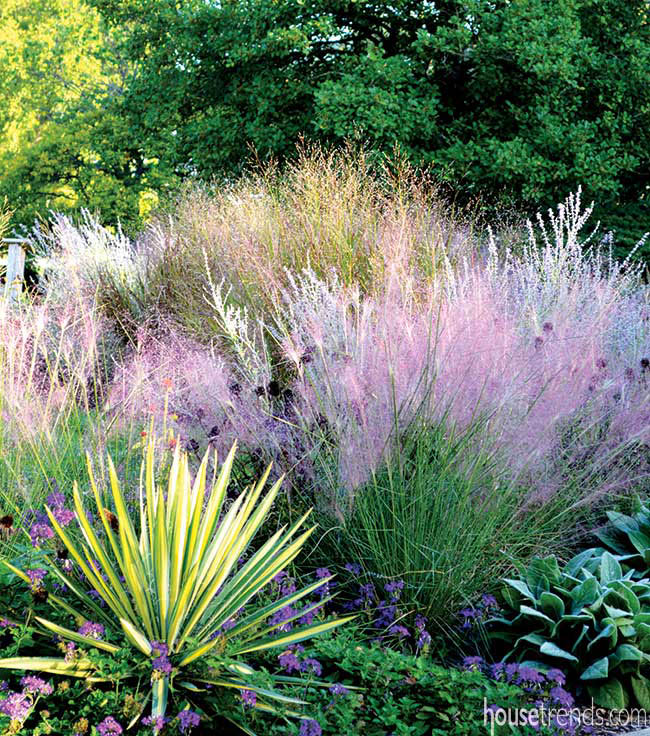 Muhly grass adds a soft and feathery touch next to the variegated yucca; a plant the designer says is beautiful and wonderfully reliable. She recommends placing hard and rigid plants next to softer ones so that the two balance each other.
Design by: Wimberg Landscaping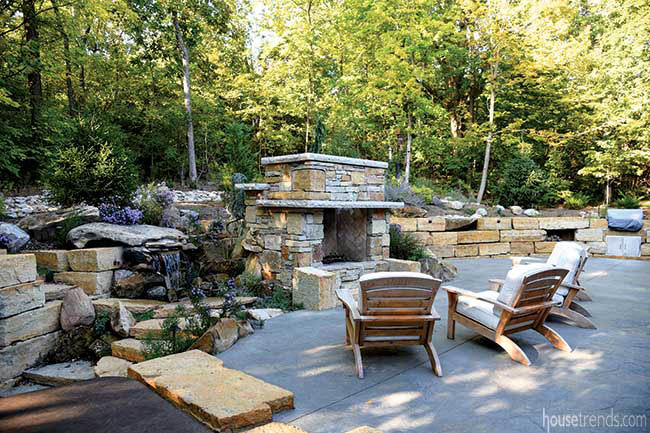 Walls built of Southern buff bench stone, a waterfall made with mossy boulders and weathered sandstone, and a boulder and stone fireplace make a strong statement. The look is softened woods aster, weeping blue atlas, shore juniper, little spire sage, heather, Norway spruce, salvia and phlox.
Design by: Bill Canter and Adam Erbaugh, Townescapes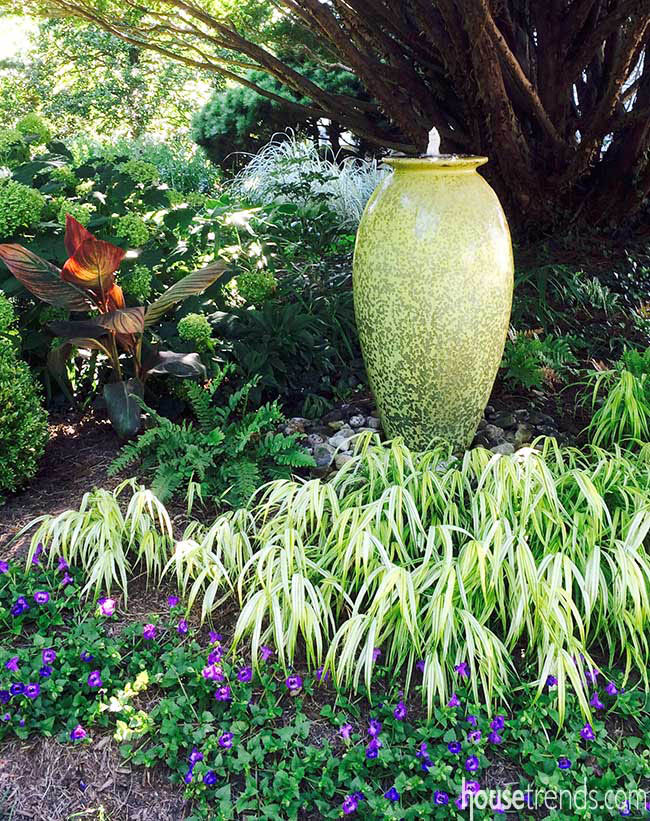 This backyard fountain illustrates a more subtle use of color to harmonize with surrounding natural green hues.
Design by: Gabe Rice, Renaissance Garden Ornament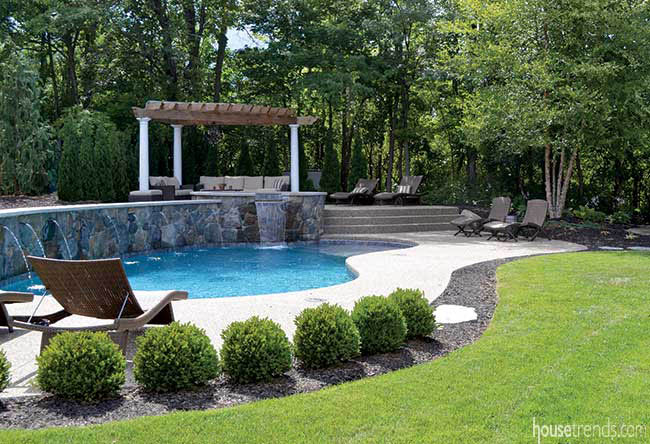 Tucked into a wooded setting with boxwoods and clump river birches nearby, this pool area features a water wall and spa that are both faced with a blended cultured stone, and a cedar pergola.
Overall design by: Adam Erbaugh, TowneScapes; Pool: Mid-American Pools; Pergola: Custom Outdoor Structures; Plant material: Gilb Landscaping, Inc.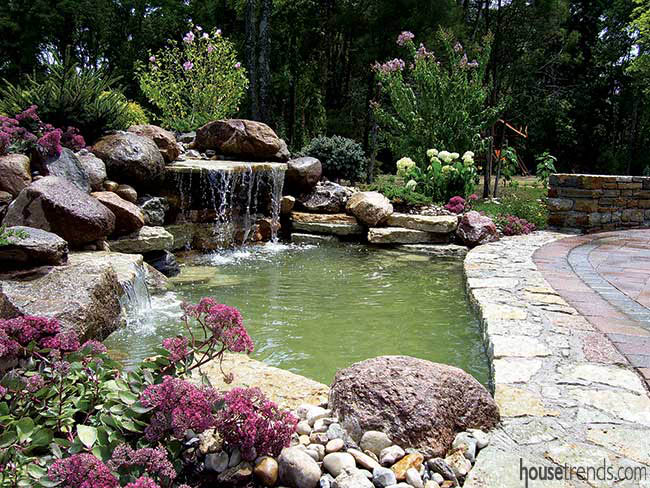 Water falling from two sides gives this waterfall what the landscaper refers to as a "duet effect." Sedum, hydrangeas and crape myrtles add color and form.
Design by: Bzak Landscaping, Inc.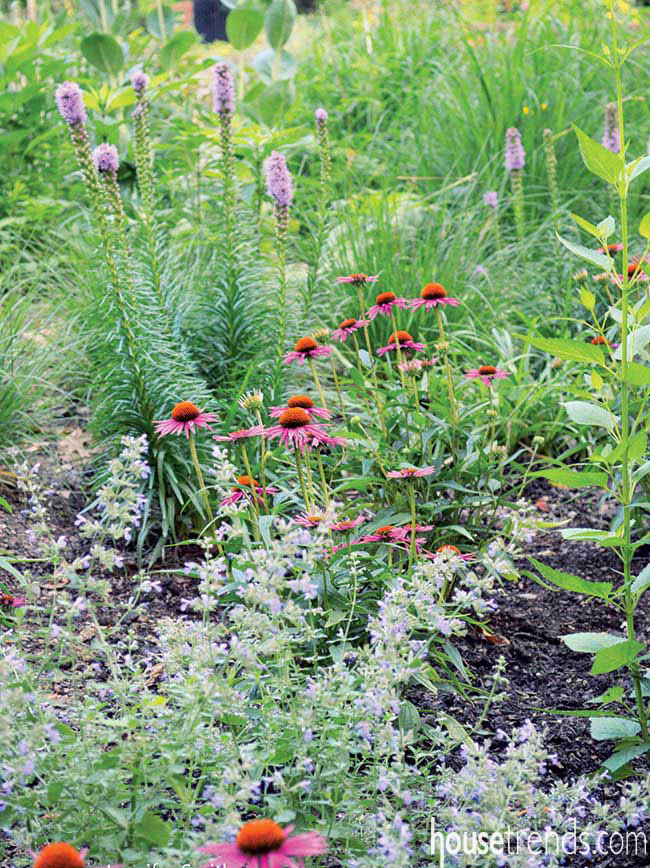 Liatris, coneflower, hyssops and catmint offer continuous blooms throughout the season attracting hummingbirds, bees and butterflies.
Design by: Wimberg Landscaping