When Faye Ledwick moved into her current Centerville home, she left behind a life of antiques. She describes herself as once "extremely traditional," but says that even though her period home gave her much pleasure—it was simply time for a change.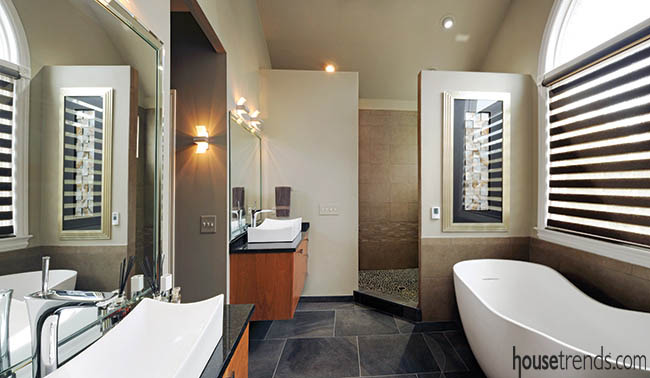 After redecorating most of her home in contemporary styling, Faye's master bathroom remained waiting for its own transformation. "I love the clean look. It makes you feel lighter," she says about her new love of modern décor. "I had in mind going in that the bath would be ultra-contemporary."
So in early spring of last year, Richard White, owner of Centerville Building and Design, set out to find elements that would wow even a contemporary connoisseur like Faye.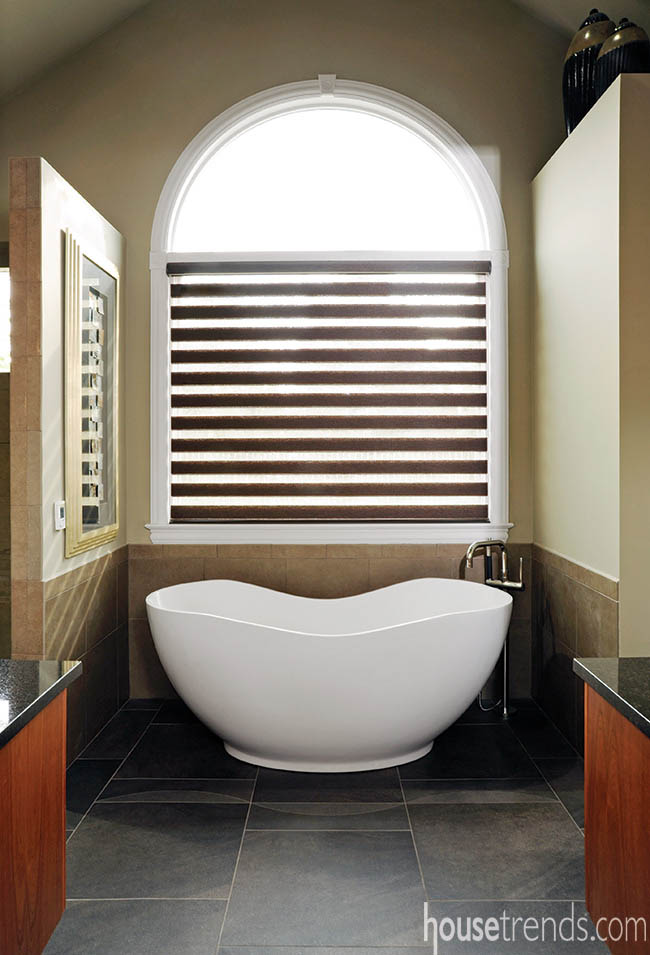 Finding Kohler's Abrazo freestanding stark white tub with its bowl shape and slightly dipped edges was a good start. White remembered seeing it in a Chicago showroom. "Once Faye saw it, she had to have it," he says.
Getting the tub installed was another thing altogether. A new product by Kohler, the tub didn't come with the instructions White needed to mount the tub filler faucet on a concrete slab.
White hired a piano moving company just to tote the 525-pound structure into the house. The process of installation involved breaking open the floor and setting the valve on a small pad of concrete and bolting it down. Sand was placed around the valve and fittings to make any future access easy. "The tub drain line and valve had to be exactly the right height. It couldn't be fixed later," he says.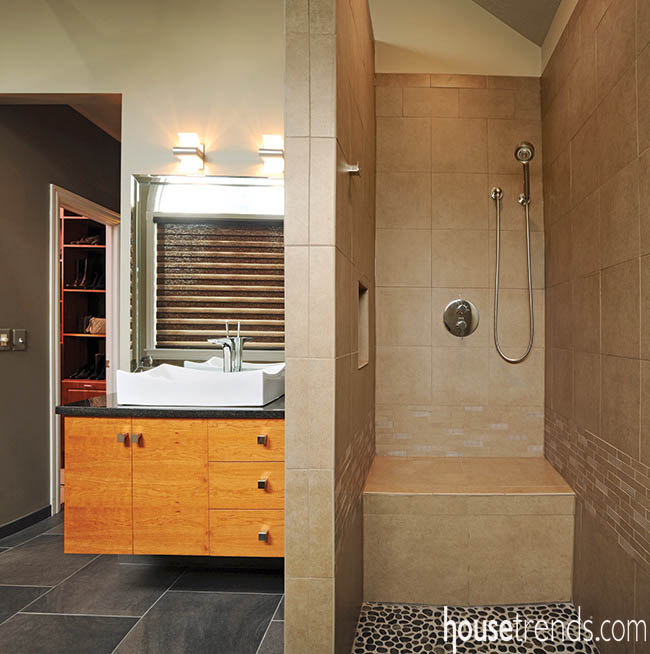 The original bathroom included an oversized shower; something White felt was unnecessary. He opted to cut the walls of the shower down by about 24 inches. The area now serves as two showers in one: a main area with a standard Hansgrohe showerhead and a private sitting space with a built-in bench and a hand-held showerhead.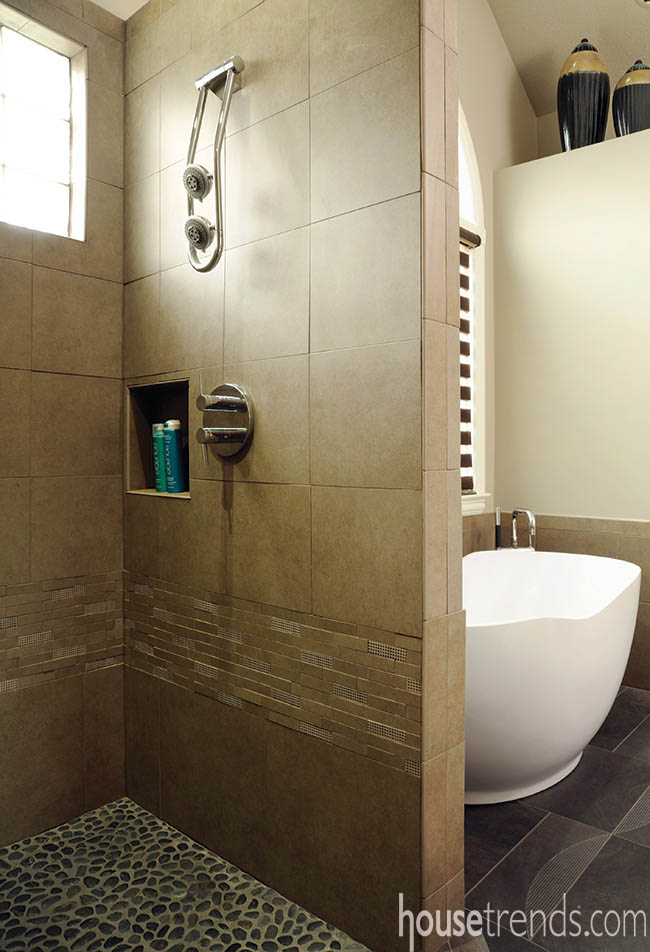 "The shower is unbelievable and still offers plenty of space," Faye says. "And I feel like I'm standing in a piece of art."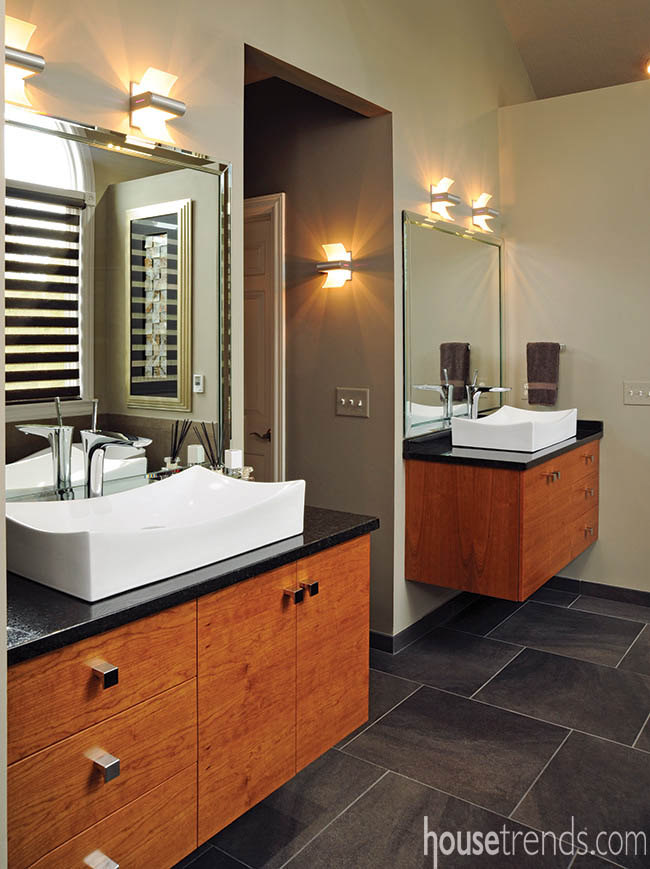 Although Faye planned to leave the original vanity and cabinets in place, as the space morphed further toward the ultimate in contemporary baths, White suggested floating cabinets to open up the space. Faye says she doesn't regret making the change. The new cherry vanities feature Uba Tuba granite countertops and impressive Denovo vessel sink bowls.
For the floor, White suggested 24×24-inch non-rectified porcelain tile without rolled edges and atypical narrow grout lines. "These are more like cut stone, but they lay beautifully. They were a lot of fun to work with," he says.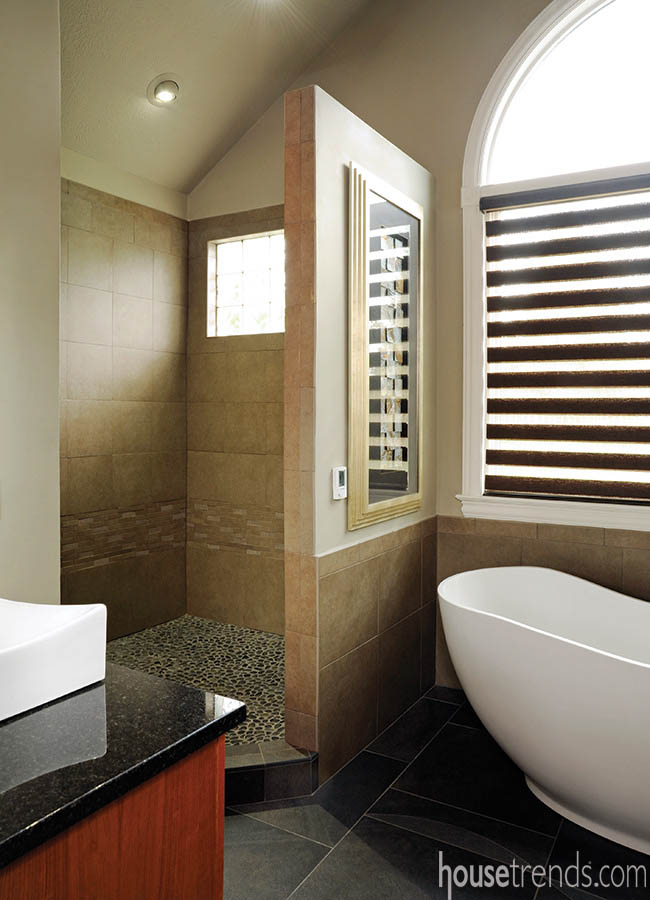 White grew up in what he calls "literally a glass house." A California contemporary structure, it was cold and stark. While contemporary décor still allows for glass elements, he says in this area of the country it is typically represented by minimalistic elements.
Faye praises White's ability to combine his vision of contemporary with her ideas. In fact, he recently stopped by to visit Faye while in the neighborhood on another project. "I told him I love the bathroom as much today as the first time I walked into it. Even those who aren't contemporary people are taken with it."