Before embarking on their bathroom renovation project, a detailed plan that involved many tranquil bathroom remodel ideas, Karen and Chuck likely would not have pointed to her bathroom for a tranquil getaway. "The previous master bathroom had a country spa sort of feel to it, but we wanted something more 'Zen' and with a real 'wow' factor to it."
The project started after the original shower door became loose from the bottom track. This led to the discovery of a small crack inside the fiberglass shower. Instead of fixing the problems, they decided to gut the whole room and start fresh.
That's where Michael and Aimee Braun of Braun Design Partners entered the picture. The Brauns worked with the homeowners over a period of about 14 months to plan the architectural space, overall design and interior finishes.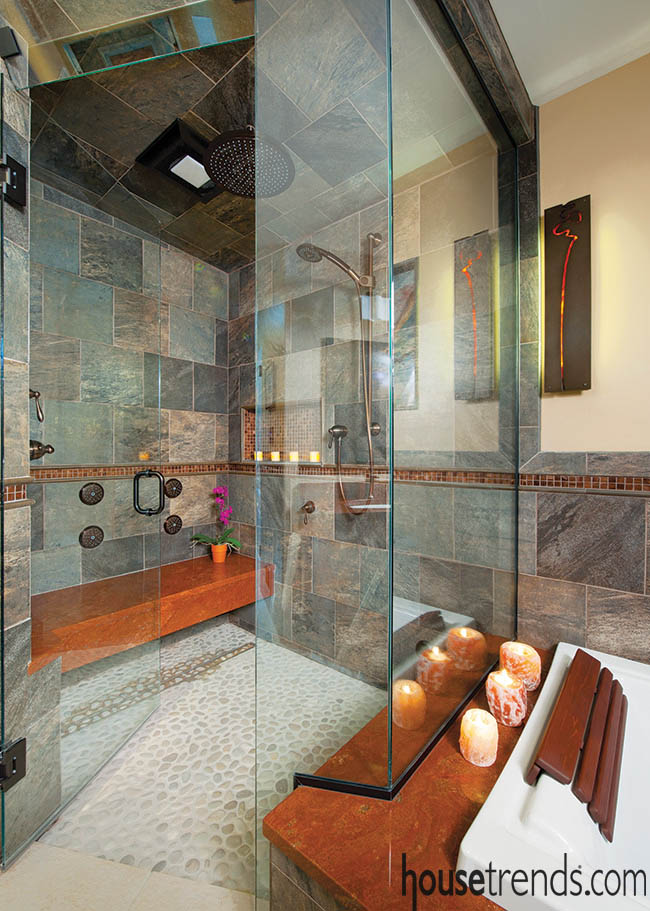 Upon opening the double doors into the remodeled bathroom, one sees straight into and through the shower, which is all glass except the back wall.  "It's stunning," says Karen. "You have the brown/gray tiles that go from floor to ceiling and the granite benches.  It takes my breath away still."
She adds that the pebbles on the shower floor are equivalent to a foot massage and praises the addition of the transom window above the shower door to help control the amount of steam.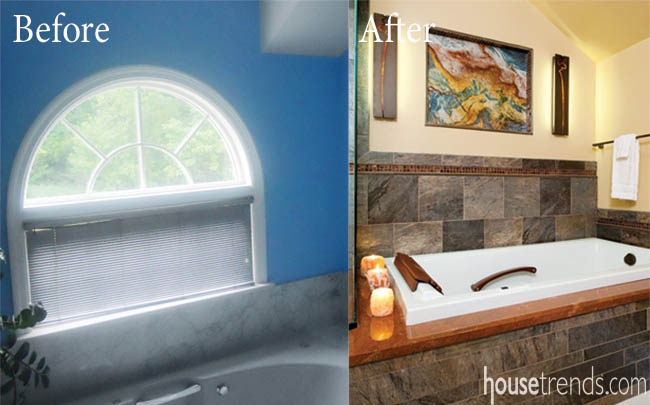 At the end of the day, the owners have the option of listening to music while relaxing in the air-jet tub, which replaced an old whirlpool tub, through speakers wired from a receiver in the closet.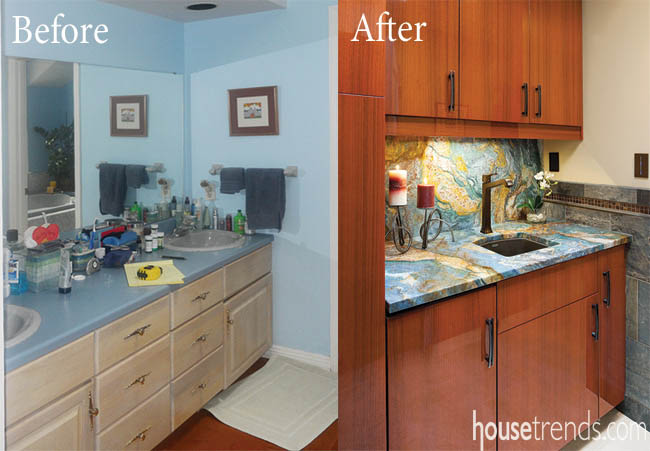 They've also installed a beverage center complete with a refrigerator, coffee maker and glasses stored in a pullout cabinet under the bar sink.
Another desirable feature is the under-floor radiant heating.  "In the winter, to step onto this, it's delicious," says Karen.
She also loves the top-down/bottom-up Roman shades accenting the windows. And, unlike the previous bathroom, which had a barely-functional closet, the new design allows for a great deal of storage space.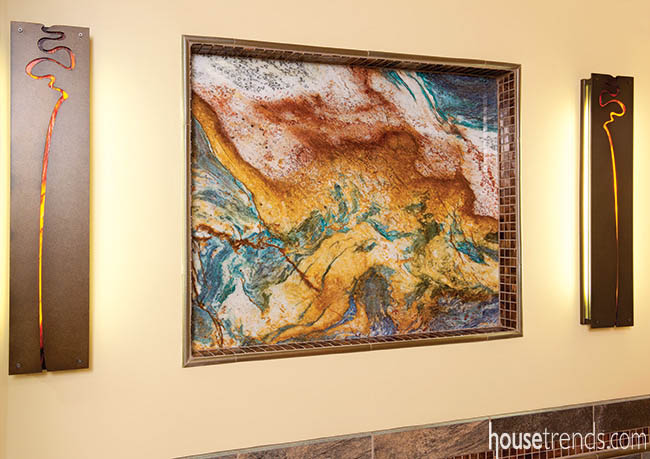 Having grown up in a family of art collectors, Karen transferred her love of artwork to the new space. While she loves everything about the new bathroom, Karen gushes about the Louisa Blue granite. "This is beautiful, such expressive granite with the blues and the colors of the shores; that's why we had a piece of it cut to be like artwork to put in the niche over the tub.  It's so viscerally beautiful on so many dimensions; it's carried from one side of the bathroom to another, so things are always in balance," she explains.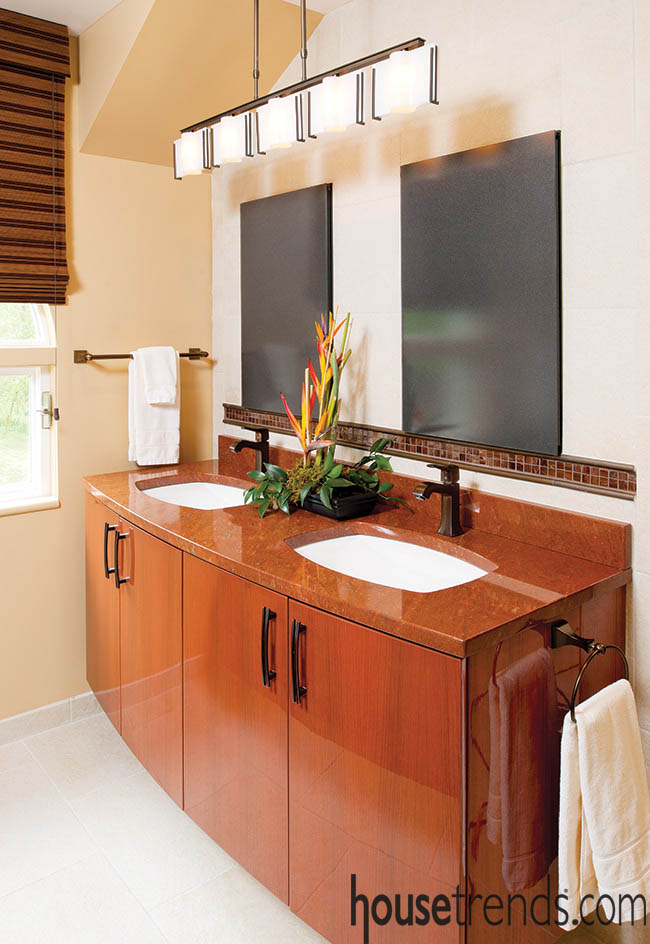 That balance is carried through the whole bathroom, such as how the curve of the sink mimics the curves of the cabinets containing the sink.  "Details like that add to the harmony of the space."
The light fixtures above the tub and vanity were other artistic elements; they are on dimmer switches, capturing the Zen-like atmosphere when desired.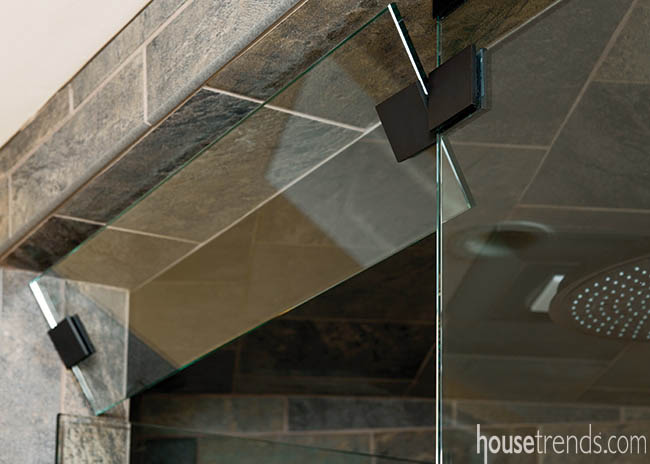 "We looked at this whole space as a spa," Michael says. "We knew we should put in soothing music, which fit in with the steam shower and the wine bar.  The old bathroom was a conglomeration of parts; the new bathroom has more of a flow."
"Everyone showed a lot of intuition and respect for everyone's ideas," Karen says. "It was a great project to be involved with and even better to live in now.  I'm just really glad we did this and I am so thrilled that the shower had a little ding in the wall; I would have put it there myself had I known this would have been the outcome."