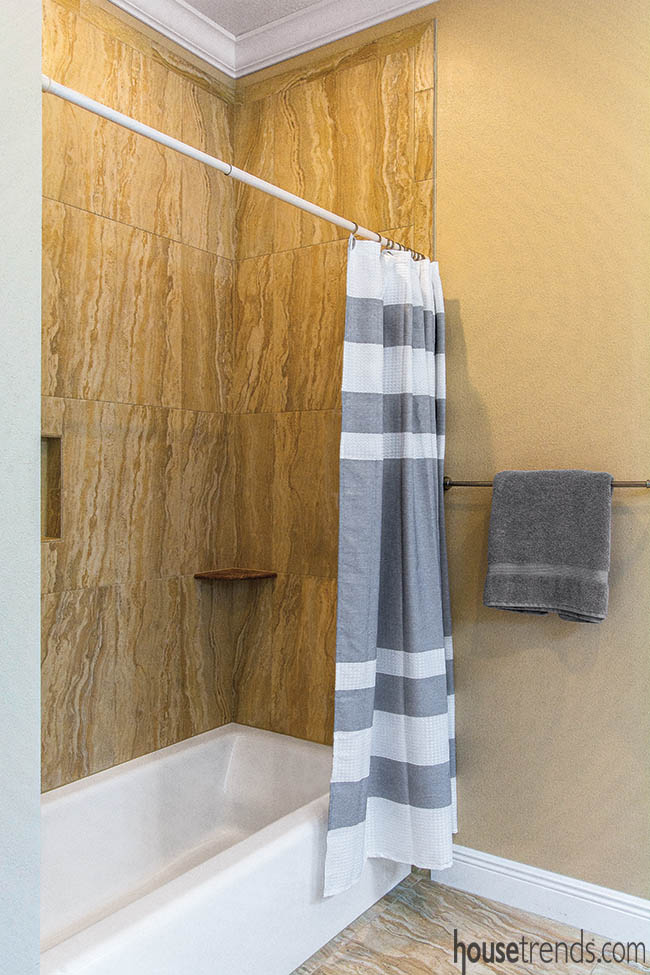 Written by: Abby Weingarten/Photos by: Johan Roetz
Lithia homeowner Joe Florio hoped to come away with two things after completing three bathroom remodeling projects in his home: tranquil living spaces and surefire resell value.  F  "The original bathrooms were from 2003, so they were very dated and much smaller," says Florio, a retiree who lives in the 3,500-square-foot, four-bedroom, three-bathroom home with his wife. "The master bathroom was a different design with white cabinets and a huge jet tub. The other bathroom with the tub was a Jack and Jill but it was tiny, with a small double vanity, and you had to go around the closet to get to the toilet and the tub. The other bathroom was tiny, too."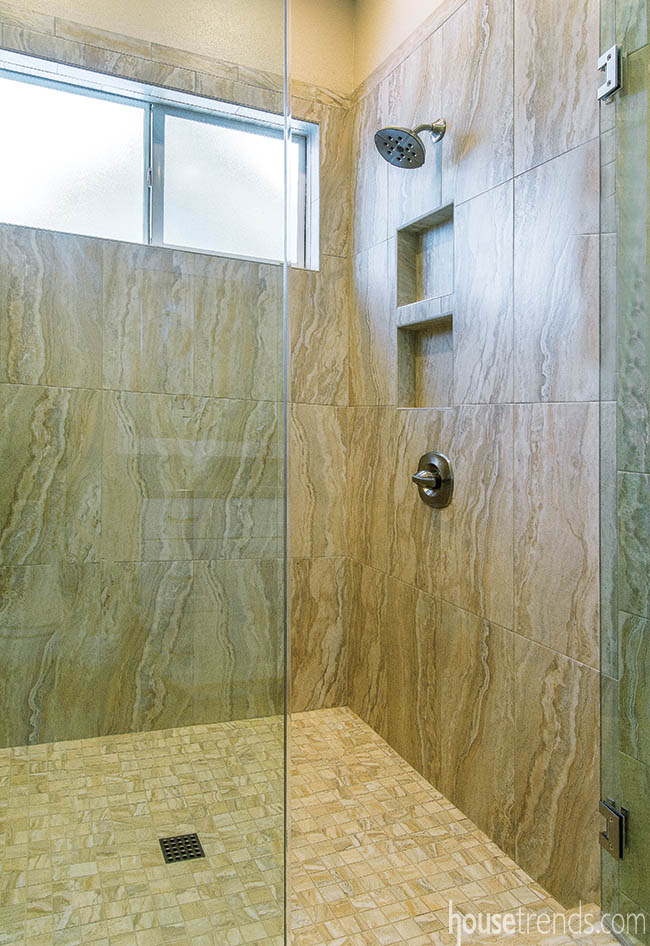 Tailored spaces
To achieve this result, Florio turned to general contractor/lead designer Joe Ferrantegennaro, owner of The Bath & Kitchen Gallery in Tampa, who has 18 years of experience in the construction business. Ferrantegennaro knew how to customize the rooms to make them as peaceful for the current users as they would be easy to market to future buyers.
The overhaul of the bathrooms began last December and took about two months to complete. Florio was certain that Ferrantegennaro, with his expertise and reputation, was the visionary to tackle the redo.
"He came over and came up with the design, which was exactly what we wanted. We had an extra room between the two bedrooms; it was like a dead space, like a playroom. He made the two bedrooms and bathrooms bigger over there, so he did a lot of work. It came out excellent," Florio says. "I didn't want anything crazy, just something nice in case we would go and sell."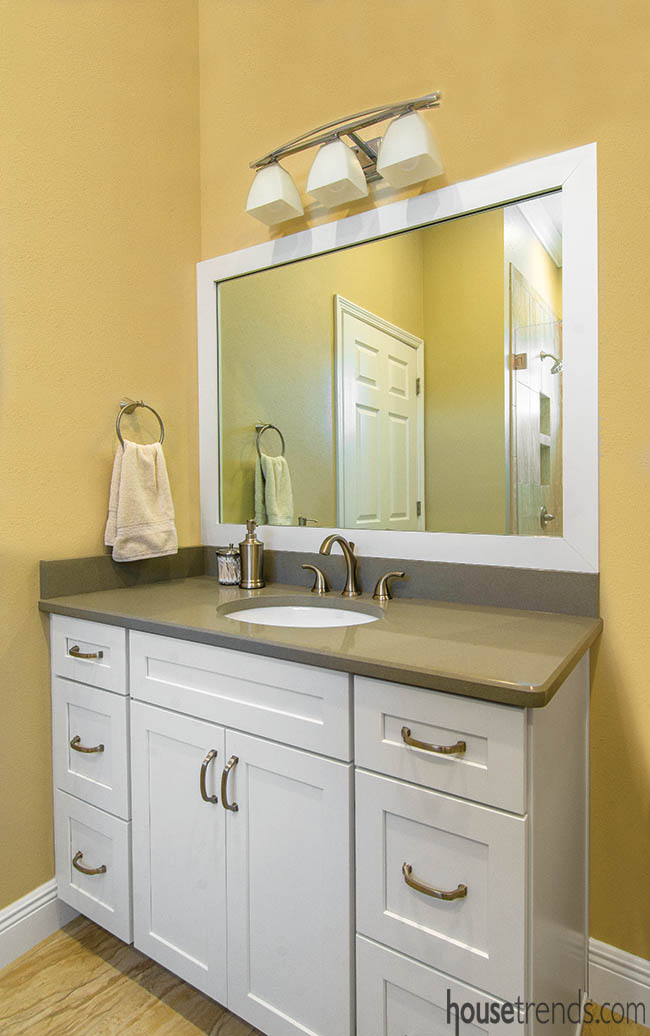 Now the master bathroom and the two guest bathrooms include a variety of tile, tailored vanities and cabinets. Florio was so pleased with the work that he even hired Ferrantegennaro to revamp the kitchen.
"We came in with a couple of alternative designs for the homeowners to take care of that in-between space and make better use of the overall space. For example, we had a 7-foot long bank of windows that we eliminated," Ferrantegennaro says. "The bathrooms, in terms of style, I would say are transitional and current with the new color schemes and materials that we're seeing here in Tampa."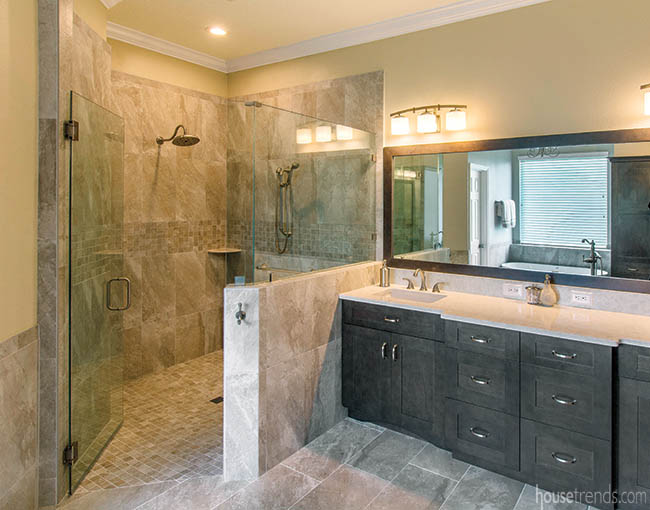 Clean designs
The master bathroom features a pedestal tub with a floor-mounted valve. There is a combination of recessed can lighting and surface-mounted light fixtures, as well as 12×24-inch porcelain tile. The countertops are Pompei quartz and the cabinets are custom designs. In the shower is a rain can showerhead and, at the foot of the glass door opening, is a "beach entry" curb.
"A traditional shower would have a curb five inches high and, on this shower, we have cut out the floor to have a curb-less entry, which is sometimes called wheelchair," Ferrantegennaro says. "There is definitely a big demand for larger showers like this, and the pedestal tub is the hottest-selling tub right now."
Not only are the tubs, showers and surrounding areas super safe to access, but they are also just as simple to clean. According to Ferrantegennaro, the larger-formatted tile is best for upkeep because it has less grout. He uses a high-tech grout with a sealer mixed into the powder, and underneath the shower tile is actually a waterproof membrane that has a mildew killer built right into it.
"We always build in multiple layers of mold protection. The glass enclosure even has a sealer to fill in all the pores," Ferrantegennaro says. "So it's durable, easy to maintain and easy to resell, which is what they were looking for."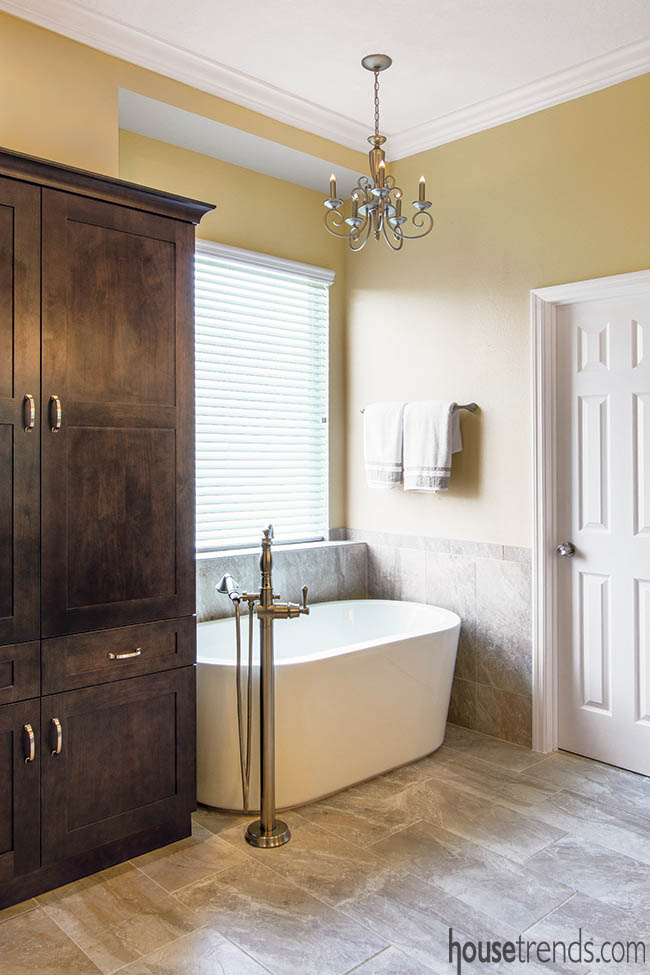 Soothing palette
The grays, whites and beiges are as neutral as they come, and Florio knows that having this color palette will make his new rooms universally intriguing.
"Tampa is halfway between a very traditional market north of us, and a very modern market in South Florida like Miami, and bathrooms like these work in aspects of both," Ferrantegennaro says. "You have traditional and modern elements, and I think that appeals to most people."