"Coastal Modern" is how Marilyn Perez, design director and co-owner of Homeworks Builders, describes their new 3,005-square-foot, Parade of Homes house facing the channel on Davis Islands. The clean lines used throughout the home contribute to the modern feel, while the spectacular view of the nearby channel give it a tropical vibe.
"We wanted a strong sense of modern and contemporary but not a crazy, jet set modern that would put people off," says architect David Balber. "A lot of thought was put into how to keep it modern yet still feel cozy and warm."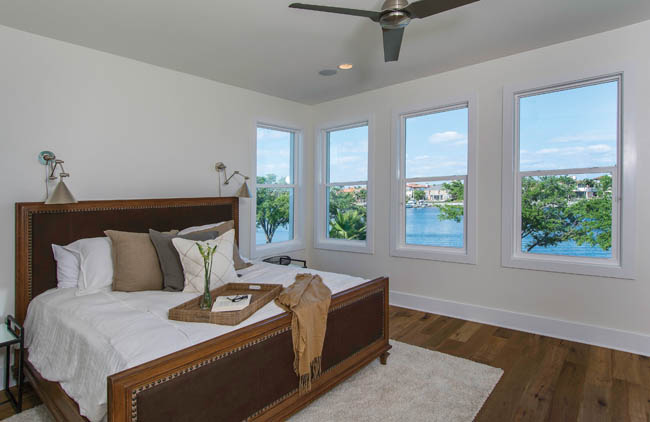 The bedroom is sparse and modern, with all of the focus being on the multitude of windows and the spectacular view. The dark brown bedframe pops against the white of the walls and the white sheets, while pillows in a variety of browns tie it all together.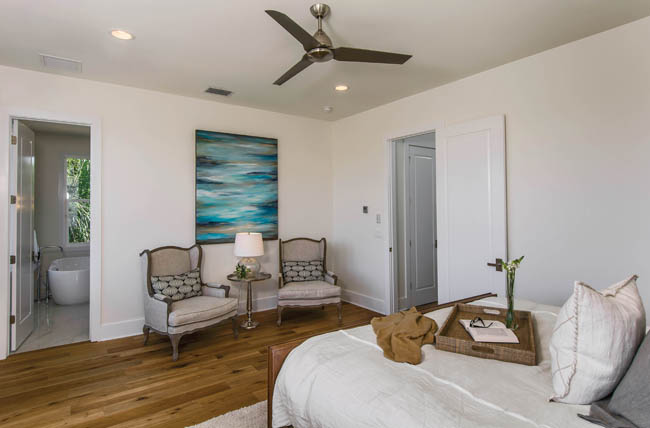 Marilyn worked with a team of Homeworks designers on the interior design throughout the home. With most of the furnishings in muted white, gray and silver tones, the pops of color come from the large oil paintings found throughout the home. Local artist Michelle Hinz approached them about featuring her paintings in the house. She is also planning to open her own gallery on Davis Islands.  "We loved the idea," Marilyn says. "They suited the house perfectly and we wanted to support her."